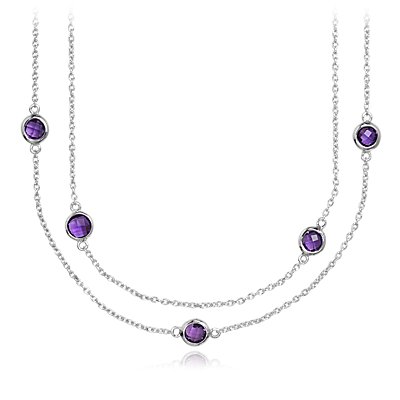 Long necklaces are fashion accessories which are a lot of fun to wear. There are many different styles and designs of long necklaces available, from simple chains and strings of pearls, to elaborate pendants and lockets. Because of the vast selection of long necklaces available, it can be quite daunting trying to determine which is the perfect style and length for you. It is often a good idea to have a few necklaces of different lengths in your jewellery collection so that you always find the perfect necklace to compliment any outfit and neckline.
Long necklaces are purchased from many different locations. Almost every town and city has at least one jewellery shop which sells many different types of long necklace, but they are also purchased from many department stores. Long necklaces are also purchased from online retailers and auction websites such as eBay.
Buyers should think about the necklace or chain length or whether they want a long necklace or chain which is adjustable. Before purchases long necklaces, buyers should also decide exactly what style they want such as chains, pearls strands, or necklaces with pendants.
Necklace and Chain Lengths
Most necklaces and chains come in industry standard lengths. There are five different standard lengths for women, and four standard lengths for men. Of course, it is possible to have a long necklace or chain custom made if a different length is needed.
| Necklace Length | Where It Falls on the Body |
| --- | --- |
| 40 cm | Choker length (short) |
| 42 - 46 cm | At the collarbone (short) |
| 51 cm | A few centimetres below the collarbone (medium) |
| 56 cm | Above or at the neckline (long) |
| 61 cm | Below the neckline (long) |
The above table lists the industry standard lengths of women's necklaces and chains. In order for a necklace to be considered a long necklace, it needs to be 20 inches, or 51 centimetres long, or longer. The following table lists the industry standard lengths of men's necklaces and chains.
| Necklace Length | Where It Falls on the Body |
| --- | --- |
| 46 cm | Base of the neck (short) |
| 51 cm | At the collarbone (medium) |
| 56 cm | A few centimetres below the collarbone (medium) |
| 61 cm | Above the sternum (long) |
The above charts show where the different necklace lengths lay on the average size body. For larger body types, or those individuals with larger necks, it is a good idea to purchase necklaces the next size up. There are also extra long necklaces which are available in three standard sizes.
| Necklace Length | Where it Falls on The Body |
| --- | --- |
| 61 - 71 cm | At or below the bustline (long) |
| 101 - 123 cm | At or below the navel; usually worn doubled or tripled (very long) |
| 123 cm to longer | Usually wrapped around the neck (very long) |
Although the necklace lengths appear to be standard, the way they fit each person differs. A shorter individual can buy a medium length necklace and it rests near the naval. A taller person can buy the same medium length necklace, but it rests a few centimetres above the naval.
Adjustable Necklaces
Many necklaces are made with extra links at one end so that the clasps attach in numerous different places to allow for length adjustment. The extra links are extremely decorative so that they look attractive while dangling at the back of the neck. Adjustable necklaces are a fantastic idea if consumers are unsure what length to purchase.
Types of Necklaces
Generally, necklaces are defined as any types or lengths of chains, precious metals, or gems. There are also many pendant style necklaces which usually have jewels, charms, or pearls, most often hanging from the chains. There are also pearl strand necklaces that are simply necklaces made out of pearls strung closely together.
Necklaces
Necklaces come in many different styles including braids, links, and chains. Some necklaces are made with a group of gemstones or diamond embellishments, and others have gemstones or diamonds along their entire length. Pendant necklaces usually feature charms, lockets, or jewels that are suspended from long necklace chains.
Chains
Most chains match any outfit. Because of this, it is beneficial to own one or more long necklace chains in a variety of precious metals such as gold, silver, and platinum. Long necklace chains come in a variety of different styles such as mariner, rope, box, and fancy chains.
Pearl Strands
A long string of pearls adds a classy touch to almost any outfit. Because of this, many women like to keep at least one pearl strand in their jewellery boxes. Pearl strands are available in many lengths, with the extra-long strands often being wrapped around the neck two or more times. There are also many different types of pearls such as Akoya, freshwater, and Tahitian. Pearls are also available in many different colours, with black or white pearls being the most common.
Solitaire Pendants
Solitaire pendants are simple and elegant. Most solitaire pendants include a gemstone, pearl, or diamond which hangs from an equally noticeable chain. Solitaire pendants are extremely versatile because you can add them to both short and long necklaces for a completely different look.
Pendants
Pendants usually consist of charms and lockets in a wide variety of different designs. Pendants are oftentimes made with gemstones and diamonds or simply made from precious metals such as gold, platinum, or silver. Pendants can be worn with simple long chains or added to pearls or beaded strands. Pendants are very popular with long silver chains.
How to Wear a Long Necklace
Many people are not sure exactly how to wear long necklaces. A long chain or string of pearls can be worn wrapped around the neck two or more times, with each wrap around the neck laying at a slightly different length. It can also be worn in the same manner as a long pendant, hanging down usually between the bust line and the navel or over a blouse or dress for a very dramatic, modern look.
Choosing a Chain Length for Women
When choosing a chain length for women, it is important to consider the type of clothes that is be worn with the necklace, where the necklace is most likely worn, and the size of the body. Many women like to wear different styles and lengths for different seasons and occasions. Long necklaces are often worn in the winter months as they can be worn over bulky, warm clothing such as turtleneck sweaters and thicker blouses.
When considering the size of the wearer, remember that a 56-cm long necklace may hang down too far on a smaller petite woman, but may be the perfect length for a larger lady. Because of this, it is a good idea to measure the neck using a tape measure before purchasing a necklace. Simply place a tape measure around your neck, laying it where you want the necklace to lay.
Choosing a Chain Length for Men
Typically, a man's chain is worn to fall around the collar bone, which is about 20 inches or 51 centimetres for the average body type. If the necklace includes a charm, such as a medallion, a cross, or dog tags, a longer length is often needed. Some men also like to wear multiple chains of various lengths for a layered look.
Similar to a necklace for a woman, a man should choose a length which is suitable for his neck size and body type. A 76 centimetre necklace rests over a sweater or shirt and may be embellished with a medallion. A shorter chain necklace rests inside an opened button-down dress shirt and still looks acceptable.
How to Buy a Long Necklace on eBay
Purchasing a long necklace requires a few simple steps. Simply typing in "long necklace" into the search bar on any eBay web page renders hundreds of results. You can filter according to the length of the necklaces, price ranges, postcodes of sellers, and condition of the items. If there are gemstones or diamonds in the necklace be sure to ask for certification or proof that the stones are real.
While searching and determining what necklace to buy, you can easily review the product specifications. However, if the information is lacking or if you have a specific question, you can ask the seller a question directly so long as you are logged into your eBay account.
Another factor to consider while making your decision is the feedback a seller received from previous buyers. After each transaction, buyers are encouraged to leave feedback. This helps the seller be a better seller, and helps future buyers determine if the seller is worth doing business with.
Conclusion
Whether buying a long necklace for a man or woman, there are dozens of factors to consider. While consumers cannot compare as many necklace options at local jewellery shops, they can compare thousands of options online at eBay without leaving home. Buying a necklace which caters to a neckline or an outfit is intelligent. Buying a necklace which matches more than one outfit is economical. An overly long necklace can be wrapped two or more times around the neck. However, if the necklace is too short for an outfit, you may need to buy necklace attachments. Silver, gold, leather, and even beads can all equate to a long necklace. Further, layering them for women or embellishing them with medallions for men, adds to the lustre and attention that the necklace receives. The right necklace length or composition depends on the person wearing it and the outfit it is worn with.