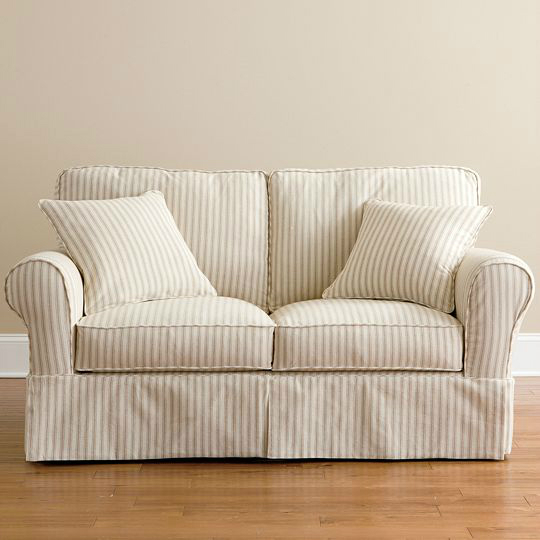 eBay is a great place to buy a loveseat slipcover for your living room furniture. A slipcover is perfect for those who have just purchased a new piece of furnishing and wish to protect it. Slipcovers are also ideal for people who want to update their current furniture with a new look, or bring old pieces back to life with some style. Slipcovers come in a variety of fabrics and in an extensive range of styles to suit any and every home regardless of the design.
The purpose of this guide is to inform the reader everything there is to know about loveseat slipcovers, and how to purchase these household products from the renowned shopping website, eBay.
There is a large range of loveseat and furniture slipcovers for sale on eBay at the Internet's most competitive prices.
Loveseat
A loveseat is a sofa or couch that is designed for seating two people. These sofas generally have two or more cushioned seats and are typically found in a couple's lounge or living room.
Slipcovers
Slipcovers, as the name suggests, are covers that are easily slipped over a loveseat, sofa or couch. These covers can be made from many materials, including cotton, linen, polyester, spandex and wool (or they can be made from a combination of these materials).
Slipcovers either come in a one piece, or several pieces for each part of the loveseat or sofa. Regardless of the number of pieces, slipcovers can all be easily removed and washed for hassle-free cleaning.
Some slipcovers can be draped loosely over furniture and tuck into cushions with a tie at the back. These slipcover versions are more affordable than some of their luxurious and designer counterparts.
Slipcovers are ideal for those people who use blankets or sheets draped over the sofa to protect it. Blankets and sheets, however, will fall off the sofa or loveseat regularly when undergoing heavy traffic. Slipcovers on the other hand are specifically designed to cling to loveseats and furniture, so that they never fall off or come loose.
Generally, slipcovers fit best on round-arm furniture that have rectangular seat cushions. However, there is now a range of slipcovers specifically designed for difficulty-shaped furniture such as wingback, armchairs or recliners.
Furniture and loveseat slipcovers have endured a bad reputation in the past, as they were made from 'horrible', unstylish fabrics and material. But today, this is simply not true. In the current age, slipcovers are not only fashionable, they are also functional as well.
Regardless of a person's individual tastes and preferences, where style and design is concerned, there is a simple but attractive loveseat slipcover to suit everyone and every piece of furniture.
Which Slipcover Do I Need?
To ascertain which slipcover you need, the size of the slipcover must first be established. To measure your loveseat correctly use a tape measure or rule, and measure from the outside edge of one arm to the outside edge of the other arm.
A loveseat-sized slipcover will fit furniture between 58 and 73 inches long. A couch or sofa-sized slipcover will fit furniture measuring between 74 to 96 inches. And a chair-sized slipcover will fit furniture measuring 32 and 40 inches long.
As some loveseat slipcovers are ruffled or have pleated skirts at the bottom, it is essential to also measure the distance from the floor to the bottom of the loveseat, or piece of furniture, in order to get the best fitting loveseat cover possible.
One Piece or Several Pieces?
The next decision to be made is whether the loveseat needs a one-piece slipcover or several pieces. Although each manufacturer will offer their own advice on this subject, it is worth noting that a slipcover set with individual pieces for each cushion and segment of the loveseat will often fit better and present a more seamless appearance than one-piece loveseat slipcovers.
Why Are You Buying a Loveseat Slipcover?
Changing home's decor can seem like a daunting and expensive prospect, but there is one small, simple and affordable purchase that makes a big impact in the home, and that is covering a loveseat or similar furniture items with a new slipcover.
To ascertain which loveseat slipcover one will need, the reason as to why you're buying it must be established first. This helps reduced the choice of loveseat slipcovers available down to a selected few rather than a wide range.
Is the slipcover being bought to protect the new loveseat or furniture? Or is it being bought to update the look of the furniture and the appearance of the living room? These two reasons for purchase are completely different and therefore the one chosen will rather specific.
If the slipcover is being purchased to protect a new loveseat or piece of furniture then it should be dark in colour, or be patterned. This is because patterns and dark colours work well hiding spills or stains from pets and children. Slipcovers bought for this reason should also be made from a durable material such as heavy cotton or canvas, as it will undergo heavy traffic and regular misuse without being ruined.
Wool, linen and silk furniture slipcovers may be soft to touch and offer an elegant appearance, but the reality is that these materials are difficult to clean and may require dry cleaning, rather than the traditional machine wash. Fabrics and materials like velvet and chenille are thick and bulky, so they won't easily conform to the shape of furniture without some convincing.
Canvas, cottons and denims come in a variety of styles and textures and above all, they're all machine washable, meaning that they can be put on whilst still a bit damp, which makes the fabric dry tight to the furniture and in the right shape.
For those with a baby or infant children, some specially designed loveseat slipcovers are made of soil resistant polyester and have a water repellent finish which stops even the largest of spills or mishaps from percolating through into and ruining the sofa.
Does the Slipcover Need to be Stylish?
If the answer is 'yes' then it is recommended that you opt for a slipcover made from a cotton-spandex blend. These slipcovers are made from really stretchy materials and fit like a second skin to the loveseat. They are available in a vast range of colours and textures in fabrics, such as faux suede, leather and also corduroy.
How to Buy Loveseat Slipcovers on eBay
eBay is a fantastic place to buy a loveseat slipcover. Should the buyer be looking for a cotton or polyester loveseat or wingback chair slipcover, eBay sells an abundance of loveseat slipcovers to suit everyone and every home.
Finding the desired product is easy with eBay's search functions. Simply enter in the type, style or make of the desired loveseat slipcover into the search toolbar and click 'Search'. Then, scroll through the search results to find the most relevant one and once clicked, the shopper is taken onto that product's individual listings page.
Each and every product on eBay has its own listings page with a wealth of information surrounding the product, including (but not limited to): a detailed product specification, an in-depth analysis, comments about the items condition and photographs to correspond with the text.
As such a dependable figure in the Internet shopping world, eBay also provides information about each product's seller. This usually includes the seller's eBay rating and selling history, as well as their location. This is invaluable for buyers because they can decide whether it's best to visit the seller and pick up the item, or to have it delivered (and pay the necessary delivery fee).
eBay also offers every customer the opportunity to contact the seller should they require more information about a product that is not displayed on the listings page.
Once the shopper has found their desired loveseat slipcover, they must decide how they would like to purchase the product. On eBay, purchasing items can be completed in two ways. They can buy the item immediately ('Buy It Now') or they can bid for the item in an auction format ('Bid Now'), in an attempt to get the best price possible.
All eBay transactions are safe and secure thanks to third party payment scheme PayPal. PayPal enables eBay customers to pay the seller without having to share any important bank details or personal information. The secure payment authority provides 100% protection for their customers against any unauthorised payments from their account.
Conclusion
There are many issues to consider and factors to take into account when purchasing a loveseat slipcover. However, with the important information and crucial considerations outlined in this guide, united with eBay's easy to use website and its comprehensive help section, buying a loveseat slipcover for your living room can be quick and easy.
A good slipcover suited to your needs, and that of your loveseat, will provide a stylish protector to enjoy for many years to come
This guide has provided some invaluable information, hints, tips and pieces of advice about how to purchase a loveseat slipcover on eBay and what to look for when buying these household products.