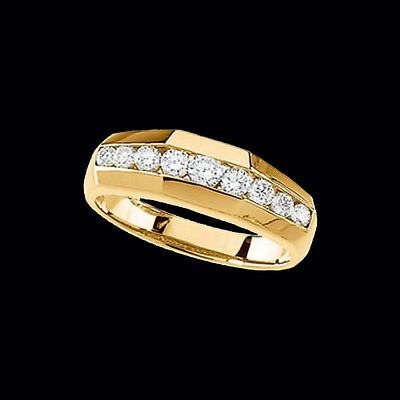 Diamonds have always been associated with wealth, luxury, and sophistication, and these qualities are as desirable for men as they are for women. Not surprisingly, it is common these days for men to wear diamond rings. Either a man receives a diamond ring as an engagement present, or he purchases one for for himself. Buying diamonds in any form can be a challenge for the uninitiated. It therefore makes sense to learn about the important characteristics buyers should look out for when shopping for rings, and the best places to find men's diamond rings at sensible prices.
Men's diamond rings are widely available in the high street and in department stores. Dealing with crowds and busy sales staff is not an enjoyable way to shop at the best of times. Feeling rushed while shopping can discourage buyers from putting in the time necessary to make a proper selection. By using an online merchant such as eBay, consumers find it is both quick and convenient to shop for the perfect men's diamond ring.
The pressures involved with shopping in a bustling high street means it is not always the best environment to shop for men's diamond rings. One does not want to feel rushed. Therefore, many shoppers turn to online retailers and markets like eBay to find men's diamond rings. eBay in particular offers a very wide selection of men's diamond rings at keen prices. Choice, value and the ability to shop in the relaxed environment of one's own home make eBay a good venue for purchasing men's diamond rings.
Factors to Consider When Choosing a Men's Diamond Ring
When shopping for a men's diamond ring, in addition to considerations of style, it is important to be confident about the quality of the stone, and to think carefully about the quality of the metal. It is also necessary to pay attention to the question of size, so as to be sure the ring stays on the wearer's finger.
One of the key things to consider when thinking about buying a men's diamond ring is where to find a good selection. A purchase of this size needs careful consideration. There are so many different styles, stones and metals available, that it is important to view as many rings as possible.
Styles of Men's Diamond Rings
Ultimately, questions of style and taste are always down to the wearer. Conventionally, men tend to wear smaller, less showy stones than women, and they are set in more masculine, structured patterns, rather than the florid and extravagant designs common to women's diamond rings. Both white and black diamonds are worn by men, however, men do favour wearing black diamonds a little more than women do, as black diamonds have a more masculine appearance.
Quality of the Diamond
Diamonds are natural crystals formed under intense pressure. Because that pressure is subject to natural variability, diamonds nearly always have flaws, either within the body of the stone, or on its surface. These are flaws are called inclusions, or blemishes.
Blemishes
Blemishes are marks on the exterior of the stone. These blemishes are the result of cutting the stone, and general wear. Blemishes do not normally affect the stone's clarity.
Inclusions
Common inclusions are described by such terms as 'pinpoints', 'clouds', and 'needles'. These are all minor imperfections found within the body of the diamond. Sometimes they can affect its clarity, or in extreme cases even threaten the stone's structural integrity. However most inclusions are tiny, and invisible to the naked eye. The industry standard is to examine and grade diamonds for clarity at 10x magnification.
When buying a diamond ring, be sure to ask about the grade of the diamond. One can examine the diamond for themselves under a proper gemscope or using a jeweller's loupe. Ideally, the stone should be examined under neutral laboratory lighting, to check the stones colour and clarity, and under natural lighting, to see how the brilliant the stone appears under normal circumstances.
Diamond Grades
This chart shows the industry standard grades used to classify diamonds. These are based on what one can observe at 10x magnification. At higher magnifications, even a 'flawless' diamond reveal inclusions.
| FS/ IF | VVS1/2 | VS1/2 | SI1/2/3 | I1/2/3 |
| --- | --- | --- | --- | --- |
| Flawless, Internally Flawless | Very, very slight inclusions | Very slight inclusions visible under 10x magnification, but not easy to see | Slight inclusions, which can be seen readily at 10x | Inclusions visible with naked eye; affects clarity and maybe integrity too |
Very few diamonds are flawless. A shopper needs to make a subjective judgement whether the blemishes or inclusions affect the overall enjoyment of the stone. In the vast majority of cases, these flaws do not.
Choice of Ring Band
As with style, this is a question of taste for the wearer. Men's diamond rings can come in all the popular metals, such as gold, white gold, silver, and platinum. Some of the more 'masculine' metals used to craft metals include titanium and tungsten. These industrial metals can look surprisingly smart when polished to a fine finish. However, be aware that they are too hard and brittle to be successfully resized. Here, the correct ring size becomes very important. When buying a men's diamond ring with black diamonds, silver or white gold can look very impressive, producing a stunning contrast.
Determining the Correct Ring Size
Sizing for rings is expressed in the United Kingdom as a letter, with each letter of the alphabet representing a set diameter and internal circumference. Charts are readily available to show these sizes, but as an example, common ring sizes for men are as follows:
| | | | | |
| --- | --- | --- | --- | --- |
| Size | Q | Q1/2 | R | R1/2 |
| Internal Circumference | 57.6 mm | 58.3 mm | 58.9 mm | 59.5 mm |
| Diameter | 18.3 mm | 18.5 mm | 18.7 mm | 18.9 mm |
A ring needs to fit snugly enough that it does not fall off, but not so tightly that the ring cuts off the circulation. Measuring the wearer's finger is something of an art, and it is best done, where possible, by an experienced jeweller. It is best done in the afternoon, as fingers swell during the day. Another option is to have the jeweller measure the internal measurements of an existing ring that is known to fit the wearer well.
Finding a Men's Diamond Ring on eBay
A perfect environment for shopping for jewellery is online, where eBay has extensive listings for both new and pre-loved men's diamond rings. It is easy to search for men's diamond rings on eBay. You simply type the phrase 'men's diamond ring&' into the search bar on the eBay homepage. This brings up literally thousands of listings, which you can then narrow down by specifying those characteristics which appeal to you. For example, if you would like the ring to be platinum, you can specify that the local search engine only show listings for platinum rings.
Once you have a core of listings that interest you, read the descriptions carefully and study the photos. When you have found a few that you like, you can contact the sellers using the details in their respective profile pages, to ask for any further information you may need. For example, you may want to see more close-up photos of the ring, or may want to know more about the grade of the diamond in the ring. If you are more comfortable with the idea of examining the ring in person, you can sort the listings to only show those listing posted by sellers located near you. Simply enter your postcode on the results page and then specify a search radius.
You can also sort the listings to only show listings posted by 'Top-Rated Sellers'. These sellers have earned the highest praise from their buyers.
Conclusion
Men's diamond rings are very popular these days. The traditional virtues of wealth, luxury and sophistication associated with diamonds are always desirable. Men generally wear diamond rings that are more restrained than women's rings, with smaller stones and less florid displays. However, questions of style and taste are down to the individual wearer.
Diamonds are graded according to weight and clarity, and when buying a diamond ring it is important to pay attention to the quality of the stone, or stones. One should also consider the quality of the band. While gold is a sought-after precious metal, many men opt for well-finished industrial metals like tungsten and titanium. It is important to ensure that the ring is secure on the wearer's finger, without being too tight.
Although men's diamond rings are available in the high street, that is not always the best setting for buying rings. The pressured environment there is not conducive to proper consideration of the rings on offer, and the prices tend to be high. Buying men's diamond rings online is more relaxed, offers greater choice, and generally better prices, too. eBay has a very wide selection of men's diamond rings to choose from. One can search the thousands of listings efficiently using eBay's user-friendly search platform.