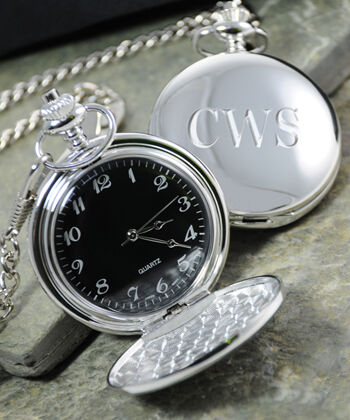 Although a number of people may regard men's pocket watches as outdated, the fact is that more and more men are now looking at buying pocket watches. What is interesting to note is that these pocket watches are not just sought by collectors; they are also sought by people wanting them for everyday use. While exclusivity made pocket watches expensive in the past, that is no longer the case, and one truly has scores of options across varied budgets when it comes to looking for men's pocket watches.
Irrespective of whether you wish to buy an Elgin, a Fusee, a Steampunk, a Masonic, or any other pocket watch, you can do so quite easily. Most shops that deal in watches sell pocket watches as well, and you also have the option of purchasing through online retailers, such as eBay. Looking online can give you more options than brick-and-mortar shops, although you should know of the different types of pocket watches, how they work, and how much you wish to spend, before you start looking for one.
Different Types of Men's Pocket Watches
When buying a men's pocket watch, you are presented with scores of options, and getting a little confused at such a point is not entirely out of place. This is because there are different types of men's pocket watches and they vary in accordance to their working mechanism as well as their design.
Working Mechanisms
Different pocket watches function using different mechanisms; while older pocket watches rely on mechanical movement, you can also find newer alternatives that offer quartz movement.
Mechanical Pocket Watches
These watches require winding in order to work, and this concept has been around since pocket watches were first introduced. Commonly referred to as hand-winding pocket watches, these watches can be found in different designs, and almost all antique and vintage pocket watches fall under this category, given that watch batteries have not been around for very long. These watches function until they are wound, and once they stop, they need to be wound again.
Quartz Pocket Watches
Using quartz crystals as opposed to tuning forks, quartz pocket watches draw power through batteries, and different models of pocket watches may require different battery sizes. A good battery lasts up to two years, and people who wish to use their men's pocket watch on a day-to-day basis generally prefer buying those that use batteries, given that they do not require winding. Quartz pocket watches are looked upon as inferior alternatives by some, since they generally do not come with jewels while also having lower graded mechanisms. However, since they do not suffer from wear and tear of the tuning fork, they can be more accurate than mechanical variants in the long run.
Some newer men's pocket watches that run on batteries come with digital displays. These use LCD screens instead of conventional dials, and these watches may contain additional functions, like a stopwatch or a compass.
Different Designs of Men's Pocket Watches
There are different designs to choose from when it comes to buying a men's pocket watch, and the most commonly seen design options include open face, full hunter, double hunter, half hunter, half double hunter, side-winder, and pair cased alternatives.
Open Face
Open face pocket watches come without covers, which put their displays in plain view. This allows easy reading of the time, and these watches are quite a popular option today.
Full Hunter
This design incorporates the use of an outer casing, which can be carved, embossed, coloured, or plain. You would need to open the watch cover every time you wish to check the time.
Double Hunter
Double hunter pocket watches are quite similar to full hunter models, but what sets them apart are lids that open up from the back portion. The lid can be used as a stand to place the pocket watch on any flat surface, and it also allows a user to view the watch's mechanical movements. As with the full hunter, you need to open the watch cover every time you wish to check the time.
Half Hunter
Half hunter pocket watches do not require users to open the face of the watch because a half hunter cover comes with a hole, crystal, or glass, which allows a user to look at the watch's hands without opening it.
Half Double Hunter
This design borrows from both the half hunter and the double hunter. What you can expect with a half double hunter pocket watch is a cover at the front as well as a cover for the back, like the double hunter. The front cover comes with a window of some kind that allows you to see the watch's hands through it.
Pair Cased
Pair cased men's pocket watches are not commonly found, given that their everyday use was common only in the early and mid-18th century, although this design is found in some antique pocket watches. The inner case of a pair cased pocket watch holds the actual watch, which is enclosed by an outer case. Making the inner cases of these watches dust-proof was not really possible and external cases were thereby used to provide added protection.
Side-Winders
There are instances when hunter-styled movements are used in cases meant for open-faced movements. Since movements for both tend to come with holes required for the dial mounting feet in different positions, the winding stem in the new arrangement is seen at the three o'clock position, as opposed to the 12 o'clock position. This arrangement is referred to as a side-winder, and although it does not result in operational problems, it is viewed as incorrect matching of case and movement.
Buying Vintage and Antique Men's Pocket Watches
When looking at buying a vintage or antique pocket watch, there are certain aspects that need your attention, and these include the age and condition of the watch. Most good pocket watches come with serial numbers at the bottom of them and can be used to find out more about any given pocket watch. Finding out as much as possible about the watch is suggested because a pocket watch that has been handled carefully and serviced regularly may look as good as new, and the reverse can be true with a watch that has not received the care it requires.
If you intend to buy an antique or vintage pocket watch and have it repaired later, knowing just how much you need to spend before you buy the watch is suggested. While not all non-functioning antique pocket watches require extensive repairs, the right knowledge can help differentiate between a great deal and one where you stand to lose money.
The Dials
Dials are an important part of pocket watches, and what you can commonly expect to see in vintage and antique pocket watches are dials that are made using metal, and dials that are made using enamel-covered metal. Metal dials comprise of thin, flat metal pieces that are painted, printed, or embossed, and enamel-covered metal dials comprised of one or more layers of enamel powder spread onto both sides of metal substrates. The front surface in the latter may be polished and painted.
Some antique pocket watches come with single sunk and double sunk dials made of enamel, which help in adding to the watch's aesthetic appeal. Two regions are typically sunk in such watches, which include the seconds bit and the centre. Single sunk variants come with a sunken seconds bit, and double sunk variants come with sunken seconds bits as well as a sunken centre.
What to Look For in a Men's Pocket Watch
Men's pocket watches come in different styles and are made to suit all kinds of budgets. When looking for a pocket watch that can be used on an everyday basis, you should look at options that come with sapphire crystals, as they are scratch-resistant and highly durable, and stainless steel cases offer good protection as well. If your new watch is to serve as an all-seasons watch, look for one that offers some level of water resistance. If you are looking for a mechanical men's pocket watch, look for one that comes with at least 17 jewels movement, as these watches are made to last.
Different materials used to make pocket watches come with different qualities, and establishing just how you intend to use your watch should help you decide which of these options to purchase.
Material

Qualities

Very durable

Resists tarnishing and scratching

Affordable

Silver

Tarnishes easily

Scratch-resistant

Expensive

Gold

Bends and scratches

Resists tarnishing

Very expensive

Acrylic crystals

Scratch easily

Shatter-resistant

Can be polished

Glass crystals

Scratch easily

Cannot be polished

Sapphire crystals

Scratch-resistant

Can be polished
Durability is a factor that should be addressed at the onset, which holds true irrespective of whether you are buying a watch for day-to-day use, to pass onto future generations, or to simply gift to someone. Stainless steel cases, for instance, score over other alternatives, not just by offering high levels of durability, but affordability as well.
Buying a Men's Pocket Watch on eBay
eBay is home to just about every kind of pocket watch, and if you wish to buy a men's pocket watch you are truly spoilt for choice. The choices on offer include pocket watches with stainless steel cases, chrome cases, silver plated cases, and more. The choice extends to open face, half hunter, and double hunter design alternatives as well. The range of pocket watches on eBay also includes watches with chains, with date displays, with Roman and Arabic numerals, and so on.
Users can search for just the kind of pocket watch they are looking for using eBay's search option. You simply have to key in what you are looking for, and you are presented with all of the results that match your query. For example, if you key in "gold plated pocket watch", the results page displays relevant results. Another definite advantage when buying through eBay is that you are also given the ability to browse and buy used pocket watches.
Conclusion
While you do not have to spend a fortune when buying a men's pocket watch, know that you can if you want, given some of the highly-priced alternatives on offer. Establishing just how much you wish to spend when buying a pocket watch, therefore, is something that you should do at the onset, as this ensures that you look at suitably priced alternatives. Take into account the reason for which you want the pocket watch, because an antique pocket watch viewed from a collector's point of view does not do the trick if you are looking for something to use on an ongoing basis.
Pay attention to the design of the watch as this has a bearing on how you use the watch. For example, if you cannot be bothered opening and closing the case each time you wish to check the time, an open face design is best for you. On the other hand, a half double hunter can also serve your purpose, and does so well, given its transparent top window. As long as you know for what you are looking, and given the variety of options that are made available, finding a men's pocket watch that suits your needs should not be difficult.