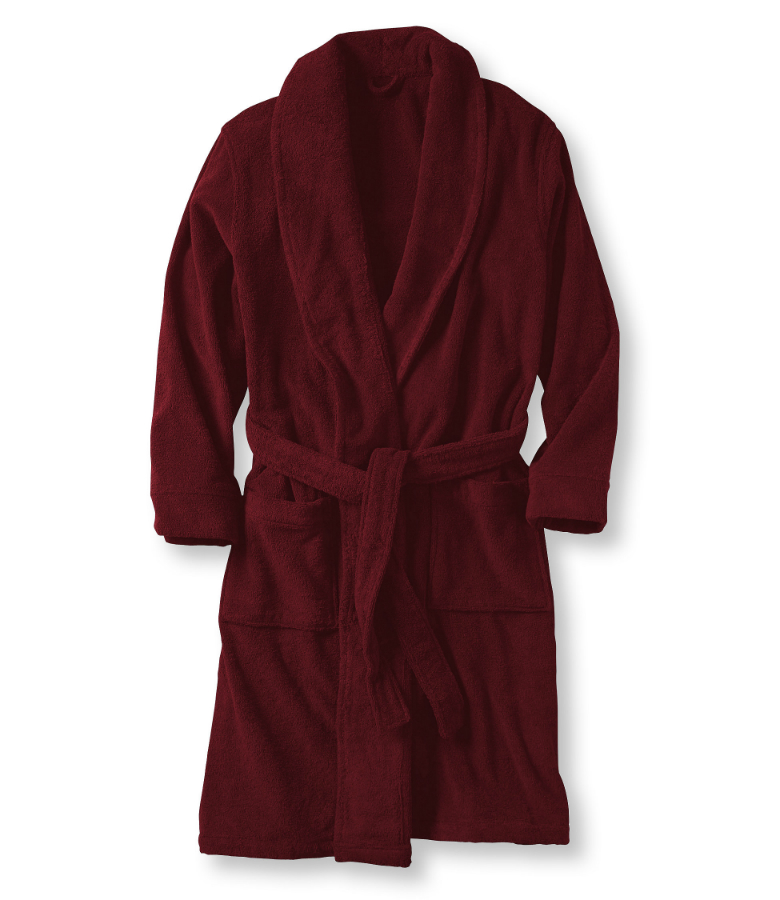 A snuggly, warm men's robe is a must for colder weather, but the same robe is not suited for warmer times of the year. Therefore, men should consider having a big, thick robe for winter as well as a lighter weight, cool robe for summer. Even though many men forego purchasing a summer robe because the British summer is usually so short and cool, a lightweight robe is essential when travelling to hot climates, or for those short spells of heat at home. At these times, men do not want to be sweltering under layers of towelling after getting out of the bath. Men's robes are available in a variety of materials: bamboo and wool for the environmentally conscious; cotton and towelling, for those who want practical, easy to launder robes; and silk, for men who have sensitive skin or enjoy the luxuriously soft feel of the fabric.
This guide provides buyers with a comprehensive overview of the different types of materials used for men's robes, and the advantages and disadvantages of each. It clearly lists what each type of robe is best suited for, and discusses the best length of robe, as well as the type of collar. The sizing chart provided allows buyers to select the correct robe size easily. Men's robes are available from men's fashion retailers, as well as some mail order catalogues. For the ultimate range of men's robes, buyers should visit eBay, which has a plethora of men's robes readily available on one user friendly website, where buyers can make fantastic savings.
Types of Materials
There are numerous materials used to make men's robes. Each material is suited to a different purpose, for example, towelling for bathrobes. Some are better insulators, so are more suited to use in colder seasons. The choice of material for a men's robe depends, to some degree, on the preference of the wearer, but also the season and intended purpose.
Silk Robes
Silk robes are lightweight, delicate and soft, appropriate for even sensitive skin types. Silk is a natural material which allows the skin to breathe. Silk robes are not the best insulators, as they are very thin, and are therefore not suited to wearing in cold weather. Silk is prone to shrinking if washed incorrectly, and does not absorb water well, so it is not ideal as a bathrobe. In spite of this, silk is an incredibly strong natural material, having a higher tensile strength than steel. The soft, sensual feel of silk robes against the skin make them a very popular choice, despite their expense and drawbacks.
Cotton
Cotton is the most commonly used material in men's robes. Cotton is excellent for absorbing excess water, and is therefore a good choice for a bathrobe. Cotton is easy to wash, and can be laundered in a regular washing machine. Cotton robes are lightweight, and as the material is breathable, they are a good choice for keeping covered while staying cool in summer. Organic cotton is increasingly popular, as people are becoming more environmentally aware. Organic cotton is somewhat more expensive than standard cotton, but is grown in an environmentally safe manner, without the use of harmful chemicals and processes, unlike standard cotton.
Towelling
Towelling is made from cotton or cotton and polyester fibres, woven to create a deep, soft pile. It is a thick material which is very absorbent, and is ideal for use as a bathrobe as it draws water away from the skin, thereby allowing the wearer to dry off very quickly. Its thickness and deep pile make towelling an excellent insulator, keeping the wearer very warm during the winter. Towelling must be washed only according to the instructions on the label, as it is likely to shrink if washed at a temperature that is too high.
Bamboo
Bamboo robes are increasing in popularity. Surprisingly, bamboo robes are very soft. Bamboo is a natural material which has innate antibacterial properties, and is also hypoallergenic. This makes a bamboo robe a good choice for men who suffer from allergies, or are prone to infection. Bamboo robes are also light and strong, as well as being highly absorbent. These robes are very thin, and are not very good insulators, so best suited for use in the summer. Additionally, bamboo robes are favoured by those who have environmental concerns, as the material is sustainable and does not cause environmental damage.
Wool
Woollen robes are highly absorbent and insulating, which makes them an excellent choice for winter and for use as a bathrobe. Wool is flame resistant, doesn't wrinkle, and can be machine washed at home at a low temperature. Wool has natural antibacterial properties. It also draws water away from the skin quickly to the outside of the material. Woollen robes are comparatively expensive, and do take a very long time to dry, but are favoured because of their warmth and absorbency.
Microfibre
Finer than silk, microfibre is a synthetic material which is very absorbent. Microfibre robes are soft enough for wearers with sensitive skin, and are lightweight, strong, and durable, as well as being stain resistant. Like wool, microfibre works to quickly pull water away from the skin. Microfibre holds shape well, rarely shrinking or becoming out of shape after being washed and hung to dry. These robes can be washed at home on a normal cycle, and, being so thin, microfibre robes offer only minimal insulation, and so are best suited for use in the summer.
Lengths
Men's robes are available in several different lengths. Full length robes reach the ankle and are most appropriate for winter robes made of towelling or wool because the extra length offers additional material to help trap body heat and keep the wearer warm. Full length robes are also the best choice for a bathrobe, because the additional length offers more absorbency, and helps to dry off the legs and protect the modesty of the wearer. Knee length and thigh length robes are better suited to lightweight summer robes, as longer robes may cause the wearer to get too warm.
Collar Styles
Not all men's robes have collars. Bathrobes for use in the winter months would ideally have a large collar or hood, while light, summer robes worn as a means of cover, do not need a collar.
Shawl Collar
A shawl collar is similar to the collar of an old fashioned smoking jacket. The collar closes in around the the neck, providing warmth. If this collar is used on a bathrobe, the wide, double layer of material absorbs and water that runs off the hair, helping to keep the wearer both dry and warm.
Kimono Collar
A kimono style of robe has no obvious collar. This type of robe is open around the neck. This helps to improve airflow, keeping the user cool. This is a common style for silk robes.
Hooded Robe
A hooded robe is most commonly made from towelling or cotton. These types of robe usually have a small, thin collar to which the hood is attached. Hooded robes help to dry the hair, when used on a bathrobe. Hoods also provide additional warmth at colder times of the year, as a great deal of heat is lost though the top of the head. A hood greatly reduces this by trapping the heat between the fabric and the body.
Sizing Chart
Using the chart below, buyers can quickly establish which size is the most appropriate when purchasing a men's robe. If in any doubt, choose the larger size. This ensures that there is plenty of room to wrap the robe fully around the body, and for winter robes, a little extra space to snuggle down in when trying to stay warm.
| Chest Measurements (inches) | Labelling Size |
| --- | --- |
| 34-36 | Small |
| 38-40 | Medium |
| 42-44 | Large |
| 46-48 | X-Large |
| 50-52 | XX-Large |
The chart above shows the average chest measurements, and which robe size suits each one. Buyers should be aware that every manufacturer cuts clothes slightly differently, and so sizing may not be the same between brands.
Buying Men's Robes on eBay
While men's robes can be purchased at a variety of different retailers, such as department stores or men's clothing shops, eBay has a vast array of robes to choose from, in every material, style, colour, size, and collar type. The budget varies considerably, catering to every consumer and income bracket. Men's robes can be found by searching from the eBay Home Page. If the man in question has a specific preference in robe and you know his size, you can use this information, such as "men's towelling robe XL," or "men's hooded robe XXL", to get fewer, more accurate results. If unsure of the style to buy, use a more generic term to get a large number of results to browse through.
Be sure to check the returns policy of the seller before you buy, in case there are any problems with the robe on arrival. If the policy is not clear, it is advisable to contact the seller. Also, to ensure that you receive the best possible product and the best service, check the feedback score of the seller. It should be high, with lots of positive feedback and comments left by previous buyers. This indicates that the seller has a good reputation, and will provide a good shopping experience.
Conclusion
A long, warm, towelling robe, complete with a hood is the perfect item for a man snuggling up in front of the telly in the middle of winter after a hard day at work. However, the same robe is not well suited to hot summer evenings, leaving him sweltering as the temperature soars. A shorter, lightweight robe is far more appropriate in this instance. With the British summer being so notoriously unpredictable, many men choose to forego purchasing a suitable summer robe, and regret it later on, when they plan to go abroad to warmer climes, or when Britain experiences a heat wave. This guide provides shoppers with an overview of the most common materials for men's robes, and discusses their suitability, advantages, and disadvantages. It also discusses collar and hood options, the most suitable length, and a sizing chart, to enable buyers to make a confident purchase on eBay.