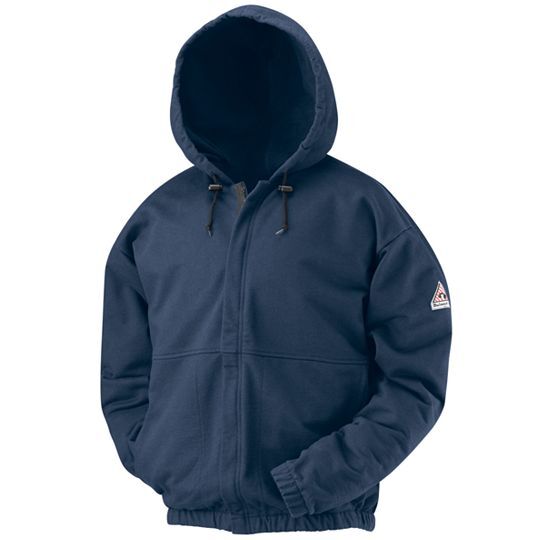 Sweatshirts became popular after the army issued the article of clothing for new recruits to wear during basic training. The same properties that enticed the army to utilise sweatshirts still apply to contemporary sweatshirts. The three primary types of men's sweatshirts provide warmth and repel moisture. Pullovers and hoodie sweatshirts are typically made with layered cotton or cotton-polyester blends that possess outstanding breathability qualities. Athletic sweatshirts need to be lightweight enough to prevent competitors from being slowed by wind.
The sweatshirt's versatility has created growing demand for all types of men's sweatshirts. Men can find sweatshirts at large department stores, athletic retail outlets, and online at eBay. Since sweatshirt sizes remain constant, online shopping is the most convenient way to purchase men's sweatshirts. However, before men sit down in front of the computer, they need to consider the three types of men's sweatshirts, the factors that influence buying a sweatshirt, the top selling sweatshirt brands and, most importantly, the sweatshirt size chart.
Types of Men's Sweatshirts
While the perception is that hoodies are the only type of men's sweatshirt, the fact remains that men have three primary types of sweatshirts to consider before they move on to other sweatshirt buying criteria. Each type of sweatshirt possesses unique characteristics that allow men to easily decide on a sweatshirt type.
Pullover
Pullover sweatshirts are typically sold as separate articles of clothing. As the name implies, men pull this type of sweatshirt over their upper torso. Manufacturers typically construct pullover sweatshirts with thick, heavy cotton or cotton-polyester blends. While pullovers can be worn during athletic events, their true purpose is not to promote style, but to provide functionality. Men wear pullovers as a layer of clothing for outdoor sportsmen activities, such as hunting and fishing. The materials used to make pullovers should provide warmth and have strong breathability qualities.
Athletic
Athletic sweatshirts are designed with lightweight, synthetic materials that work well in windy and humid conditions. Often sold as part of a sweatsuit that includes athletic sweatpants, athletic sweatshirts comprise the warm up outwear for amatuer and professional athletes. Men who workout at the gym or outdoors love the lightweight feel of athletic sweatshirts. Most athletic sweatshirts possess zippers and pockets for athletes to store electronic devices and car keys. Athletic gear manufacturers brand their athletic sweatshirts by inserting their logo near the right upper part of the sweatshirt's chest area.
Hoodie
The hoodie provides men with all of the attributes of the pullover, with the addition of a hood. Men have traditionally worn hoodies to workout in colder climates, since the hood protects the sensitive areas above the shoulders, such as ears and nose. Most hoodies possess the same breathable characteristics of pullovers, yet they are made with even thicker and heavier layers of cotton or cotton-polyester blends. Hoodies often represent the outer layer of clothing that men wear during extremely cold weather. The popularity of hoodies has led to the introduction of more creative styles that add panache to this type of sweatshirt. Men's hoodies are known for their open centre pockets that allow users to keep their hands warm.
What to Look for in Men's Sweatshirts
Once a man decides on a type of sweatshirt, he can then decide on the sweatshirt buying factors that mean the most to him. The best way to accomplish this is to list each of the following factors and then rank them by importance. The highest ranking factor carries the most weight in deciding on a men's sweatshirt.
Warmth
Men's sweatshirts can replace winter jackets as a way to protect against biting cold temperatures. Sweatshirt manufacturers incorporate many of the same warmth features into their sweatshirt that jacket makers use. Layers have become a popular way to dress for the winter, with sweatshirts comprising the most important layer. Contemporary sweatshirts possess jacket-like warmth properties, such as fleece linings, thick materials, warm ribbed cuffs, and deep pockets.
Breathability
Fabrics that do not breathe well can cause a sweatshirt to lose its warmth qualities. While warmth and breathability seem to go hand in hand, breathability also applies to athletes that require breathable sweatshirt fabrics to prevent athletic sweatshirts from gaining weight due to moisture accumulation. Organic cotton, linen, silk, and wool are the materials that do the best job of evaporating moisture from the skin.
Style
Sweatshirt manufacturers have created innovative sweatshirt designs that have become so popular amongst men that design alone is the consideration for buying the sweatshirt. Bright colours and creative patterns become an integral part of a man's wardrobe. The problem with placing style above every other sweatshirt buying factor lies with the ultimate purpose for owning a sweatshirt: to provide protection from weather elements.
Fit
Men should consider size before buying a sweatshirt. Moreover, they need to consider shrinkage of 100 per cent cotton sweatshirts after they run through a few wash cycles. A good rule of thumb is to buy a sweatshirt a half-size larger than a man's chest and arm length sizes. Sweatshirts should fit loosely around the shoulders, chest, and waist, but not look too baggy. Hoods should comfortably fit around the ears and neck area.
Top-Selling Men's Sweatshirts
Men have numerous sweatshirt options that can create some confusion during the buying process. However, learning about the five top-selling men's sweatshirts may provide all the information a man needs to make a purchasing decision.
Men's Columbia Mountain
Columbia Mountain has designed and produced fashionable men's sweatshirts for years. The main functionality of the company's sweatshirt comes in the form of the warmth and comfort provided by expertly handled cotton. Columbia Mountain sweatshirts come in myriad colours and sizes. The company caters to oversized men as well.
Russell Dri-Power Pullover
The Russell Dri-Power Pullover is made to repel moisture while a man sweats. This is the prototype of pullover that men wear as part of a layered outfit to combat cold, moist climates. Not only does this pullover provide functionality, it is also considered one of the more stylish pullovers that men can wear with both jeans and khakis.
Fruit of the Loom
The leading producer of men's underwear has entered the hoodie market. Fruit of the Loom hoodies are noted for their understated colour designs and long-lasting properties. The cotton-polyester blend hoodies provide insulated warmth, as well as moisture repelling properties. This is the perfect hoodie model to wear underneath a lightweight poncho or raincoat.
Adidas Hoodie
Many men probably believe that Nike produces the most hoodies. In fact, Adidas has dominated the hoodie market for years. This company allows men to sport stylish hoodies, while at the same time benefiting from its incredible protection from the cold. The hoodies worn by professional athletes during inclement weather are most likely made by Adidas.
Ed Hardy Hoodie
Ed Hardy leads the more creative designers in producing popular hoodies. The most popular Ed Hardy Hoodie design is the tattoo hoodie. Designers created a colourful hoodie that presents the perfect backdrop for innovative tattoos. Ed Hardy Hoodies are extremely popular with men under the age of 30 years.
Mens' Sweatshirt Size Chart
Unlike men's shirts, men's sweatshirts are designed to fit loosely around the chest, shoulders, and waist line. This means men's sweatshirt sizes are a bit larger for each size type than the size types for men's shirts. The following men's sweatshirt sizes are measured in centimetres.
| Measurement | Small | Medium | Large | X-Large | 2X-Large |
| --- | --- | --- | --- | --- | --- |
| Width | 52 | 56 | 59 | 63 | 67 |
| Height | 66 | 68 | 72 | 74 | 77 |
| Sleeve Span | 156 | 158 | 166 | 170 | 176 |
| Chest Size | 86-94 | 95-104 | 105-114 | 115-124 | 125-132 |
Buying Men's Sweatshirts on eBay
eBay provides men with the most convenient way to shop for men's sweatshirts. The key factor is knowing your chest size and sleeve span. Then, you can type your size into eBay's search engine to find the sweatshirt that gives you a loose fit and plenty of warmth. You can add other keywords to narrow your search, such as "medium men's blue sweatshirt" or "men's football hoodie". Once you find a seller who offers the type and size of sweatshirt that you want, you can then review the enlarged sweatshirt photograph, delivery terms, and return policies on the seller's product page.
Consider men's sweatshirt sellers that have earned eBay's highest selling honour. Top-rated sellers have established a strong record of offering superior products and running fair auctions. Each top-rated seller has a ribbon icon placed next to the smaller version of the product photograph that appears on search results pages. In addition, review the seller's customer feedback, which is also part of seller product pages. Look for positive feedback that goes back at least one year and preferably contains some feedback about the seller's record of selling men's clothing.
Conclusion
The original purpose of wearing men's sweatshirts was to protect against cold and damp weather. The army saw the utility of thick woven cotton sweatshirts by mandating that new recruits wear the sweatshirts during basic training. Over the years, sweatshirts have broadened their appeal. First, athletic sweatshirts were introduced to the amatuer and professional sports market. Then, sweatshirt manufacturers began to employ graphic designers and artists to create innovative designs that attract young male buyers to a product that historically had been popular with older males. In particular, hoodies have become a cultural status symbol, although people cannot seem to agree on what defines the status.
Men wear sweatshirts that depict the logos of their favourite professional sports team. They can buy such sweatshirts at department and sporting goods stores, but their best bet is to peruse the wide selection of professional team sweatshirts on eBay. Because of outgrowing sizes or style issues, eBay sellers offer high-quality sweatshirts at prices that tend to be lower than the prices found at brick and mortar stores. Moreover, men can find discounted virtually brand new sweatshirts on eBay. You do not have to wait for a department store sale to reap huge sweatshirt savings.