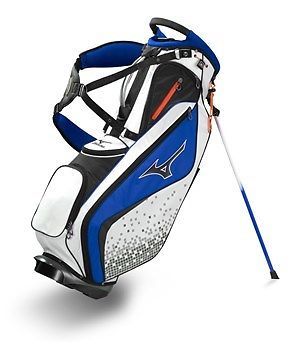 Golf can be a relaxing hobby for many. However, one of the very few drawbacks of golf is that all of the clubs, balls, tees and other accessories need to be carried around the course. When it comes to golf bags, there aren't any that will improve your game like a club or ball will.
This means that the type of bag that is best is entirely down to the golfer. Mizuno have a large range of golf bags on eBay that cater for amateurs all the way up to professionals. Unfortunately for many, caddies are not a viable option, so choosing a Mizuno golf bag is entirely based on how you play golf and carrying preference.
This guide will show what the pros and cons of each Mizuno bag are; making it is easy to make the best choice for your golf clubs.
Types of Mizuno Golf Bag
There are a few Mizuno golf bag variations which all have different advantages and drawbacks. eBay has a great range of Mizuno golf bags in all the different types and styles below:
Carry Bag
This is the most common type of golf bag on the market. These golf bags are relatively simple in design and can weigh as little as 4lbs, so are not hard to carry a full set of golf clubs around the course. Mizuno have many high quality carry bags with either a single or have a double strap, which distributes all of the weight evenly across the back, making a round less tiresome and comfortable, and allowing you a free to enjoy the game. These bags tend to be well priced and will allow golfers of all standards and sizes to carry clubs around the course with relative ease.
Pencil Bag
These extremely lightweight carry bags are perfect for golfers of a smaller stature or for a quick 18 holes. As well as being light, pencil bags are much thinner than carry bags but still have enough room to hold a full set of clubs. These bags are brilliant for easy storage in a locker or car. Pencil bags are generally better for fair weather days as they tend to offer little protection from rain.
Stand Bag
Stand Bags are very similar in size to carry bags but have the added luxury of a stand to hold the bag upright whilst taking a shot. Stand bags will have two legs that spring out easily when the weight of the bag puts pressure on the lever at its bottom, meaning that your clubs do not need to be put on the floor and the bag will stand a much better chance of not being blown over in the wind. Other advantages of this bag are that the bag doesn't get dirty because it will not touch the floor, and it also makes it very easy to access clubs.
When buying a stand bag it is very important to ensure that the quality of the stand and the lever at the base is good. As prices go up, the standard of stand bags will of course rise, but it is easy to find stand bags that don't break the bank on eBay.. These bags will cost a little more than carry bags but the advantages are worth it.
Cart Bag
Cart bags are specifically designed to be carried on a motorised golf buggy or cart. They are generally aimed at golfers of an older generation who tend to use golf buggies. Cart bags are quite large and offer lots of pocket space for accessories such as golf balls, towels and even drinks. These pockets do then to go down one side of the bag and gives easy access to the player while the bag is on the buggy. Cart bags are sturdier than carry bags and stand bags as they are mostly lined with hard plastic, meaning they are durable and are water resistant. Cart bags are more expensive than the previous bags and are for golf cart use only.
Tour Bag
Tour Bags are the largest in the golf bag family and can weigh up to 50lbs. As the name suggests, they are the bag of choice for tour professionals. Professionals very rarely carry their own bags, as they have caddies to do this for them. Tour Bags are large due to the fact that professionals will need to have extra clothing, gloves, balls and waterproofs when travelling from course to course. These bags are certainly not recommended for golfers wishing to carry their own clubs, but would be suitable for a trolley or cart. However, tour bags offer a lot of space and are normally well designed as well such as these Mizuno Tour Bags.
Travel Bag
Golfing holidays are extremely popular, but it can be a bit of a pain travelling with clubs and luggage. Golf Travel bags are made to make this a lot easier because it allows the golfer to place their normal bag inside the large padded travel bag, which helps protect the bag and clubs.
Travel bags come in soft and hard casing. The softer bags are more lightweight and offer more padded protection and are great for car journeys, whereas the harder versions are extremely tough and durable and provide fantastic protection whilst travelling by plane and going through baggage handling. Most travel bags will also have wheels for easy transportation.
Other Bags
Whilst these bags are not specifically for carrying golf clubs around they are still very useful:
Golf Ball Bag - These bags are generally used on the practice range and allow for the golfer to carry a lot of golf balls around. These bags are small, lightweight and can easily fit into a locker or car, yet can hold up to 100 golf balls in most cases. Many golf ball bags come with a funnel attached which allows the golfer to pick up the golf balls without bending down to pick them up. These are often known as 'Shag Bags'.
Golf Shoe Bag - The bags are pretty self-explanatory but are great way to carry golf shoes to and from the course. These bags are small and easy to carry and allow for easy storage in a car or locker without leaving dirt and grass lying around. A large selection of Mizuno golf shoe bags can be found here.
When buying a Mizuno golf bag it is very important to consider whom the bag is for, and in what conditions they tend to play in. For example a recreational golfer may only play when it is warm and will only need a pencil bag, whereas a golf fanatic may want something a bit more durable like a stand bag or tour bag. Whatever bag you are looking for, eBay has a fantastic range that can be found in the Sporting Goods section.
Using eBay to Buy a Mizuno Golf Bag
There is a large array of Mizuno golf bags available on eBay within its listings. By typing 'Mizuno golf bags' into the search bar at the top of the eBay home page, lots of Mizuno golf bags will appear which can be purchased in the following ways:
* Bidding- As you would at an auction, customers can bid for products with their best offer. Customers can increase offers at any point until the auction time finishes. The customer with the highest bid has then bought the item listed.
* 'Buy it Now'- If bidding is too much hassle and you have found the Mizuno golf bag you want at a great price, use the 'Buy It Now' to instantly buy the item.
These listings can be narrowed down by using the advanced search page in which results can be sorted by 'All of these words', 'Any of these words', or 'Exact phrase.' Also, search in 'All Categories' to open up the search further. If you are finding it difficult to find the exact product you are looking for, try shopping on eBay stores or create a 'Want It Now' post to tell the eBay community what item is desired. Searches can also be saved and emails sent to you when a relevant item becomes available.
There is a run through of eBay buyer rights below, which outlines how eBay protect their customers with Buyer Protection.
Conclusion
Buying a Mizuno golf bag is easy when you know exactly what type of golfer the user is. Carry, stand and pencil bags tend to be for the recreational players whereas the tour or cart bags are more for the professionals or golf buggy users. Whatever type of bag is needed, eBay has a brilliant range of golf bags from Mizuno in the Sporting Goods category.
But when buying Mizuno golf bags from eBay, always make sure to thoroughly check the item listing, research the seller or store that you are buying the item from and be sure to only pay through the official eBay channels. As long as these instructions are followed the customer is sure to find the most suitable of Mizuno golf bag for them, leaving the golfer with more time to focus on the game in hand.