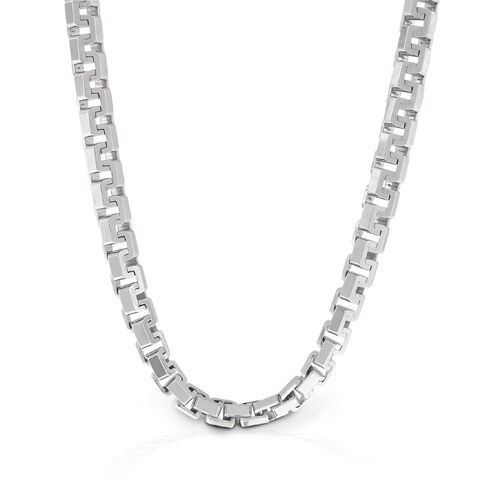 Necklaces make excellent accessories and can add a finishing touch to an outfit, but finding the right one requires making a few decisions. When looking for a necklace, buyers certainly have a number of different styles from which to choose. These include lockets, lariats, bib necklaces, chokers, matinee and opera necklaces. After selecting the right style of necklace, the buyer should also look at a number of other factors, including what materials the necklace is made of. Certain styles of necklaces flatter certain face shapes. The length and colour of the necklace should also be considered. Whatever necklace a buyer decides to buy, it is important that she or she takes care of it. Necklaces need to be stored properly, to stop them from becoming damaged. Choosing a necklace takes a little thought, but it is truly worth the effort when finding a flattering piece that looks fantastic with almost any attire.
Style of Necklace
When looking for a necklace, one should realise there are a variety of different styles. These include lockets, chokers, lariat necklaces, bib necklaces, and opera necklaces. Different styles of necklaces are often suited for different occasions in order to match a diversity of outfits, so the buyer should take this into account.
Lockets
A locket makes a beautiful gift and is a great option for everyday wear. Lockets come in many shapes and styles. Some of them open up, so they can make a great keepsake. They also come in precious metals like gold and silver, but there are plenty of costume jewellery ones available too.
Lariat Necklace
A lariat necklace is a long necklace that usually does not have a clasp. The wearer can arrange this type of necklace a variety of ways. It can be wrapped around a woman's neck several times, the ends can be crossed, or it can be knotted in different styles. Some lariat necklaces come with a pendant, while others are simply strands of beads. Lariat necklaces may also have a loop at one end, which allows the other end of the necklace to be threaded through.
Choker
A choker is a kind of necklace that fits closely around the wearer's neck and is about 35 to 40 cm in length. Chokers come in one or more strands and are made of beads, pearls, or other materials. Depending on the type of material a choker is made of, it can be suitable for either casual or dressy occasions.
Matinee Necklace
This variety of necklace is usually about 55 or 63 cm in length, and made of a single strand of beads or pearls. This is a simple style, which can look great at the office. A matinee style necklace is highly versatile because it works well with both high and low necklines.
Opera Necklace
An opera necklace is usually about 76 to 88 cm long. It can be worn as a single strand or looped around the neck. Generally, one strand is looped closely around the wearer's neck with another falling to the wearer's breastbone. This style of necklace tends to draw attention to the wearer's bosom. In recent years, opera necklaces have regained their place as a fashion item.
Bib Necklaces
These necklaces are frequently made from strands of beads or stone and are often round or oval in shape. A bib necklace may also be a solid shape that is encrusted with stones or it may have strands of beads hanging from the piece itself.
Factors When Choosing a Necklace
A buyer should take different features into consideration when searching for a necklace. Some of the things one should think about include what materials the necklace is made of and the length of the item. A buyer may also want to consider the colour of the necklace and whether or not the design flatters the wearer's face shape.
Materials
A variety of different materials are used to make necklaces including glass, pearls, gemstones, and precious metals. Materials like wood are also used as this create a natural effect.
| Material | Description |
| --- | --- |
| Pearls | Pearls can be used in strands or as focal points in a necklace. |
| Gemstones | A variety of gemstones are used in necklaces including emeralds, rubies, and sapphires. |
| Glass beads | These beads come in many different sizes, shapes, and designs. |
| Precious Metals | Gold and silver, are often used for both chains, pendants, and beads. |
The above chart presents just a handful of the materials commonly used in necklaces. However, many other materials are also used including wood, shells, coral and more.
Choosing a Necklace to Suit a Face Shape
Buyers may also want to consider face shape when trying to decide on a necklace. Listed below are some of the necklaces that look great with certain face shapes.
| Face Shape | Necklace |
| --- | --- |
| Square Face | Purchasers with a square shaped face should look for a necklace with a round or oval pendant. Long or T-style necklaces also look good. |
| Heart Shaped Face | Buyers with heart shaped faces should balance their look with a choker or a dangling necklace with a pendant. |
| Oval Face | An oval face suits almost any kind of necklace, including pieces exhibiting large gemstones. |
| Long Face | A long face works well with a shorter necklace containing smaller gemstones like pearls or beads. |
| Round Face | Round faces suit necklaces that fall below the collarbone, which has a lengthening effect on a face. |
The above are just a few suggestions to consider. Evidently, every buyer is unique and not all faces fit into specific categories, so shop around when looking for a necklace that flatters a wearer.
Colour
When it comes to choosing a necklace, there are a number of different colour choices. Buyers can choose the colour of the chain as well as any stones or beads. Silver and gold are the two main colour choices for chains. Furthermore, buyers can choose between muted or rich colours.
Length
Choosing the length of the necklace is important because various lengths are suited for certain occasions. A longer necklace is great for special occasions, though one wouldn't want to wear one around the house, for example, as longer necklaces can easily get caught on items and break. This is also why a buyer may want to choose a necklace with a clasp allowing for length adjustment.
Caring for Necklaces
Regardless of what kind of necklace one chooses, it is important to properly care for it. The type of care depends entirely on what a necklace is made of. If a necklace is on a string, it is generally not a good idea to hang it during storage because it could stretch. If a necklace has precious metals or gemstones, it should be stored carefully in a jewellery box, preferably in separate compartments. Beaded necklaces and strands of pearls should be restrung on a regular basis. Many necklaces also have to be cleaned regularly, especially ones that are made of precious stones or metals. Metals like gold and silver can be washed in soap and water. Buyers should be careful cleaning gemstones to avoid accidental damage. It is always a good idea to follow any care instructions that come with the jewellery.
Finding a Necklace on eBay
Buyers looking for a necklace should take advantage of some of eBay's different search tools. All you have to do is type the required keywords such as "pearl necklace" into the search box and watch the results appear on your computer screen. If there are too many listings to get through, it is simple to narrow your choices down by using filters or categories.
A buyer should also be aware of the feedback tool on eBay. New buyers are often unsure about using a website, so they can use this tool. You should consider both the amount of feedback left by other buyers as well as the quality. The top sellers on eBay usually exhibit a lot of feedback and high ratings. After you have purchased an item, you also have the opportunity to leave feedback about your experience, as this helps future buyers to make an educated purchase decision.
Conclusion
Necklaces are a great accessory that every woman should have. Buying a necklace can be a difficult decision because there are many different styles to choose from, such as lariat necklaces, bib necklaces, chokers, and lockets. There are also many points a buyer should consider when picking out a necklace. The materials are important, as they influence the style of the necklace. Some materials commonly used are precious metals, gemstones, glass, and natural materials. Buyers should also know which styles of necklaces look best with certain face shapes. The colour of the necklace is also important because it should complement the wearer's outfit. Furthermore, buyers should take care of their necklaces, so they stay in excellent condition for as long as possible. This includes cleaning the pieces when needed. Selecting the right type of necklace requires the buyer to make a lot of decisions, but it is worth finding the right accessory. Over time, buyers can develop a collection of necklaces that are suitable for various occasions.