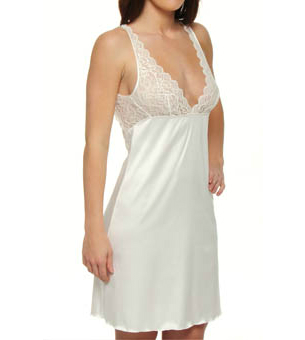 Nightdresses are generally understood to be an alternative to more traditional pyjamas, but they also include a selection of lingerie. Before looking to buy a nightdress, shoppers may want to accustom themselves to the various nightdress styles, which include chemises, negligees, peignoirs, and pyjama nightdresses. All of the previously mentioned nightdress types are available in different dress styles, and each is based on the silhouette, hem length, and collar style. The different styles lend themselves to different comfort levels, and are often made of different fibres or fabrics which range from cotton to flannel and from cashmere to acrylic lace.
Whether looking for a nightdress to ward off the winter chill while sleeping or just looking for something cosy to lounge around the house in during the evening, potential nightdress buyers should consider doing their shopping online. Websites such as eBay allow shoppers to quickly gather and view a large assortment of nightdresses all from the comfort of home, and the site offers tempting savings when compared to the options available at traditional retail stores.
Types of Nightdresses
There are various types of nightdresses, each suited to different seasons and occasions. Sleeveless nightdresses are generally made of light, airy fabrics, making them ideal for summer or spring wear, while those nightdresses which do feature sleeves are more likely made of thicker materials to help keep wearers warm over winter.
Sleeveless Nightdresses
Sleeveless nightdresses are generally made of light fabrics which breathe easily and are ideal for spring and summer, when heavier fabrics like flannel or wool blends may lead to overheating. Sleeveless varieties vary from strap-shoulder and halter to racerback styles, which expose more of the neck and shoulders. Sleeveless nightdresses are also ideal for those who toss and turn at night. The sleeveless variety helps avoid uncomfortable bunching or rolling of long sleeves. The most common types of sleeveless nightdress are peignoirs, negligees, nighties, and chemises.
Peignoirs
A peignoir is a spaghetti-strap, floor-length nightdress. Often manufactured of light, sheer materials such as chiffon, they are made to be closely fitted to emphasise the female figure and silhouette. Though they can be worn as a nightgown in their own right, some are also designed to be worn over a chemise, and many manufacturers offer the two in matched sets. Peignoirs are generally embroidered, or feature ruffles or lace, and they are considered a type of lingerie.
Negligees
Negligee nightdresses are typically sheer and lacy, featuring super short hems which end at the upper thigh or just below the hips. Sometimes also called a babydoll, they are considered a variety of lingerie. Additionally, they often feature decorated hems and are gathered just under the bust, which is further accentuated by a plunging neckline. Negligees are often made of sheer synthetics, faux silks, or silk blends.
Chemises
A chemise is cut much like a negligee with spaghetti straps and a short hemline, but both the hemline and the neck are not as severe as the negligee, instead they attain a more modest appearance. Likewise often featuring fanciful stitching or other ornamentation, the chemise is also considered a variety of lingerie. And like negligees, chemises are also generally made of super soft, super light, smooth fabrics like synthetics and silk blends.
Nighties
A nightie is constructed much the same as a negligee or chemise, usually featuring thin straps, and it is gathered under the bust for a long, flowing look. But the hemline is generally mid-thigh or longer, and a nightie is generally fashioned of simpler, less sheer fabrics. Cotton and nylon are very common, and in general a nightie is meant to have the short, airy construction of negligees and chemises, but without the sheer fabrics or lingerie-style embellishments.
Nightdresses with Sleeves
A far less number of nightdresses have sleeves than those which do not, and on the whole they tend to be less sheer and offer more coverage, which makes them ideal for winter months. Many of these styles are found with either short or long sleeves.
Pyjama Nightdresses
A pyjama nightdress is made with optimum comfort in mind, is usually loose and flowing, and is often made of soft cotton or flannel. These generally feature longer hems which are anywhere from above the knee to floor length. Some pajama nightdresses are more fitted than others, and most feature simple scoop or v-neck collars. In many cases, it is only the additional length which keeps these from being confused with pyjama shirts.
Robes or Dressing Gowns
Many wear robes or dressing gowns as a nightdress, and for the simple reason that they are often absurdly comfortable. Featuring a crossing, belted-front closure, many of these gowns are made of silk or similar fabrics, making them lightweight and airy. The length of hems differs widely among varieties; some may be as short as the upper or mid thigh, with others approaching floor length. Manufacturers often sell these in matched sets with a chemise or negligee.
Button-Up Nightdresses
Often made of heavier fabrics like flannel or wool blends, button-up nightdresses are thick, warm, and cosy. Despite the moniker, many do not feature a full button-front closure, instead they offer a line of buttons just a few inches below the neckline. Most have a full sleeve and are hemmed at the knee or lower. In appearance, most look rather like a men's shirt modified to be super long. .
Muumuu Nightdresses
Though originally of Hawaiian origin, the muumuu is another common variety of nightdress. Much like pyjama nightdresses, they are often made of thicker, comfortable fabrics. Muumuu sleeves are almost always short, rarely ending beyond the elbow. Muumuus are never gathered at the waist, which make them an ideal option for a maternity nightdress, and they are distinctive for their loud, bright, and often floral patterns. Most feature either a square or scoop neck, and a ruffled hem is not uncommon.
Properly Fitting a Nightdress
Shoppers should always consider re-taking their measurements to ensure getting the best-fitting nightdress. For most manufacturers, nightdresses are sized according to the number of centimetres of fabric which it takes to encircle the bust, waist, and hip. If wearers exceed any of these measurements for a size, they are likely to need to purchase the next size up.
| Fitting Guide | XS | S | M | L | XL |
| --- | --- | --- | --- | --- | --- |
| Bust | 80 cm | 84-88 cm | 91-95 cm | 99-103 cm | 107-112 cm |
| Waist | 60 cm | 64-67 cm | 71-75 cm | 93-83 cm | 89-94 cm |
| Hip | 80 cm | 91-95 cm | 99-103 cm | 107-110 cm | 114-119 cm |
Shoppers should note that manufacturers rarely label a dress size by centimetres. They can refer to the chart below to establish which size number their measurements correlate to. The common sizes in the U.K., U.S., and E.U. varieties are all provided.
| Fitting Guide | XS | S | M | L | XL |
| --- | --- | --- | --- | --- | --- |
| U.K. | 6 | 8-10 | 12-14 | 16-18 | 20-22 |
| U.S. | 4 | 6-8 | 10-12 | 14-16 | 18-20 |
| E.U. | 32 | 34-36 | 38-40 | 42-44 | 46-48 |
Buyers should always establish which country version of sizing is being used to label a nightdress before purchasing it, as U.S. and U.K. sizes are commonly confused. And just in case, it is never a bad idea to double-check a retailer's return policy in the event that the wrong size is purchased.
How to Buy a Nightdress on eBay
Searching for a nightdress on eBay is very simple, requiring nothing more of shoppers than a few clicks. To get started, go to the search bar located on the eBay home page. Or, if you are already browsing eBay, the search bar can also be found at any internal page. After clicking it, type in the words or terms which best describe your ideal nightdress. This might be something like "small lace negligee" or "long flannel nightdress". Using general search terms is recommended, as eBay allows users to further refine the listings which appear.
Further refinement or organisation of listings is most recommended if search results take up more than a few pages. Such refinement helps display the best options first. Shoppers can choose to refine their search based on qualities inherent to the item, such as colour, size, or brand name, or on the qualities of the listing, such as the price, the time at which the listing ends or began, or the location.
Conclusion
For those looking to branch out of the traditional two-piece pyjama or just wanting to find a new nightdress, there are a wide variety of available options which run the gamut in terms of style, comfort, and affordability. A negligee is ideal for those wanting to add a little steam to the bedroom, while a plush flannel pyjama nightdress is optimal for those just wanting a way to ward off winter's chill without investing in a second duvet.
Regardless of what type or style of nightdress buyers are looking for, shopping via an online auction listing website may be an ideal alternative to traditional brick and mortar retail shopping. In addition to the convenience of being able to shop from home, buyers can also view a potentially broader selection of nightdresses, while also capitalising on potential savings. One such website, eBay, is also user-friendly, allowing for quick and detailed searches, and it is also easily organised based on shoppers' tastes.