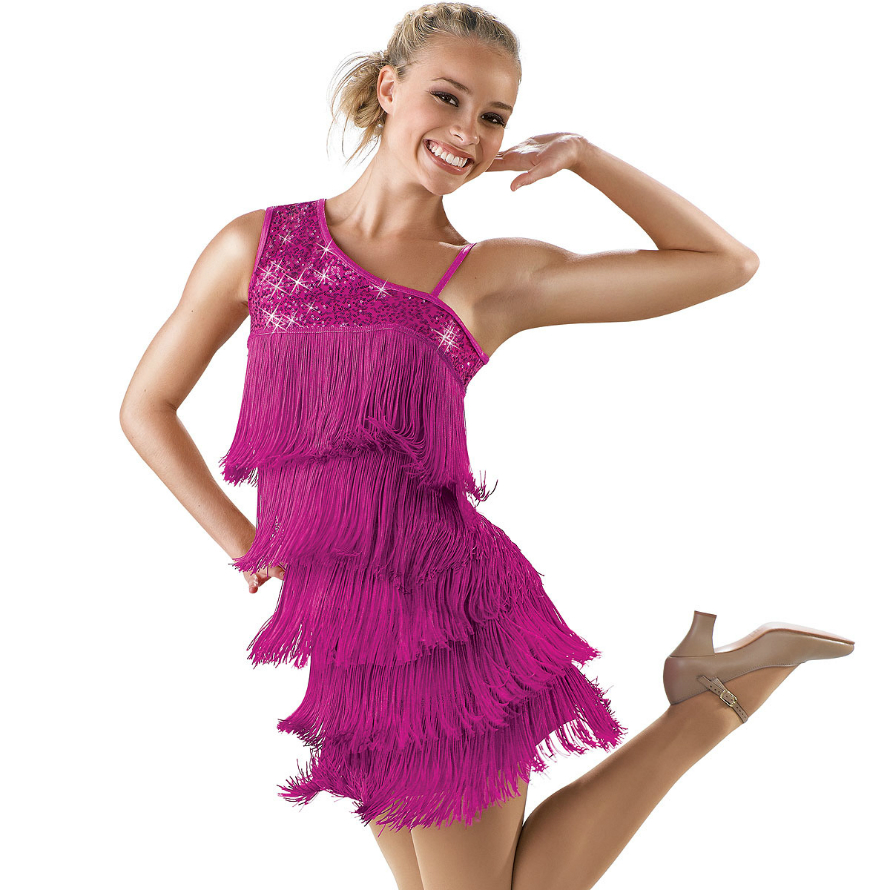 One-shoulder dresses are any dress featuring only one shoulder strap. The strap can be thin, thick, or integrated with the top of the dress. Although most designs are sleeveless, one-shoulder dresses are available with short, three quarter, or long sleeves. These dresses offer the wearer an opportunity to show off her shoulders without being too revealing, and are generally considered appropriate for casual, formal, and party wear.
One-shoulder dresses do not have traditional necklines. The shape of the neckline is determined by the positioning of the sleeve. As they are available in a range of styles, there is a one-shoulder dress for every body type. However, women with bigger busts may look top-heavy while wearing one of these dresses and should consider a different dress type. A number of factors should be considered when buying a one-shoulder dress. The waist of the dress, the cut, the fabric used in its construction, and the occasion should be taken into account. Also, the appropriate underwear should be chosen to complement the dress. All of these help a woman to wear a one-shoulder dress with the best effect. One-shoulder dresses are available from fashion and department stores, and from online sources, such as eBay.
Cut and Waistline for Each Body Type
One-shoulder dresses draw attention away from the lower body and focus it on the neck and shoulders. This is why this dress style suits most body types. However, to keep the advantage gained from your attention-grabbing exposed shoulder, choose the right dress cut and waistline for your body type.
One-Shoulder Dresses for a Pear Shaped Figure
Pear shaped women have narrow shoulders, broad hips, and full thighs. One-shoulder dresses are perfect for women with this type of figure as the emphasis on the shoulders draws the eye upwards. A dress that is loose towards the bottom, such as an A-line dress, masks unflattering areas.
One-Shoulder Dresses for a Curvy Figure
Accentuate your curves by choosing a form fitting one-shoulder dress or a dress with a cinched waist. Women with larger breasts should avoid dresses that are embellished along the front. Choosing a long dress that flares at the hem offsets the shoulders, while slimming the thighs for a more balanced look.
One-Shoulder Dresses for a Plus Size Figure
One-shoulder dresses give women with plus size figures the rare opportunity to bare some skin. For the best effect, keep it simple. Choose darker block colours, unadorned necklines, and avoid ruffles. An empire waistline hides lumps and bumps, but a horizontal line across the waist should be avoided as it visually broadens the body. Choose a good bra with adequate support.
One-Shoulder Dresses for an Athletic Figure
Women with slim or athletic figures should opt for one-shoulder dresses that accentuate the waistline, with full skirts or pleats to add curves in the right places. Add a belt for definition and avoid dresses with a loose fit as they can hang, making the body look shapeless.
One-Shoulder Dresses for a Petite Figure
Petite women should opt for shorter dresses and avoid overly long frocks that swallow them. Cheat a little bit by wearing heels for some added height. While high heels add height, the heels should be in proportion to the wearer's height and build. Very high heels can make a petite woman look like she is walking on stilts in an unstable manner, while heels that are too chunky focus the attention on the feet and make the wearer look out of proportion.
One-Shoulder Dresses for a Large Bust
Take care when choosing a one-shoulder dress as this style can make you look out of proportion. Choose a dress with a sturdy strap to allow extra support. A-line and empire waist dresses can be worn to balance the body by adding curves to the lower half. Bear in mind that some one-shoulder dresses simply cannot accommodate a large bust as the shoulder is cut too low to contain it. Choose a dress that is generously cut to avoid this.
Fabrics Used for One-Shoulder Dresses
One-shoulder dresses are available in fabrics ranging from cotton to silk, and leather to lace. Some fabrics, such as cotton and cotton blends, are more suited to casual wear. Silk, rayon, and a number of other lustrous fabrics drape well and are suitable for casual, party, or formal wear. Choose a fabric type that is suitable for the occasion on which the dress will be worn and is flattering to your figure, clinging in all the right places. In addition, be sure to check the care instructions for the fabric chosen. While silk is beautiful, some care is required to keep it looking its best.
Many one-shoulder dresses feature stretch fabric at the top. This helps the dress to fit properly and to stay up. Unless the dress chosen is a bodycon or other tight fitting dress style, the fabric should not stretch to the point of looking taut and strained. Instead, it should fit snugly and comfortably.
One-Shoulder Dresses for Every Occasion
The cut, fit, and length of the one-shoulder dress should be suitable for the occasion. A one-shoulder dress creates quite a sexy look and may not be suitable for conservative environments or the workplace. Similarly, some fabrics are more suited to formal or party wear than others. Cotton is generally a good choice for casual dresses, while some synthetics and silk make great party and formal wear. If choosing a formal dress, opt for a design with fewer embellishments and sparkly details than those found on party dresses.
Bras for a One-Shoulder Dress
Although some are tempted to simply match the colour of the bra to the colour of the dress, this poses a problem for the effect created by leaving one shoulder bare. Women with small to average sized breasts should consider adhesive bras, especially when wearing one-shoulder dresses with low cut backs. These stand-alone cups simply stick on for secret support. Alternatively, consider a strapless or multiway bra. A multiway bra features removable straps that can be adjusted to fit a number of clothing cuts. Attach a single strap to the front of the bra on the side of the bare shoulder, and then attach the other end of the strap to the back of the bra at the opposite side. Women with fuller breasts should consider additional support from a longline strapless bra.
Tips for Wearing a One-Shoulder Dress
A one-shoulder dress looks its best when worn with few accessories and no necklace. A necklace competes with the effect created by the single shoulder and it is better to accessorise by adding a ring, bracelet, or earrings. Keep it simple to keep the dress as striking as it should be. Keep the exposed shoulder bare by wearing hair up or swept back over the other shoulder. Avoid adding layers to a one-shoulder dress as this also detracts from the single shoulder look.
Finding a One-Shoulder Dress on eBay
Use the search bar that can be found on every page. Simply enter a search word or phrase, such as "black satin one-shoulder dress", to see the listings available. Narrow the results displayed by choosing the most appropriate category and the desired features, such as the size or brand. Alternatively, use the advanced search function for more control over your search results. Many eBay sellers offer returns policies. Look for these sellers when buying clothing to ensure that items that do not fit can be exchanged or returned.
Before You Buy on eBay
Before you buy on eBay, learn all that you can about the item and the seller. The item listing page contains all the information that you need and can be accessed by clicking on an individual listing. Details displayed here include the item description, bidding and buying options, terms of the seller's returns policy, postage and packaging costs, and the seller's feedback information.
eBay's seller feedback feature allows you to see what other buyers have said about specific sellers' products and customer service before you buy from them. Detailed seller ratings give additional information about whether buyers thought a seller's postage and packaging costs were reasonable, the seller's communication, the accuracy of the item description in the listing, and how long the seller took to dispatch the item.
Conclusion
One-shoulder dresses are flattering to most body types, although women with fuller breasts should take care when choosing this type of dress. As the attention is drawn to the shoulders, these dresses are especially great for women with wider hips and fuller thighs. One-shoulder dresses are available in a variety of cuts and fits. The shoulder can feature a thin or a thick strap.
When choosing a one-shoulder dress, consider which cut is most flattering for your body type and opt for ruffles, pleats, and embellishments that add or hide curves as needed. The type of fabric chosen should be appropriate to the function of the dress, drape well, and require an amount of care that is achievable and convenient for you.
These dresses are generally not suitable for work wear, and the type of cuts and fabrics dictate their suitability for casual, formal, or party wear. The bra chosen should not interfere with the effect created by the single shoulder and it is best to wear a bra that supports without being seen. Follow the tips included to get the most out of your one-shoulder dress. One-shoulder dresses in a wide range of colours, fabrics, and styles are available from eBay sellers.