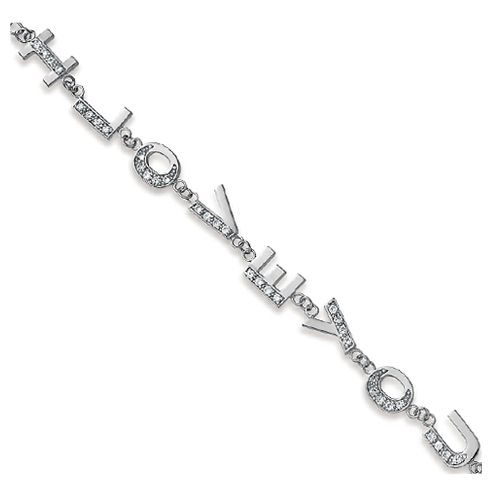 Silver is a metallic chemical element that is denoted by the symbol "Ag" on the periodic table of elements. Silver has both the highest electrical and thermal conductivity of any metal. It is found as a pure element within nature, but more commonly is the byproduct of copper, gold, lead, and zinc refining. The word silver comes from the Indo European root for the word "shining", and has been used to make jewellery, such as bracelets, since ancient time. Silver is also a very versatile metal, making it a great canvas for personalised bracelets.
Personalised bracelets depend entirely on the individual buyer, and can be purchased at jewellery stores, department stores, or online at eBay. Although personalised bracelets are typically custom-created, there are still a number of factors to take into consideration while shopping. These factors include types of silver, styles of personalised bracelets, and what type of personalisation a consumer is looking to create.
Types of Silver
The different types of silver used in personalised bracelets is broken down based on the purity of the silver. Like other precious metals, common types of silver are often mixed with other metal alloys to create a more practical and suitable metal for jewellery.
Pure Silver
Pure silver is a naturally occurring element that is mined directly out of the ground. Unlike other types of silver, it is not processed with other metal alloys, making it the shiniest of all types of silver. As a result, it is often too soft to be used to make everyday jewellery pieces, such as personalised silver bracelets. Pure silver also tarnishes quickly when exposed to oxygen or sulphur in the environment.
Consumers should be conscious of labels claiming an item is pure silver, as pure silver must be at least 99 per cent silver in order to fall under this type of category. Pure silver is best used as an accent decoration in a personalised silver bracelet. Because of it's chemical qualities, it is not very practical for use as the base silver for a personalised silver bracelet.
Sterling Silver
Sterling silver is the most popular type of silver used in personalised silver bracelets. Sterling silver is 92.5 per cent silver and 7.5 per cent other metals, such as copper. As a result, sterling silver is durable and less likely to tarnish than pure silver. Due to the high percent of actual silver, sterling silver has a beautiful, shiny appearance, very similar to pure silver. Sterling silver is a great choice for a personalised silver bracelet.
German Silver
German silver's name is a misnomer, as it does not actually contain any actual silver. Rather, german silver is actually nickel silver. German silver contains nickel, copper, and zinc that together form an alloy that closely resembles silver. Sometimes german silver has a plating of silver over the nickel silver base. Additionally, nickel is a common skin irritant, so buyers should beware of this if they have this allergy. German silver with silver plating is a good alternative for those who cannot afford sterling silver and exhibit no nickel allergies.
Oxidised Silver
Oxidised silver is any type of silver that has been put through a process of controlled oxidation, or exposure to environmental factors that cause tarnish. As a result, oxidised silver is dark, with little to no lustre common in sterling and pure silver. Oxidised silver requires little maintenance because it has already been purposefully exposed to the elements. Choosing oxidised silver for a personalised silver bracelet is purely a stylistic decision for those who prefer the appearance of oxidised silver over the shiny appearance of sterling or pure silver.
Silver-Plated
Silver-plated items include a base metal with an authentic silver coating added to the surface. Cheap or costume jewellery that has a "silver" appearance is typically silver-plated. Silver-plated personalised bracelets are durable and have the shine of sterling or pure silver. However, the silver-plate often chips off over time. A silver-plated personalised bracelet is also a good alternative for those who cannot afford sterling silver.
Styles of Personalised Silver Bracelets
Silver bracelets are a popular jewellery item for both men and women. There are a range of silver bracelets that can be personalised to an individual's preference. These bracelets range from elegant to casual.
Silver Cuff Bracelet
A silver cuff bracelet is a wide, rigid bracelet that resembles the cuff of a dress shirt. Cuff bracelets also have a narrow opening, which allows the wrist to pass through. Cuff bracelets do not have a clasp. Cuff bracelets often have a wide silver surface that ranges in texture and design.
Silver Tennis Bracelet
The silver tennis bracelet is a silver bracelet that contains a symmetrical row of individual gemstones. Because each gemstone is set individually, this bracelet moves with the owner's wrist for maximum flexibility. The silver tennis bracelet usually has a box or lobster clasp with an added safety latch.
Silver Identification Bracelet
While identification bracelets often have a practical purpose, they are also worn for fashion. Silver identification bracelets are characterised by a solid curved plate, with two thin chains or bands coming out of either end of the plate. Silver identification bracelets typically have a lobster clasp.
Silver Charm Bracelet
The silver charm bracelet is a metal chain that is decorated with small tokens, pendants, or trinkets. Each token, pendant, or trinket can be made out of variety of precious metals and gemstones. The charms typically dangle off the bracelet. Charm bracelets also come with a variety of different clasps including the toggle, lobster, or box.
Silver Link Bracelet
A silver link bracelet is made up of connecting silver links or similar components. These silver links or components cover the entire length of the silver bracelet. There can also be gemstones in between each link for a different effect. Silver link bracelets can have a toggle, lobster, or box clasp.
Types of Personalisation
There are numerous ways to personalise a silver bracelet. Certain silver bracelets are more appropriate for certain kinds of personalisation than others.
Charms
Charms are used to personalise a silver bracelet. Each token, pendant, or trinkets often memoralises events or meaningful things to an individual. It is also common to continuously add charms to the silver bracelet as new milestones are reached or accomplishments achieved. Because of the unique significance, charm bracelets are often passed down from generation to generation.
Engravings and Inscriptions
Engravings and inscriptions are another popular way to personalise a silver cuff bracelet or an identification bracelet. The different possibilities of engravings or inscriptions are infinite and usually extremely personal to an individual. Some examples of possible engravings and inscriptions include a person's initials, names, dates, symbols, designs or favourite sayings or quotes. Silver identification bracelets are made for this purpose. Silver cuff bracelets also provide a good template, both on the outside and inside of the bracelet, for a personal message.
Links and Gemstones
Gemstones and links are another more subtle way to personalise a silver link or tennis bracelet. A consumer chooses customised links or components for a silver link bracelet. Similarly, gemstones, such as the individual's birth stone or another stone with special significance, are incorporated into the stones of a tennis bracelet, or added onto a charm bracelet.
How to Buy a Personalised Silver Bracelet on eBay
There are many different ways to personalise your silver bracelet. Some bracelets need to be customised after purchase, and others can be purchased with the personalisation already set or inscribed. eBay has a variety of personalised silver bracelets to choose from. For example, if you are looking for a silver identification bracelet to engrave, simply type those terms into the keyword search box within the eBay website portal. The same method can also be used if you are looking for a specific flower-themed sterling silver charm bracelet, for example. All items matching this description are then populated for you.
eBay offers different features to ensure that you make the most informed purchasing decision possible. One of these features, is identifying deserving sellers as Top-Rated Sellers. Top-Rated Sellers earn this label by providing adequate descriptions of their products, consistently delivering on their items, and charging fair postage costs. Further, eBay monitors these sellers to ensure that they continue to earn this label. eBay's Top-Rated Seller feature is just one way eBay helps make buying personalised silver bracelets fun, easy, and worry-free.
Conclusion
Silver, particularly sterling silver, is durable, beautiful, and often much more affordable than other precious metals such as gold. There are a few things for consumers to be conscious of when searching for the perfect personalised silver bracelet. Consumers should understand the difference between the different types of silver available. Although sterling silver is most popular for quality personalised bracelets, silver-plated and german silver can be more affordable options for those on a budget.
Personalising a silver bracelet includes both picking the style of bracelet and the type of personalisation. Often, this decision must be made together to ensure that the two are compatible. For example, tennis and link bracelets are not appropriate for engravings or inscriptions. Whereas, cuff bracelets and identification bracelets provide an ideal template for engravings and inscriptions. While there are a few things to consider while shopping for a personalised silver bracelet, with the right tools the buying process can be both simple and affordable.