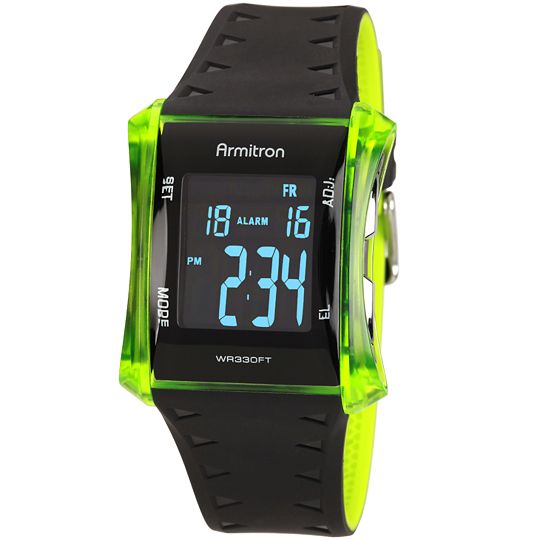 A watch that can be worn with casual wear without seeming out of place is a valuable accessory. Plastic watches have long been a favourite of those who desire a casual, durable timepiece. Plastic watches also tend to be some of the most inexpensive options available. Some plastic watches, however, come at premium prices much like their metal counterparts. With brand names like Swatch, Swiss, and more, consumers pay just as much for a quality plastic watch as for a metal one.
Shopping for a quality plastic watch is not always an easy task. When selecting a specific watch style, using online marketplaces such as eBay allows for a higher level of search customisation than more traditional brick and mortar store shopping methods. With the right tools, individuals are able to find quality plastic watches from the comfort of their home. The different kinds of watch mechanics available, various style options, and size considerations are all necessary factors to consider.
Plastic Watch Styles
Although a plastic watch is a style within itself, there exists several different plastic watch style options. With a more recent history than traditional metal watches, there does tend to be less to browse through when considering plastic watches. Everything from basic, more classical plastic watch options to trendy colours and intricate faces are available for purchase through online marketplaces such as eBay.
Classic Options
Classic options such as Swatch watches are often designed with muted colours such as black and brown. More subtle colours and designs allow individuals to wear plastic watches with both informal attire and formal dress. Watches that are designed with a flat colour and a simple watch face are the among the most classical of options. Consider limiting the amount of detail a plastic watch offers if it is to be worn with more formal attire.
Trendy Colours
The original intention of companies such as Swatch and others in constructing plastic watches was to provide a fun, inexpensive watch option. Today, however, even the most themed and colourful plastic watches can cost a premium. Trendy colours such as orange and bright blue are both fun and playful, harkening back to the original intention of plastic watches.
Intricate Faces
Plastic watches were originally fairly basic watches powered by a small, inexpensive battery. Now, however, some plastic watches made by companies such as Invictia and Lacoste cost just as much as their metal counterparts. With features that include a world clock, digital and analogue combinations, and even a compass, consumers are able to find plastic options that meet almost any need. More intricate faces are a more casual choice unless such a face is designed with an attractive, muted aesthetic. Pair a more intricate face with a trendy coloured watch band for best results.
Plastic Watch Sizes
Once the watch style and designed aesthetic is chosen, consumers should consider the type of watch size that is desired. Most plastic watches are somewhat large to accommodate both its features and plastic diameter, but some thin options can be purchased as well. A consumer also has the option of sizing the watch to his or her wrist if desired. A watch that is comfortable for the wearer should be one of the utmost priorities in shopping for a plastic watch.
Large Design
Plastic watches that have a thick strap and a large watch face are an attractive option for those who prefer a bigger watch design. These large watches offer straps anywhere from 16 mm to a total of 24 mm. Any band bigger than 24 mm is typically reserved for people with a larger than normal wrist size. Any larger band design is likely to be less comfortable for a short time. After just a few wearings, however, even larger bands become quite comfortable.
Slim Construction
Watch straps come as thin as 6 mm and range all the way to 15 mm in width and more. Plastic watches with slimmer straps are often more attractive in a basic aesthetic. A black strap that is about 8 mm in size coupled with a medium sized face is an aesthetically pleasing option that can be worn in both formal and informal situations. Slimmer straps also tend to be somewhat more comfortable than plastic watches with thicker watch straps.
Sizing
The length of a plastic watch strap should be factored in when purchasing a watch. Plastic watch straps are not easily resised, so purchasing one with a strap that is the right size on the first purchase is important. The easiest way to determine what size a wearer needs is to measure the length of the last watch that fit properly. Those shopping on eBay who have never worn a watch should simply measure their wrist and add approximately 3 mm. With the right sizing, plastic watches are both comfortable and reliable.
Watch Movements
A truly reliable watch does not rely on the material of the external casing of the watch. The most important elements of any watch are the internal movements of the device. With the advent of new technologies, there are approximately five different watch mechanics that helps them to keep proper time. Quartz, manual wind, self-winding, battery powered, and solar powered options are all available. Understanding the elements of each option allows consumers to make an educated purchase.
Quartz
Watches that are powered with quartz are designed with a small quartz crystal that is electrified by a tiny battery. Quartz watches are designed to keep time as accurately as possible. Since such watches are powered by battery, plastic watches designed with quartz require very little upkeep. For the most dependable timekeeping watch, search for a watch with quartz movements.
Manual Wind
Watches that are designed with a manual wind have a small knob, usually located on the side of the watch face, that owners must wind periodically. Manual wind watches are the oldest type of watch movement available. Although such watches can last for decades, they tend to keep less accurate time.
Self-Winding
Self-winding watches are often labelled as kinetic powered watches. These watches are designed with a manual wind system that is powered by human movement. If worn constantly, such watches keep fairly reliable time. Those who are likely to wear their plastic watch constantly should consider self-winding watches as a quality option.
Battery Powered
Simple battery powered watches are perhaps the most common movement option for plastic watches. Small watch batteries are all that are needed to power such watches. These watches tend to be less expensive and still keep adequate time. As a cheaper option, however, such watches tend not to last very long.
Solar Powered
Solar powered watches are also powered by a quartz movement, but require only sunlight to charge the quartz. A quality solar powered plastic watch keeps accurate time and can last for years. Those who are often outside are likely to find solar powered watches as one of the most tempting watch movement options.
Using eBay to Buy a Plastic Watch
With so many style options available, shopping for a specific type of plastic watch is often time consuming. With online shopping methods such as eBay, however, consumers are able to find almost any type of plastic watch for a reasonable price. In order to start a search on eBay consumers should simply visit the eBay home page. On the home page, shoppers simply enter a broad search term such as 'plastic watch' or a more specific search phrase such as 'LED plastic watch' into the search bar. Next, consumers select search or press enter to turn up hundreds and potentially thousands of products.
Once search results are on the screen, consumers are able to filter results in a variety of ways. One of the most convenient options eBay offers is the advanced search function. This allows you to enter in whatever specifics are desired in order to trim down search results to a manageable level. Consider entering in several searches in order to view the most diverse list of products available on eBay.
Conclusion
Whether you are looking for a fun, playful option or an affordable, formal accessory, plastic watches are an item that can meet a variety of style needs. With classic aesthetics, trendy designs, and a variety of size options, almost any design preference can be found through a plastic watch option. When shopping for a plastic watch, remember to consider watch movement as well as colour and size. The internal movements of a watch are what make such accessories dependable and useful.
Searching for a watch that is designed with quality movements and an attractive theme, however, can be somewhat difficult. Online marketplaces such as eBay offer avenues to purchase almost any type of watch. With the right search tools, consumers are able to quickly find items that meet their taste preferences. eBay offers easy and convenient methods to shop for a watch that is able to meet both timekeeping and style needs for every consumer.