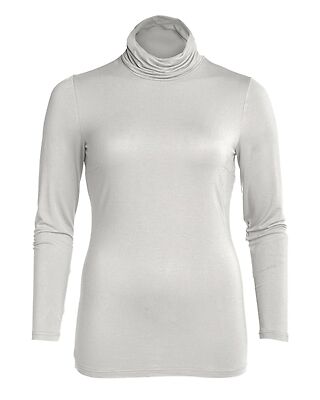 A polo neck top is a great option for anyone who wants to wear something more formal than a crew neck tee-shirt, but less formal than a long-sleeved collared dress shirt. A polo neck epitomises casual comfort, and says that you have both a casual nature and a sense of style. These tops can be short-sleeved or long, but they are always soft and comfortable. In addition to being stylish, polo neck tops are also readily available and easy to buy. It does not matter who you are, where you are, or even what size you are; there are polo neck tops for everyone, regardless of their age, stature, or walk of life. All the buyer really needs to do is decide what style, size, and colour they want; whether it be long sleeves or short, natural or synthetic in fabric, and they can quickly find just the right top for any occasion.
What is a Polo Neck Top?
One of the most important questions when it comes to buying anything is that of definition: what is it that you are looking to buy? This is particularly important when dealing with something like a polo neck top, where merchants have been known to apply the same name to very different garments. In the case of the polo neck top, for most people it means a top with a relatively close-fitting, high neck that is worn folded over. There is also the mock polo neck, where the end of the neck is sewn into place after being rolled over. However, some see a polo neck as being the neck found on a polo shirt, which has two or three buttons below an open neck that is rolled over along the sides and back. Still, what matters most for the majority of purchasers is that the top they buy is both comfortable and stylish, as well as being well-suited for the situations in which they intend to wear it.
Regardless of whether you are a purist who only considers the original definition, or whether you take a more lax approach to terminology, there are some features that almost all polo neck tops have in common, even when the neck is not one of them. As a general rule, a polo neck top refers to a knit top that pulls over the head, rather than opening in the front. It can be knit from natural or synthetic fibres, or even a blend. It can vary in weight, and carry a high-street or designer label. In all cases, though, it is a comfortable and stylish garment.
Polo Neck Top Materials
The majority of polo neck tops are made of either cotton or a cotton blend, usually with polyester. However, while these are the most common materials, they are not the only ones that are or can be used for polo neck tops. You can also find polo neck tops in wool, and there are polo neck jumpers in acrylic. Still, for most people the choice usually comes down to either 100 per cent cotton or a polyester-cotton, often called poly-cotton, blend usually ranging anywhere from 20 to 50 per cent polyester.
Cotton Polo Neck Tops
The big advantage of a 100 per cent cotton polo neck top is that cotton breathes. It lets perspiration escape and does not trap it against the body to produce odours. It is also much softer than polyester, and so the cotton top is going to be more comfortable than its blended counterparts. Unfortunately, cotton is also somewhat more likely to tear than polyester, as it is less elastic, and due to the vagaries of nature, it is also more expensive than the synthetic. You will also find that a 100 per cent cotton polo neck top is more likely to wrinkle than one blended with polyester.
Poly-Cotton Blend Polo Neck Tops
The biggest advantages of poly-cotton blends is that they are both less expensive than 100 per cent cotton, and more resistant to wrinkles. The elasticity of polyester also means that they tend to hold their shape better. Unfortunately, polyester, being a form of plastic, does not breathe at all, and perspiration can cause it to stick to the wearer's skin. This is why polyester is usually used in blends, rather than having the entire top made from polyester. A good blend allows the garment to take on the strengths of both materials, polyester and cotton. As a general rule, the more expensive and comfortable the garment is, the higher the percentage of cotton.
The following table shows some of the more common blends and the advantages and disadvantages of each:
| Blend | Advantages | Drawbacks |
| --- | --- | --- |
| 80 percent cotton, 20 percent polyester | Closest in feel to natural cotton, yet still more resistant to wrinkles and tears | Higher price than other blends, lower resistance to wrinkles |
| 65 percent cotton, 35 percent polyester | Good balance of breathability and wrinkle resistance | Moderately high price, noticeably less breathability |
| 50 percent cotton, 50 percent polyester | Lowest price of all blends, high resistance to wrinkles and tears. Keeps shape well | Not as soft and comfortable as other blends, least comfortable in warm weather |
When looking at a blended top, it is usually a good idea to go with the highest percentage of cotton that you can fit in your budget. The additional comfort is often worth the cost.
Choosing a Polo Neck Top
The first thing you should do when choosing a polo neck top is to decide which kind of top you want. Are you looking for a true polo neck, or would you be fine with a mock polo neck where you do not have to worry about the fold at the neck? Do you want something that is more like a polo shirt, and if so, do you want short or long sleeves? The answers to these questions will make it much easier for you to identify your needs and thus find the right top to meet them.
The next step in identifying your needs is to look at your requirements and budget and decide what fabric best meets them. For most buyers that will probably be some kind of poly-cotton blend, though that is far from the only option. Wool and acrylic are also available, especially for those wanting a jumper or heavier weight top, or you may prefer the feel of 100 per cent cotton against your skin. Once you know the style and material you want, it becomes easy to find just the right top.
Where to Buy a Polo Neck Top
Polo neck tops are everywhere, and it should come as no surprise that you can buy them almost anywhere. People who prefer to shop locally can find them on their local high-street, in a chain store or a local clothier or specialty shop. Those who prefer the wider variety of goods that can be found on the web can find polo neck tops at many Internet retailers, as well as online auction sites such as eBay.
Buying a Polo Neck Top on eBay
Buying a polo neck top on eBay is a quick and easy proposition. All you have to do is enter what you are looking for into the search box on the main page, or any other eBay page for that matter, and watch your results appear. You can use the filters in the sidebar to narrow down your search, limiting it by size, label, or even to polo neck tops that are within your budget. eBay also offers sorting functionality, which makes it easy to focus on those tops that best fit your needs.
Once you have found the right polo neck top, the next step is to find a good fit from among eBay's many reputable buyers. The best way to do this is to check out their profile page, where you can see everything from their location and feedback, to other items they are offering. You can also read their shipping policies such as whether they combine shipping on multiple orders or even allow in-person pick ups for those buyers who live nearby.
Conclusion
Whether you are looking for a traditional long-sleeved polo neck top or whether you want something that looks more like a polo shirt, there are a whole host of options which make purchasing the right polo neck top a snap. You can buy a true polo neck top, or a mock polo neck that saves you the need to roll the neck. You can find anything from an acrylic jumper to a 100 per cent cotton polo neck top that breathes and keeps you comfortable in any weather conditions. The options range from the aforementioned pure cotton top, to one that is blended with anything up to 50 per cent polyester for additional strength and wrinkle resistance at the cost of softness. Poly-cotton blends may not be as comfortable, but they are easier on the budget. As soon as you can identify your needs, the right polo neck top is only a few mouse-clicks away from your home.