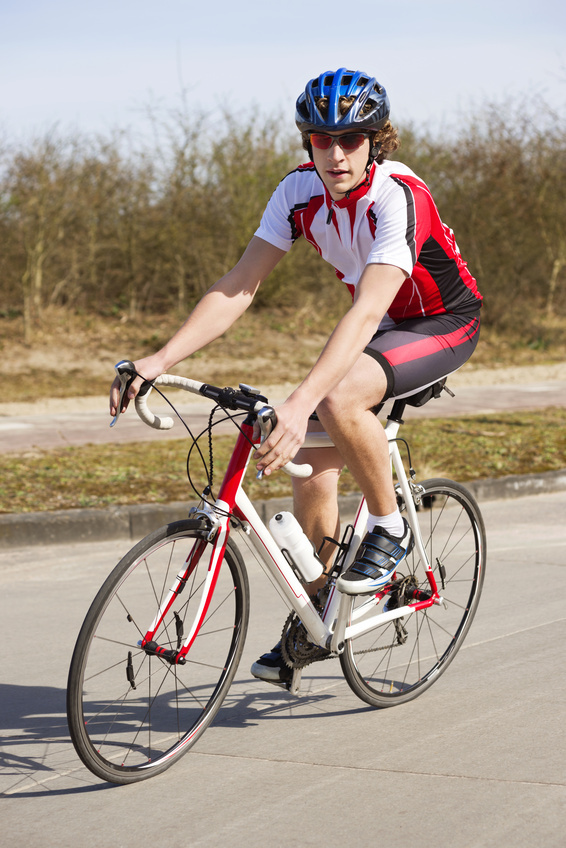 Cycling jerseys are a form of sportswear worn by cyclists to protect against the weather while increasing speed and stamina. Professional cyclists wear these jerseys across the world while competing in various races and marathons. The jerseys are sponsored by corporations and made by cycling clothing manufacturers. Replica jerseys are often sold and there is a large online market for these garments. People buy the jerseys to wear themselves while cycling as opposed to collecting them for show.
eBay has an excellent selection of new and vintage replica jerseys, and buyers will find that the replica jerseys sold on the site are done so at very reasonable prices. The following guide shall examine the factors all buyers consider before buying a replica jersey, including material, size and price. This guide shall also detail how to find replica jerseys on eBay.
Replica Cycling Jerseys
What is a Cycling Jersey?
Cycling jerseys are form fitting garments worn next to the skin and instead of traditional clothing like tee shirts or sweaters. These jerseys are designed to benefit the cyclist in a number of ways and it's advised that all serious cyclists invest in one. Cycling jerseys can benefit buyers in the following ways,
The tight fitting design of the jersey regulates the rider's temperature. Cycling jerseys have good sweat wicking and moisture absorption properties, keeping the cyclist cool even on hot days. The jerseys are made to divert perspiration away from the body reducing irritation. Also, depending on the material, some jerseys are excellent insulators and will keep the cyclist warm when it's cold.
The jerseys are made from very thin and light materials, and the form fitting design prevents air drag. This is very important in races and time-trials as it allows the cyclist to achieve maximum speed without losing unnecessary stamina.
Cycling jerseys are made from a number of different materials and are available with various coatings and finishes. It's possible to buy water resistant, waterproof, windproof and UV resistant cycling jerseys. This means that regardless of the weather, buyers can cycle and be confident that their jersey will provide ample protection.
Long and Short Sleeve Replica Jerseys
Depending on the rider who wore it originally, and the race they were involved in, buyers will find that replica cycling jerseys come either as long sleeved or short sleeved. Most companies release both a long and short sleeve version of a jersey, so buyers need to consider which would be more suitable for them.
| | |
| --- | --- |
| Long Sleeve Cycling Jerseys | Replica jerseys with long sleeves are ideal for use on colder days or for night-time cycling. The longer sleeves provide more insulation and can keep a cyclist warmer for longer. Long sleeve jerseys are also common among marathon cyclists who need to maintain an even temperature. Long sleeve jerseys should be worn in wet and windy weather as they offer the cyclist more protection from the elements. However, cyclists should avoid this style of jersey on warm days as it can lead to overheating and a loss of stamina. |
| Short Sleeve Cycling Jerseys | More commonly worn on races and time-trails, short sleeve replica cycling jerseys are suitable for average to warm spring and summer days. This style of jersey should also be worn in more humid climates. As the sleeves are shorter, perspiration has more area to escape and this keeps the cyclist cool. These are not suitable for use on cold days or nights, and wearing one in low temperatures can be uncomfortable. |
Replica Jersey Materials
People buy replica jerseys, as they believe them to be better designed and made than the standard jerseys for sale. This is not always the case and it's a good idea for buyers to be aware of the various materials used in replica jersey manufacturing so they can determine if the jersey will be suitable for them or not. The following are the most common materials used in cycling jersey manufacturing, and can be found in new and vintage replica jerseys.
| | |
| --- | --- |
| Polyester | One of the most common synthetic materials used in cycling jersey manufacturing, replica jerseys made with polyester tend to be blended with another material e.g. a polyester and nylon blend. The material is used for its excellent sweat wicking properties that stop the cyclist from over perspiring. Replica jerseys made from this material can be bought at very low prices, and it is an ideal material to wear on warm days. |
| Nylon | Professionals on longer races during colder seasons often wear replica cycling jerseys made from nylon. Nylon is very successful at stopping wind and is fairly water resistant. Combing nylon with a strong insulator such as Roubaix will result in a jersey very suitable for low temperatures and bad weather. This material is very strong, and replica jerseys made from this material are often sold at inexpensive prices. |
| Merino Wool | A large number of vintage replica jerseys are made from merino wool, and this material has very good insulating properties. Merino wool is also quite soft to touch and is an ideal choice for buyers with sensitive skin. Merino wool replica jerseys are often more expensive than those made from synthetic materials, but buying jerseys made from this fibre is one way of guaranteeing quality. |
| Roubaix | An excellent insulator, and a favoured material by many professional cyclists in the seventies and eighties. This material also has very good sweat wicking properties, which means it can be worn in warm or cold weather. Buyers will find that many vintage replica cycling jerseys are made from this material or from a blend of it and another fibre. Replica jerseys made from Roubaix can be expensive, especially if they are from a different era. |
Jersey Sizes
Buyers need to find a replica jersey that fits properly, as one that is too tight will be uncomfortable, and one that is too loose will get caught in the wind and slow the cyclist down. Replica cycling jersey sizes vary from manufacturer to manufacturer, but below is a rough guide to jersey sizes for men and women. Always check the Description box on the item page for details of measurements.
Women
| | | | | | | |
| --- | --- | --- | --- | --- | --- | --- |
| Size | X-Small | Small | Medium | Large | X-Large | XX-Large |
| Chest | 30–32" | 32–34" | 36–38" | 38–40" | 42–44" | 46–48" |
| Waist | 22–24" | 25–27" | 27–29" | 30–32" | 32–34" | 36–39" |
Men
| | | | | | | |
| --- | --- | --- | --- | --- | --- | --- |
| Size | X-Small | Small | Medium | Large | X-Large | XX-Large |
| Chest | 33" | 34–36" | 36–39" | 39–41" | 42–44" | 45" |
| Back Length | 20–22" | 22–24" | 24–27" | 27–29" | 29–31" | 31" |
Jersey Prices
Buyers need to be aware that in the cases of some replica cycling jerseys they will be paying for the brand rather than functionality. They should also be aware that a replica jersey is not the same quality as the jersey worn by the professional cyclist, hence the term 'replica jersey'. If buying a vintage replica jersey remember that it will not be to the same the standard as those made today. This is not to say that it won't improve the quality of a cycle, it just means that it may not improve it to the quality of modern jerseys. Buyers can expect vintage replica jerseys to sell at more expensive prices, especially if they are used items that were bought during a first release.
Conclusion
Replica cycling jerseys are a form of cycling clothing based on specific jerseys worn by professional cyclists during race and marathons. Jersey manufacturers often release a number of replica jerseys after a big event, and amateur cyclists buy them to wear when cycling themselves. However, there are a number of details that buyers should consider before purchasing a replica jersey, as it needs to be suitable for them and their style of cycling. Buyers should consider the sleeve length, the material and the size of the jersey.
eBay has a great selection of new and vintage replica cycling jerseys, and buyers can expect to find the jerseys at very reasonable prices. eBay's extensive database of users means new replica jerseys are constantly being listed, and with a little diligence buyers will be able to find a suitable replica jersey for them.