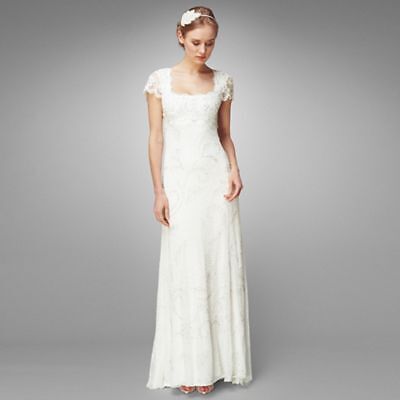 When couples who have made the decision to tie the knot set about planning their nuptials, there can be a strong incentive to give the entire event some extra magic by injecting a sense of history. Particularly when the venue for the ceremony is a church several centuries old, or when either for the bride or groom, or both, a historic period has strong meaning, the decision can be made to dress accordingly. Hence, that is how Tudor-themed, Regency-themed or, coming closer to the present, '60s-themed weddings, to name a few, come about. Correspondingly, the market, and more especially the online marketplace, offers a heartening selection of retro wedding dresses to tempt brides and grooms into going for something a little different, eBay notable among them. There are online specialist vintage wedding dress suppliers also, and retro wedding dresses can also be purchased from certain nostalgia and vintage shops as well as from individuals who place classified ads.
Nostalgia is a rather appealing way of uniting people across the generations. The guests may be invited to get into the mood by likewise adopting the same retro theme. Most certainly, the attendants, bridesmaids, pageboys, flower girls, best man, and ushers, can be outfitted to reflect the couple's chosen historic era. Such couples and wedding planners can often use a little advice in order to make an informed choice of a retro wedding gown.. When purchasing a retro wedding dress, a bride needs to understand the appeal of a retro wedding dress, consider several factors of vintage dresses, and know the favourite retro wedding dresses.
The Appeal of a Retro Wedding Dress
By conjuring up a bygone, perhaps more romantic, era, the bride who selects a retro gown is inviting all those present to revel in a slower time when pageantry and chivalry held sway. The sense of surprise for guests is one of the delightful aspects, since, instead of the expected white froth or dazzlingly new satin ensemble, they see a fascinating vision recalling days long gone.
Weddings also involve a myriad details that go into making the day a unique and memorable occasion. Hence, once the dress has been decided upon, certain knock-on decisions are guaranteed to present themselves. It is at this point that other wedding paraphernalia to tie in with the chosen theme can be explored.
A bride's choice to go vintage or retro is usually recognised as entirely her prerogative, and should she decide to be a 1920s flapper, an Elizabethan damsel, or Marie Antoinette--style milkmaid, the decision is hers. Similarly, should a specific dress catch her eye and embed itself in her mind as the One, then this discovery may be what inspires the wedding's overall theme and direction. Either way, with a whole panoply of possible historic contexts, dress styles, cuts, fabrics, lengths, and colours, the retro bride has to pin down a few key aspects of her search from early in the planning process.
Factors for the Retro Bride to Consider
Multiple petticoats, a deep V to the back, a Metro Goldwyn-Mayer bow behind, elegant long gloves: all of these conjure the early 1950s, and the revival of that glamourous era is a tempting direction for the undecided bride-to-be. The '50s-inspired gown, whether an authentic original, a reproduction from a current-day designer's workshop, or custom-made from an original '50s dress, is just one of the many retro options. It has to be borne in mind, however, that the look that is most wanted is not always one that works best. Retro wedding dresses require the bride to take the same objective look at herself as do their modern-day equivalents. Choosing a silhouette can be a little more difficult, however; for example, the '70s bride generally dressed in a floor-length A-line gown with high neckline. While on some women, this can be a charmingly youthful get-up, on others, the effect can be quite frumpy.
There is also the time of year and location to be taken into account. A wedding on a Mexican beach is not the place for a high-necked taffeta Edwardian gown with bustle. Similarly, a short '50s frock is best avoided by the winter bride.
Retro Wedding Dress Colour
Retro weddings can be an excuse to inject some colour into the proceedings. Depending upon which vintage era is represented by the dress the bride chooses, the appropriate colour may stray far from plain white. The retro route can offer brides the chance to indulge in the faded hues of yesteryear. An Edwardian period dress may be in a fairly richly coloured taffeta, conjuring the life lived "above stairs" in a stately home or in a favourite televised period drama.
Very often, ivory or rich cream is the shade for a retro wedding dress, as worn, for example, by the Victorian bride, unless Victorian gothic is the theme, in which case, black is the colour of choice.
Veil or No Veil?
A wedding veil is the ultimate touch when aiming to complete the retro look. For the '50s bride, this can be a very modest crown of net that descends scarcely below the shoulders. However, '70s brides often wore long veils in nylon or tulle, and in striking contrast the '40s, brides often wore merely a fascinator. Once again, research is the key.
Some Favourite Retro Wedding Dresses
Wedding dresses that recall glorious past eras fall into distinct categories, some of which are more popular than others. Very complicated looks, or costumes, that are heavy and hot to wear, require dedication and, in some cases, extra money.
'50s Wedding Dresses
The 1950s prom dress-style wedding dress, as worn by Audrey Hepburn in the film "Funny Face" with its boned bodice giving a great nipped-in waist, and its lashings of tulle making for a super-wide skirt ending just below knee-level, is one of the more popular revived retro styles. Another version is the rockabilly wedding dress with its shorter, almost horizontal skirt, buoyed up by numerous petticoats. If white is chosen for the dress, petticoats in a vibrant colour can provide eye-catching contrast.
'20s Wedding Dresses
The flapper girl frock may not at first sight seem to be suitable attire for a bride, as it may seem to lack the power to really make a splash. Its boyish straight up and down silhouette, in recalling Daisy from the "Great Gatsby", however, spells good times and privilege. The option to obtain a repro version of a 1920s flapper-style wedding dress allows the bride an opportunity to wear an extensively bejewelled one-off garment, its fastenings forming close ranks of little satin-covered buttons, all of which glitter and shimmer on the big day. All that is needed to top it off is a gorgeous headband with feathers and discreet flowers.
Elizabethan Wedding Dresses
For a taste of the world that Shakespeare inhabited, the bride-to-be who loves dressing up could scarcely do better than to choose an Elizabethan wedding gown. This sumptuous design features a brocade bodice, boned for support with either a round or sweetheart neckline. The bodice is cut so that it forms a pronounced V where it joins the skirt. A skirt in gold taffeta, in rich-coloured velvet, or embossed satin projects downwards from generous pleats, and the whole ensemble usually offset by a train. Ideal for colder weather, and lending itself to a baronial banqueting hall warmed by an open fire, the choice of Elizabethan theme is ideal for the winter wedding.
Buying a Retro Wedding Dress on eBay
Great enjoyment is to be had from finding a retro wedding dress on eBay, not least because the pressure involved in visiting possible outlets in person is removed. Not having to travel to a wedding outfitter, park the car, then succumb possibly to sales pressure adds up to a considerable saving in terms of time, energy, and often, money. Buying a wedding dress nearly always involves a supporter, two heads being better than one. That person can browse with you virtually, thus eliminating the need to meet face-to-face. The eBay approach allows buyers to relax, a boon during the frenzy of wedding planning. And there is no need to give up should the ideal ready-made dress not be found on eBay. Many sellers offer to make your wedding dress to measure, sometimes following a vintage wedding dress paper pattern, examples of which are available through eBay.
With retro dreams in mind, you may want to widen the search beyond gowns that are specifically for weddings. The simplest way is to remove "wedding" from your search terms, in order to view the full spectrum of vintage frocks that sellers have listed. Inspirational ideas are certain to flow. The veil-wearing tradition is strong, and eBay has a host of retro veils from which to choose.
Conclusion
Few purchases in the course of a woman's life are equal in importance to the wedding dress she settles on for her memorable day. With all eyes upon her, and the pressure of knowing that everyone expects her to be looking her most beautiful, the soon-to-be-bride understandably has exacting demands. Armed with some prior research, a keen sense of the overall experience her wedding should provide for guests, and the desire to be the worthy centre of attention, she should be able to equip herself with just the right dress and accessories to pull it off.
The fun of dressing up is not to be under-estimated, and why shouldn't a couple indulge this enthusiasm on the occasion of their wedding? The purchase of retro wedding attire should give the buyer a slice not only of her own history, but that of a previous wearer from times gone by. This is also an excuse to extend the theme and bring bridesmaids and guests into the illusion. Why not have them all wear flamboyant feathers and carry lavish parasols, as in the Edwardian London of "Mary Poppins"?
Storybook weddings need not only take place in the pages of fiction. Online access to a world of retro bridal wear makes possible the realisation of vintage visions.