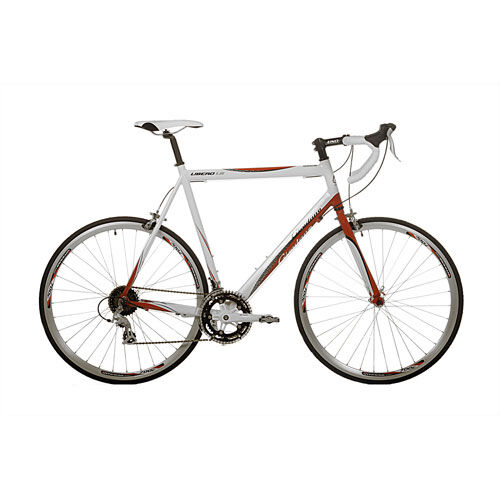 When we think of the most popular sports in Britain, the obvious things like football, rugby and cricket all spring to mind. However, a sporting pastime that often seems to go unnoticed is cycling. Britain is home to thousands of cyclists and yearly figures show that more and more of us either cycle for pleasure or as a mode of transport. With more people getting into cycling, there has never been a better time to make the switch from pedalling to work to pedalling for a bit of friendly competition.
Whether interested in getting into road cycling for the first time, or having been a cyclist for years and looking for an upgrade on your current bike, eBay always have a top selection of road bikes to choose from. The variety offered by eBay can help find an affordable and reliable bike that anyone will be delighted with. Here's our simple guide on how to buy the perfect road bike with eBay.
What is a Road Bike?
A road bike (also sometimes referred to as a racing bike) is defined as a bicycle that has been designed for competitive road cycling under the rules of the Union Cycliste Internationale (or UCI). Road bikes have a number of features that make them ideal for a wider range of people, from those who want to cycle competitively to those who would prefer to just get out on the roads and improve their health and fitness with regular bike rides. The first thing that those new to road cycling will notice is that there are considerable differences between racing bikes and the more popular bike choices for casual cyclists such as mountain or town bikes:
Drop Handlebars
Drop handlebars are probably the most recognisable feature of road bikes. Where typical set of handlebars on a mountain bike will be straight and flat, drop handlebars bend downwards and back towards the rider to provide more leverage and give a choice of a number of different hand grip positions for comfort on long journeys.
Steeper Ride Angle
Road bike seats are traditionally set higher than the handlebars so the rider is positioned leaning slightly downward over the handlebars which forces the cyclist's body into a more aerodynamic shape. Those who are new to road cycling may initially find this position a little painful, but you're unlikely to even notice the decline once you get used to it.
Lighter Frame
The frame on a road bike is significantly different to that of a mountain or city bike. Traditionally, racing bike frames have been constructed from steel, titanium and aluminium and bikes made from these materials are still popular amongst amateur and recreational cyclists. Today, professional cyclists almost exclusively use bikes with carbon fibre frames.
Racing Wheels
Probably the most instantly recognisable difference between racing bicycles and other models is the wheels. A road bike is built for speed and as such has narrow wheels with slick tyres that offer the least resistance against the ground. Wheels are most commonly made of either aluminium alloy or carbon fibre and riders often favour the lightest wheels available.
What to Look for in a Road Bike
Now we have established the features which characterise a road bike, you need to understand what you should be looking for if you want to find a great model on eBay. These features include the following:
A lightweight bike
Aerodynamic frame
Set of Gears
Lightweight
You will, of course, want your bike to be as lightweight as this will be a contributing factor in reducing rolling resistance. If you're particularly interested in finding a bike which is as light as possible, it's advised that you look for a model with an alloy frame. It will also be preferable for you to choose a bike which already comes fitted with a suitable set of wheels; this will save you from having to purchase a new set at a later date.
Aerodynamic Bike Frame
It's a good idea to search for a bike that has "aero" wheels. Aero wheels have thicker than average rims, which provide you with an aerodynamic boost when cycling. Aero wheels still produce more drag than "disc" wheels; however these are much more expensive than the alternatives and only recommended if you're a serious cyclist competing at a high level.
Road Bike Gears
Another important component on any road bike is a good set of gears. There are countless different gear makers out there and most will provide you with a good quality product, there are two manufacturers however that have earned the trust of millions of cyclists worldwide, Shimano and Campagnolo.
There is often a debate over which of these two companies makes a better set of gears, but in all truthfulness, it comes down to personal choice. Campagnolo is seen as the more refined, yet temperamental choice, whilst Shimano provide less exciting but incredibly reliable bicycle gears.
Should you Buy New or Used?
Many cyclists of all ability levels will weigh up the various advantages and disadvantages of buying a new or a used road bike; this is a difficult decision and one that certainly comes down to personal choice. A used bike will often be more affordable and as a result, is likely to be more appealing to a novice cyclist.
Although price is often an attractive factor for beginners, some experienced riders also prefer to buy used bikes for a completely different reason. There is a school of thought that if a bike has been owned by an experienced cyclist, it is likely to have been regularly serviced, fitted with high-quality spare parts and generally taken care of. Some will argue that this means that the bike may even be in better condition than some new road bikes at the lower end of the price spectrum.
On the other hand, some riders would show concern that you can never be sure what hidden problems may arise with a used bike. The attraction of a new bike will obviously be that it will arrive in a high-quality condition having never been used before and many would say that they would have more confidence paying for a new bike for that reason.
The drawback with a new bike is the price; you will probably pay double what you would for a used bike of similar quality. Of course, this isn't necessarily a problem, especially if you're an experience cyclist; those who are new to the sport however may feel more comfortable buying a used bike to begin with. Whichever decision you choose to make, eBay has thousands of listings for both new and used road bikes at any one time.
Buying a Road Bike with eBay
Whether you're a complete novice or have been cycling for years, eBay is the place to find the perfect road bike. There is the ability to browse through thousands of bikes and gradually narrow your options down by using eBay's specially designed category search function. This way, there is the ability to search for bikes by:
Brand- Shimano, Trek, Primo, Pinarello, Bianchi
Colour
Frame Size
Frame Material- Aluminium, carbon Fibre, Steel, Titanium, Composite
Gender
Condition- new and used
Brake Type- Caliper, V Type, All Disc
Wheel Size- from 12 to 26 inches
Frame Size- from 44 to 65 centimetres
When most sellers list a road bike on eBay, they will also provide shoppers with a detailed description of the product they are selling to ensure that a full understanding into exactly what the bike they are selling is, in order to provide confidence that the new bike won't come with any unexpected surprises. One important factor to check when buying a road bike on eBay is frame size.
It is easy to forget about this sometimes when looking for a new bike, but there is a need to be sure that the bike is the right size otherwise you are unlikely to be in full control of the bike and that is a safety hazard not only for the rider, but for other road users and people you will come into contact with whilst riding the bike. To ensure that you choose a bike which is the right size, eBay have the option to browse bikes by both frame size and wheel size, so its users can shop safe in the knowledge that you will not be disappointed when the new bike arrives.
Conclusion
Buying a road bike with eBay has never been simpler. Just follow the advice outlined in this guide and you will find choosing your new bike is easy. Firstly, understand what it is you will be using your road bike for and which sort of features is required so that the bicycle performs to the standard needed. Make a decision as to whether to buy a new or used road bike. Whilst a new bike is generally seen as the more attractive option, a used bike that has been well maintained can be just as good, if not better than an affordable new model. Finally, take advantage of eBay's extensive search functions to find a bike which meets your requirements perfectly. Browse eBay today to find some great deals on road bikes and discover the effortless way to shop for all cycling related products.