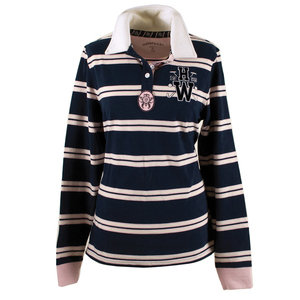 Rugby shirts are designed not only for players on the pitch, but for those that prefer that unique style of fashion as well. Rugby shirts are usually constructed with durability in mind. Just like other shirts worn during such physically demanding sports like tennis and track, rugby shirts are typically designed to take on all kinds of punishment. With shirts that can even represent a certain team, rugby shirt and jerseys are worn in myriad situations. Due to all of the choices that come along with buying a rugby shirt, the process can seem like a rather nerve racking experience.
Most individuals tend to shop from store to store subsequently wasting petrol, money, and valuable time in the process. Since searching for a particular rugby shirt can seem like a daunting task at times, many have turned to online marketplaces, such as eBay, to avoid these everyday inconveniences. One must certainly understand the various factors that go into buying the right type of rugby shirts before purchasing one. Topics such as: rugby shirt uses, brands, fabrics, and style preferences, must all be addressed before purchasing a quality rugby shirt. With the proper strategies and knowledge of rugby shirts, individuals of all ages can find a comfortable, attractive rugby shirt option for almost any occasion.
What a Rugby Shirt Is
A rugby shirt is built to provide durability and class for both those who play rugby, or just for fans of the rugby style shirt in general. These unique shirts are often misrepresented as polo shirts, but are constructed with several key distinctions. With a rich history and devoted fan base, rugby and its attire have been quite prevalent throughout various societies. Understanding the differences between rugby shirts and polo shirts can only aid consumers in avoiding faulty purchases. Having the ability to understand the difference between the two, can go a long way towards trying to ensure the best possible purchase.
Polo Shirts
The label of the polo shirt encompasses a broad spectrum of casual shirts for men. Polo shirts are usually designed with short sleeves and a rather large collar. Usually, the portion of the shirt below the collar is designed with three to four buttons. Almost all polo shirts are designed with a pliable, flexible collar, that is typically thicker and wider than almost any other shirt style. Rugby shirts tend to look quite a bit more substantial than most polo shirts. Although many people might mistake rugby shirts with polo shirts, the two style claim several distinct differences.
Rugby Shirt
A rugby shirt has a similar shape as many polo shirts, as well as a commonality of short sleeves, and collar-button combinations, but that is where the similarities stop. The most significant difference between rugby and polo shirts lays within the wide horizontal stripe of the rugby shirt, and they fact that they are usually designed with team colors in mind. This stripe runs across the chest and is normally designed with five to six alternating colors that are specific to a specific team. Although the colors may have been originally team specific, a more casual rugby shirt tends to represent no specific team or color pattern.
The Collar
Another glaringly obvious difference between a rugby shirt and a polo shirt, is in the collar. Although they both have a collar, the rugby shirt comes with a much shorter collar in comparison to the longer collar of the polo-style shirt. Rugby shirts also have quite a stiff collar that is not easily manipulated. Much like polos, or any other shirt for that matter, rugby shirts range in style and purpose. Once a person fully understands the various uses for rugby shirts, the process of choosing a style is the next task at hand.
Uses of Rugby Shirts or Jerseys
Much like men's activewear shirts, rugby shirts can be worn for both recreational and athletic purposes. In fact, shopping for a rugby shirt will reveal two entirely separate markets. On one hand, casual rugby shirts are designed with non-affiliated colors and are often woven from materials such as cotton, for maximum breathability. On the other hand, rugby jerseys designed to be worn on the field are normally designed with specific color and design patterns, as well as a higher quality material.
Rugby Team Colours
Rugby jerseys created for use on the field are built from the ground up, due to the high demand set forth by the game of rugby. With specific colors called "hoops", and a large number on the back of the jersey, rugby shirts designed for play are often hard to mistake. Most rugby leagues actually regulate the colours and colour patterns of rugby jerseys, which can only make shopping for specific team jerseys more difficult. With online marketplaces such as eBay, individuals have access to a large enough selection to find a rugby shirt from almost any team.
Rugby Shirt Materials
Searching for a shirt that is both comfortable and durable can be a tough balance to achieve. Rugby jerseys tend to be a rather comfortable option, designed for durability and breathability. Casual rugby shirts are designed ,more often than not, with breathable fabrics such as cotton. Non-athletic rugby shirts tend to be a bit easier to find due to the lack of regulations on their design and construction. Since the casual rugby shirt can be designed with whatever colors an individual may desire, these shirts tend to make more sense for those not on the field.
Fabrics and Material Blends
Materials used in rugby jerseys that are worn on the field, range from materials like cotton to a polyester blend. Many rugby players dislike the slippery nature of the synthetic fabrics, but the cheaper prices and increased breathability, often win out over more traditional materials. Rugby jerseys used on the field are also designed with more durable elements such as rubber buttons to avoid shirt rips and tears. Rugby shirts and jerseys vary widely in material and overall construction, all of which are effective in their own way.
Uses for Rugby Shirts
The label "rugby shirt" can describe anything from a jersey made for a rugby match, all the way to a casual-style shirt. The uses for rugby shirts are quite numerous and tend to draw interest from consumers globally. Perhaps the most common usage of rugby shirts comes from the casual sector. Whether it is worn as a party outfit, or a daily clothing option, rugby shirts are present on the streets of almost every major city. Although many tend to select a casual-wear rugby shirt that represents a team, more generic options are also becoming quite popular. Those looking for a non-athletic rugby shirt should be careful to avoid the actual rugby jerseys on the market.
Rugby Shirts for Colder Weather
The other, more niche concentrated, rugby shirt is the jersey that is designed to be worn by players on the pitch. These shirts can be either short sleeved or long sleeved, the latter of the two options being more popular for players in colder climates. With design focused around the intense activity of rugby, a rugby jersey is a more than adequate option for use on the pitch. Deciding between the different brands of athletic rugby shirts and a casual ones, can prove to be a difficult task.
Rugby Shirt Brands
Due to the popularity of rugby shirts, the number of brands that manufacture such clothing, have climbed into the thousands. Some of the most popular brands for on field or off-field use include: Adidas, Lacoste, Fila, Ralph Lauren, and Stone Island. Searching through an online marketplace such as eBay, can reveal search results for almost any brand choice. For another purchasing option, consumers can look for team-specific rugby shirts. These shirts are manufactured by a variety of companies, and are consistently designed with performance in mind.
Using eBay to Purchase a Rugby Shirt
Due to the various rugby shirt options available on the market today, consumers should consider utilising non-traditional methods of shopping to save time and money. With a variety of available search filters, eBay tends to be one of the most convenient tools for rugby shirt shopping. Visiting eBay's home page and typing "rugby jersey" or rugby shirt" into the search bar will bring up hundreds if not thousands of results. Add in the advanced search feature, and consumers are able to narrow down search results with just a few clicks of a mouse.
If it is still hard to decide between different rugby shirt options, individuals can read through the entirety of a seller's rating to narrow the choice even further. With detailed ratings for everything from shipping speed to item accuracy, shoppers on eBay are able to find the most adequate seller for their needs. Both authorised sellers and local sellers offer rugby shirt options on eBay.
Conclusion
The many different options that rugby shirts provide to individuals, has led to a dynamic clothing market. Rugby shirts are intended to be used on the pitch, as clothing designed for everyday use, and as shirts that can be worn to semi-formal events. Rugby shirts can be worn for almost any occasion. Determining which type of rugby shirt to purchase, however, can become a difficult venture at times. Choices between material, colour, and brand, make selecting the right shirt that much more of a challenge.
One avenue that is designed to make shopping for a shirt slightly easier, is the online marketplace eBay. By using the many filters and quick search designs, consumers of all ages are able to find an item that is perfect for them. Even detailed seller ratings allow users to quickly narrow down results based on the adequacy of the seller. Once the type of rugby shirt has been selected, individuals are then able to browse through an expansive selection without the need to hop from store to store. Find the right rugby shirt from the right seller, and one is guaranteed to live in style and comfort.