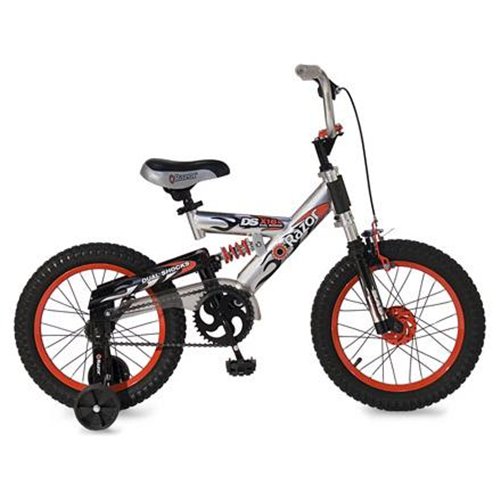 For all keen cyclists, you've probably been excited for a while about the prospect of teaching your child/children how to ride a bike. However, before a long afternoons cycle ride, the first thing they require is a bike. As a parent, one of the main concerns when choosing a bike for a child is safety. To assist with this search, eBay has this easy to follow guide to help make a safe choice when buying a bike for your children.
How Important Is The Size Of Bike?
One of the most important factors to consider when looking for the perfect bike for children is size. If the bike is too big or, too small it can be extremely dangerous. If the size is not right, it's likely that the child will struggle to maintain full control of the vehicle.
Children's bikes are sized in a slightly different way to adult models. Whilst most adult bikes will be fitted by frame size, children's bikes are organised by wheel size. The table below displays the most common wheel sizes available for children's bikes. This gives a general idea of the age range that a child would be expected to fit each size.
| Age of Child | Projected Height of Child (cm) | Suggested Wheel Size |
| --- | --- | --- |
| 2-4 | 85-100 | 12" |
| 3-5 | 95-110 | 14" |
| 5-7 | 110-120 | 16" |
| 7-9 | 120-135 | 20" |
| 9-11 | 135-145 | 24" |
| 11+ | 145+ | 26" |
The most important column to consider is 'Projected Height of Child (cm)'. Although the average height of children based off age are reasonably accurate, their height is a more important factor. You should never pick a bike for a child based solely on their age. Important points to remember are:
The age range is a guide only.
Measure the child before you start looking at bikes so you know exactly what size you need to be searching for.
All children grow at different rates. The child's height may be outside their suggested age range.
Remember; never make the mistake of buying a larger bike for children in the anticipation that they will, "grow into it"; the bike will not be safe.
The child's feet must be able to touch the floor whilst they are seated stationary on the bike. This will ensure they will have full control and eliminate unnecessary danger.
If you're concerned that this will be more financial outlay in the future when a child grows out of the bike, remember that safety is one of the most important factors to consider. eBay has thousands of great deals on both new and used kids bikes, so you can keep within your budget without having to compromise on a child's safety.
Finding a Frame
A good frame is also key to choosing a safe bike for your child. The first thing to understand is that it will take your child time to navigate how to ride a bike. As they discover how to ride, they will inevitably crash the bike. They may also show less care than an average adult would when looking after their bike. It is a good idea to choose a bike that will be able to withstand wear and tear of all sorts of usage. How well the bike you purchase will stand up to this punishment will have much to do with the frame.
Materials to consider to ensure a good frame on the bike are:
Look out for bikes with titanium frames if at all possible; although bikes with titanium frames are usually not found on budget models, they are both light and strong, making them the perfect material to withstand constant use.
Chromalloy alloy frames are also a good choice for a child's bike; they are an affordable option, but heavier in weight.
There are other materials on the market, like carbon fibre frames; although this material is usually robust, it can shatter in accidents, which is worth considering.
Brakes
Obviously, if you want to keep your child as safe as possible whilst they are cycling, you are going to want to find a bike with a high quality set of brakes. There are two types of brakes fitted in children's bikes:
Coaster Brakes
A child can operate coaster brakes by pedalling backwards on their bike. When a child pedals backwards on a bike with coaster brakes, a clutch is activated which will push a brake pad against the wheel, slowing the bike. Coaster brakes are a great idea for younger children. They are a more intuitive way of slowing down. They do not require a strong hand grip to operate, unlike other forms of bicycle brakes.
Hand Brakes
Hand brakes are the same as adult bikes. Hand brakes are more suitable for older children who have the hand strength to use them effectively. Almost all hand brakes on children's bikes will be 'V' brakes. 'V' brakes are reliable and easy to maintain.
Chains
There are a number of reasons that a bike chain may become dangerous to a child. For example, it is not uncommon to see children get their hands, fingers or hair caught in bike chains. A rusty bike chain may also skip or snap altogether.
There are simple solutions to ensure these safety concerns are addressed. This includes:
A chain guard. Not only does this stop inquisitive hands from getting hurt, it will protect the chain on the child's bike from rust damage. Most bikes for smaller children will come with a fully-enclosed chain guard already, but if buying a bike for an older child and you would like to take further precautions, there are a number of affordable chain guards in all shapes and sizes purchasable via the eBay platform.
Protective clothes and headwear
Once you have found the perfect bike on eBay, it is important to purchase protective clothing and headwear for the child. On average there are 150 children who are injured during cycling accidents on British roads every year. According to Bicycle Helmet Safety Institute wearing a protective helmet could prevent 85 percent of head injuries form cycling accidents. The best way to protect a son or daughter is to ensure they wear the correct safety gear. The most important thing to buy is a helmet. A helmet is believed to cut the risk of injury in a cycling accident by up to 70%. There is an abundance of children's cycle helmets on the market with hundreds of designs.
When purchasing a helmet for a child, the following factors are important:
Does the helmet have adequate vents to keep the child cool?

What material is the helmet made out of? Most helmets are made of expanded polystyrene foam which is then covered by a thin plastic shell. In the unfortunate incident of a crash, the polystyrene foam is crushed instead of your head.
What padding does the helmet have to give comfort for a child?
Measure the size of the child's head around the widest part of the head. This is just above the ears. Select the child's helmet based off this measurement.
When purchasing the helmet, please take the following precautions:
Adjust the helmet internally to fit the child. The helmet will most likely come with foam pads which you can alter.

Position of the helmet. The helmet must sit forward and have a gap of no more than two fingers widths above the eyebrows.
Adjust the side straps to buckle under the chin. Again, allow no more than two fingers width can fit between the chin and strap.
Finally, ask yourself the following questions:
Does the helmet move at all when on the child's head?
Does the helmet sit securely on the child's head?
Does the helmet obstruct the child's vision?
If the helmet moves and obstructs the child's vision, then remove and adjust again until it sits securely on the child's head. Do remember to replace helmets after the unfortunate occurrence of an accident.
Conclusion
Finding a safe bike for your kids is easy with eBay, just remember the key points outlined in this guide.
Be sure that the bike is the right size for the child by finding the right wheel size for their height.
Choose a bike with a frame made from a durable material,
Look for coaster brakes for small children and hand brakes for older children.
To avoid potential accidents, ensure that you look for a bike with a chain guard attached and you.
Provide appropriate safety gear for all children.
If you follow these simple guidelines, your child will be safe on the road. Their enjoyment will grow and they will become healthier, more energetic, and conduct regular exercise; all integral parts of a healthy life style. If you still need further advice, you can get great support from a local bike shop professional or any online supplier. There are affordable solutions both on and off line. Before making the purchase, consider all options. Be sure to ask our reliable eBay sellers any questions relating to the individual product listings as your child's enjoyment and safety is at stake.