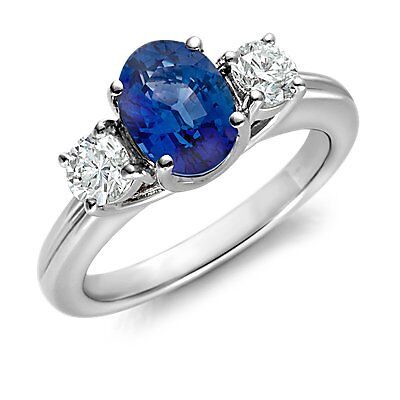 A sapphire and diamond ring can include a diamond ring with sapphire accents or a sapphire ring with diamond accents. Common metals used include silver, white gold, platinum, and sometimes yellow or rose gold, although lighter metals do flatter both diamonds and sapphires better. Buyers looking for a diamond and sapphire ring should choose their size, where to purchase the ring, and what style they are looking for.
Everything from the setting to the number of stones can make a huge difference in the appearance of the ring, so buyers should pay attention, decide what styles are appealing to them, and choose a ring carefully. Sapphire and diamond rings are popular for a variety of reasons including fashion, engagement, and sometimes as wedding rings. Buying options that should be taken into consideration include the size of the stones, the size of the rings, colour and purity of stones, and of course the pattern and settings used.
Sapphire and Diamond Ring Styles
The diamond and sapphire ring can include a sapphire accented by a diamond or vice versa. In most cases, the larger stone is set in the centre of the ring with two or more smaller stones surrounding the larger stone. Wedding ring styles commonly have a diamond centrepiece with sapphire accents. The exact style does, of course, depend on the setting but can include a variety of looks, including mosaic with blue and white stones, a large stone circled by alternate colour stones, and even alternate types of settings on the same ring to show the main stone to its full benefit. For example, putting a centre diamond in a prong clasp and smaller sapphires in a channel setting would emphasise the diamond as the centrepiece of the ring, while still allowing the sapphires to sparkle and add their own style to the ring.
Sapphire and diamond rings can include nearly any type of cut stone, although most designers match square with square and so on in order to balance the ring. Many designers also use equal carats of diamonds and sapphires although this does not run true with all rings. Some rings, such as wedding and engagement ring sets, are sold in matching pairs that can be fitted together with the engagement ring featuring a sapphire centrepiece and the wedding ring featuring a diamond centrepiece.
Popular Settings for Sapphire and Diamond Rings
The setting used on the sapphire and diamond ring greatly affects its appearance. Common settings include bezel, prong, channel, burnish, and a few other popular but similar styles. Many rings, including sapphire and diamond rings with multiple types of gemstones, actually utilise a variety of settings in order to add more depth, interest, and appeal to the ring. Many also use the same type of setting across the entire ring in order to keep each gemstone level with the other.
Bezel Setting
This is one of the most popular settings and is especially good for making small stones appear larger than they are. Bezel settings feature upraised hollows that cup the gem, and often have a small lip to go over the edge of the gem, which adds interest and contrast. Because the sides of the sapphire or diamond are covered with this setting, it is often used to set slightly flawed or chipped stones. This does not, however, mean that all stones set in a bezel setting are flawed, simply that it is one of the best settings for such stones. Bezel settings are often used for centre stones, although it can also be used for side stones but can look awkward in a side position.
Prong Setting
Prong settings are the most common used for diamonds because they grip the diamond from the side and allow it to be seen from all angles except the bottom. This setting is not appropriate for flawed gems as the flaw is very visible, but it is excellent for displaying multiple types of gems and larger stones. Variations of the prong include the corner or V-prong, which grasps the stones from the corner to form a V-shape from the side. Another variation, and the most common used with sapphire and diamond rings is the common prong, which grips two stones by using a double-sided prong. The result is less metal being used to hold more stones, meaning that the stones can be seen more clearly.
Channel Setting
The channel setting is also popular for diamond and sapphire rings. The setting uses a channel drilled into the ring itself to hold the stones. This setting is excellent for lining the surface of the ring with stones and for creating a diminishing look on the ring. Channel settings are often used to surround centre stones, to line either side of a prong set stone, and to utilise small stones to their best effect.
Bead, Pavé, and Burnish Settings
Bead, pavé, and burnish settings are all set by drilling or punching a hole into the surface of the ring and setting the stone inside. These settings are used to create pavé or mosaic styles, which can be used to cover the entire ring with a variety of stones or to bead the surface with a few small stones. One of the variations of this setting is the 'flush' or burnish setting, which places the stone level with the metal of the ring.
Sapphire and Diamond Ring Metals
There are multiple types of metals that sapphire and diamond rings are set in. These include yellow gold,white gold, rose gold, silver, platinum, and sometimes other types of metals. Women and men should consider which material they are looking for as it can affect the price, quality, and appearance of the ring. Another consideration is that any women who are allergic to nickel or other base metals should avoid purchasing a silver or white gold ring that contains large amounts of nickel. In this case, platinum is a better option since it is a hypoallergenic metal.
White Gold Rings
White gold is an alloy of nickel, manganese, or palladium, although it can include other white metals as well. The white metals strengthen the gold but give it a silvery white look similar to silver or platinum. White gold is the most common setting for diamonds of any kind, as diamonds are traditionally set in gold. For wedding and engagement rings, white gold is also the most popular choice because it is traditional to use gold for weddings. White gold is available in a variety of qualities, usually ranging from 10 to 18 carats, but no more due to the necessity of a lower purity of gold in order to tint the metal white.
Silver Rings
Silver diamond and sapphire rings are usually sterling silver or 92.5 per cent solid silver with the remainder being a strengthening metal, such as copper. Sterling silver is the best quality of silver that is strong enough to form jewellery without losing shape. Sterling is always hallmarked with a 925 stamp, which is an excellent way to tell the difference between lower qualities of silver and sterling, no matter where the ring is being purchased.
Platinum Rings
Platinum is one of the rarest elements in the earth's crust, and as such is one of the most valuable precious metals. Platinum is also the hardest and most durable precious metal, making it one of the best choices for wedding rings because it requires the least maintenance, and is the least likely to suffer damage. Platinum diamond sapphire rings are normally hard to tell from white gold or silver rings, but can be a great deal more expensive.
Sizing a Sapphire and Diamond Ring
Whether buying a ring in a shop or online, buyers should know the size and their measurements in case there is any difference between the ring and the sizes they are used to. International rings, such as those that can be purchased online, often use a different sizing method, meaning that buyers should be very careful when choosing their rings. Most people can purchase a ring sizer to get their exact ring size or can use a flexible tape or twine to measure their fingers.
| UK Ring Size | USA Ring Size | Diameter (millimetres) |
| --- | --- | --- |
| H | 3.75 | 14.88 |
| I | 4.25 | 15.29 |
| J | 4.63 | 15.49 |
| K | 5.12 | 15.90 |
| L | 5.50 | 16.31 |
| M | 6.25 | 16.71 |
| N | 6.50 | 17.12 |
| O | 7.00 | 17.53 |
| P | 7.50 | 17.93 |
| Q | 8.00 | 18.34 |
| R | 8.63 | 18.75 |
| S | 9.00 | 19.15 |
| T | 9.63 | 19.56 |
| U | 10.25 | 19.96 |
| V | 10.63 | 20.37 |
| W | 11.12 | 20.78 |
| X | 11.63 | 21.18 |
| Y | 12.00 | 21.59 |
| Z | 12.50 | 21.79 |
It is important to consider that not all sizing is precise. For example, most U.S. ring sizes are sold in increments of numbers and half numbers so many buyers might have to purchase a ring that is slightly different from their standard UK size. Some online sellers list the measurements in inches, although this is rare. In this case, one should simply multiply the inch measurement by 2.5 to get the measurement in centimetres.
Buying a Sapphire Diamond Ring on eBay
You can choose to purchase your sapphire and diamond ring on eBay from a variety of sellers. Options include new and used items, some of which are from eBay authorised sellers who sell new factory brand items. You could choose to purchase an antique, a designer ring, or any sapphire diamond ring that takes your fancy. Shopping on eBay is convenient because you can shop from a great deal of different styles and stones from the comfort of your home.
Importantly, you should read the description and look at the photos. Some items on eBay are used and some are being sold for a lower value due to cosmetic damage or a former repair. Reading and asking the seller about anything ensures that you get what you want. Other than that, just remember to check the shipping time, check to see if there are any customs should you order the item internationally, and then purchase your ring.
Conclusion
There are a variety of styles and materials used in sapphire and diamond rings.. Notable styles include whether or not the diamond or the sapphire is used as the centrepiece and what setting is used. Both of these factors greatly affect the appearance of the ring and sometimes multiple settings can be used on the same ring. Individual styles and designs are a matter of preference and can be chosen by what is available and what the wearer likes.
Buyers should consider the cut of the stones, where the ring is to be worn, how the ring fits into the wearer's everyday fashion style, and the budget. The metal of the ring can sometimes be important as well, since many women are allergic to base metals such as nickel, which are used in white gold and silver alloys. In this case, platinum is the best alternative. Purchasing a sapphire and diamond ring can be relatively easy as long as the buyer researches the size, setting, stones, and metal before buying the ring.