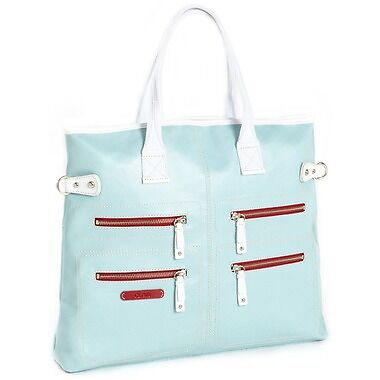 Shoulder bags conveniently allow ladies to carry assorted everyday necessities with them wherever they go, hands-free, while also acting as a stylish fashion accessory to any ensemble. They are manufactured in all-season styles, and they are found in varieties which come as small as a clutch or as large as a duffle bag. When shopping for a shoulder bag, ladies look for a bag sized to accommodate all of the everyday essentials with just a little extra room. Buyers also look for a bag made with materials which will preserve the bag's appearance over time and use without wearing down.
For those short on time, shopping for a shoulder bag online is convenient and quick. Many manufacturers and retailers of shoulder bags operate retail websites, but for those looking for a variety of options should consider shopping at eBay. Buyers considering purchasing a shoulder bag need to learn more about the different styles of shoulder bags and which might best suit them. They should also seek out special tips that help save time and money through the buying process.
Shoulder Bag Styles
Shoulder bags come in an array of styles. In general, they are organised into these basic types: crossbody, messenger, satchel, tote, and hobo styles. Each style is identified by a unique construction, which affects how it is generally worn.
Crossbody Style Shoulder Bags
Crossbody style shoulder bags are so-named for their long, thin strap, which fits across the body and on the shoulder opposite the hip against which the bag is carried. To prevent this thin strap from digging into the shoulder, the attached bag is generally quite small, no larger than a standard-sized clutch. As a function of being so small, crossbody shoulder bags rarely have more than two pockets.
Hobo Style Shoulder Bags
Sometimes called a hobo style shoulder bag, hobo style shoulder bags feature a deep primary pocket and gathered ends, making the overall appearance rather baggy and pouch-like. These bags feature either one or two short straps which loop over the shoulder of the arm that it is carried on.
Messenger Style Shoulder Bags
Messenger style shoulder bags usually feature a single, long, fairly wide strap, which is worn across the shoulder opposite the hip on which the bag itself rests, much like crossbody style shoulder bags. The significant difference between the two is that messenger bags usually feature larger dimensions from all angles, and they are constructed so that ladies may fit a computer or tablet, books, papers, or folders in addition to all the other everyday accessories. Ladies should be aware, however, that an overly full messenger bag, if it must be worn for a long time, can create considerable discomfort. Whenever possible, buyers should try on any messenger style bag which they intend to buy, and add the approximate amount of weight which might be carried on a daily basis. This will help determine if it is a good fit.
Satchel Style Shoulder Bags
Satchel style shoulder bags are a marriage between crossbody and hobo style shoulder bags, and they feature a looser, larger bag with a long, opposite-shoulder strap, while still being much smaller than common messenger bag sizes. A satchel shoulder bag is ideal for those who prefer the look of a crossbody shoulder bag, but wish to carry slightly more.
Tote Style Shoulder Bags
Tote style shoulder bags usually feature rather geometric, square, or rectangle-appearing construction, and they usually have only one very deep pocket. Tailor made for those occasions where buyers might need to carry quite a bit while still remaining hands free, tote shoulder bags are designed for light shopping trips or holding a change of clothes. Discerning shoppers should look for tote style bags with strong seams that are made of materials that hold their shape over consistent use.
Common Shoulder Bag Materials
When shopping for shoulder bags, relatively few women stop to check what the bag is made of. Unfortunately, that bad habit can lead to a purchasing disaster, as the materials which make up the bag can be a good indicator of how long it will last for the price.
Natural Materials
Natural materials are generally more expensive than synthetic counterparts, because unlike synthetics, they must often be carefully gathered, graded and treated before being woven into fabrics or used in the final product. Some, however, can last substantially longer than synthetic fabrics, even under constant use. Cotton, silk, leather, suede, and wool are all common natural materials which are used to make shoulder bags.
Cotton
Cotton is one of the most common natural materials found in bags of all kinds, because it is readily available, strong, lightweight, and affordable for manufacturers. However, unless backed with another material, cotton is soft and loose, meaning it cannot hold or conform to a specific shape. Over time, ladies can expect loose shoulder bags to look even 'baggier'.
Silk
Silk is one of the historically most expensive fabrics, and a shoulder bag with silk or silk-blend fabric in its construction is likely to be more expensive than one with any comparable synthetic fabric. Silk is sturdy, soft, lustrous, and unlikely to tear or stretch. Silk is more commonly used on the interior of shoulder bags as a lining than as an external material.
Leather and Suede
A good leather or suede shoulder bag will last owners a lifetime, if properly cared for, a fact which makes these items a must-have in every season. Unfortunately, quality leather is difficult to stitch and expensive for manufacturers to acquire, meaning the average cost of a leather or suede shoulder bag is usually quite high. Quality leathers and suedes can be treated to be either stiff or supple, dyed almost every imaginable colour, and tooled to display beautiful designs and textures. But leather goods require correct leather care and maintenance, often in the form of conditioning to avoid discolouration, stiffness, cracking, or other problems.
Wool
Wool is relatively common in the fabrics which make shoulder bags because of its high tensile strength and longevity under constant use. Contrary to popular belief, not all wool is scratchy, with many types of wool being as soft (or softer) than cotton. But while wool is longer-lasting, it, too, may lose its shape over time.
Synthetic Materials
Synthetic materials are used in a wide variety of shoulder bags, and depending on the type of material, can help bag manufacturers achieve lower prices vs. the use of natural materials. Synthetic material is manufactured slightly more rigid, meaning it holds the original form of the bag longer than most natural materials.
Faux Leathers
Faux leathers allow the wearers to achieve the look of leather without the expense or special care instructions, as most can simply be wiped clean. However, some can feel unpleasantly plasticky to the touch, or when rubbed over surfaces, such as on a belt, the leather-like face may be apt to rub off.
Polyester and Nylon
Polyester and nylon are both synthetic fibres which form smooth, slightly glossy fabrics that are often used in place of cottons and silks, but have much more rigidity than either. Shoulder bags made of polyester and nylon are expected to hold their shapes well and last quite some time.
Acrylic and Rayon
Acrylic and rayon are somewhat less soft than polyester and nylon or their comparable natural alternatives, cotton and wool. However, when acrylic and rayon are woven into fabrics, they achieve a similar drape to cotton and wool products, making them very inexpensive alternatives for manufacturers and shoulder bag buyers alike.
How to Find a Shoulder Bag on eBay
Whether avoiding the time sink of shopping in person or looking for the perfect shoulder bag at a bargain price, eBay is an ideal place to begin the hunt for a shoulder bag. Every eBay page, including the home page, features a search bar for quick navigation. Simply type in the words which describe your ideal shoulder bag, such as "leather crossbody shoulder bag" or "faux leather hobo shoulder bag", and you will be rewarded with a summary of all the listings which match the query.
Browse the available listings of shoulder bags as they appear on your screen, or choose to organise them based on a few key settings. This tactic is especially ideal if multiple pages of listings appear. Opt to display the listings based on the price of the shoulder bag with shipping inclusive or based on the item's proximity to your location or on how quickly the listing ends.
Conclusion
Shoulder bags are a functional accessory when used to round out a look, and they also help the wearers carry everything needed throughout day-to-day activities, while keeping their hands free. Shoppers hunting for the perfect shoulder bag should consider purchasing a bag based on how much they generally carry with them as well as the overall look of the bag. And before purchasing, discriminating shoppers should also double check that the materials used to manufacture the bag are those which will keep the original look and shape, and that it will stand up well to frequent use.
Before making a trip to local stores, shoppers should first look for a shoulder bag at an online outlet, such as eBay. Shopping online can save a considerable amount of time, compared to shopping in person, and websites such as eBay may very well reward buyers with substantially reduced prices compared to other retail outlets.