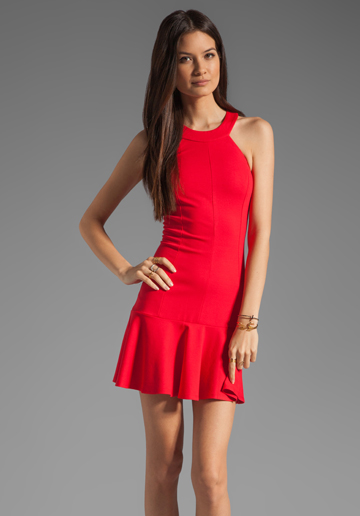 The ideal bridesmaid dress must fulfill several different and sometimes conflicting functions: it must complement the bride's dress in shape and style, emphasise the chosen wedding colours, and flatter the figures of the wearers. When matched to several bridesmaids, it must also be of a simple and elegant enough design to flatter the potentially varying shapes of the bridesmaids. Silk bridesmaid dresses are popular not only because their softness and lustre often complement silk or silk-blend brides' gowns, but because they are comfortable, and the drape of the fabric lends itself well to almost any style.
But silk can be prohibitively expensive, particularly when shoppers consider the final cost of several silk bridesmaids' dresses. Rather than shopping at formal wear retailers or bridal shops, buyers should consider turning to online venues. Websites such as eBay can help shoppers save time vs. rifling through the offerings of such brick and mortar stores, while also providing the opportunity to save substantially.
Types of Silk Bridesmaid Dress
Bridesmaid dresses are generally shorter and simpler than the bride's dress, but should still echo the style of the bride's dress as much as possible to present a cohesive appearance. Silk type, silhouette, and colour are all important details to consider.
Types of Silk
There are several types of silk all commonly used in bridesmaid dresses. The types of silk in the dress should be carefully considered and matched to the lustre, texture, and drape of those found in the bride's dress.
Chiffon
Chiffon is a type of finely woven silk where the threads are slightly twisted and large gaps are allowed, making the fabric gauzy and sheer. Chiffon is generally used on the outer shell of a dress and stitched over more solid fabrics.
Crepe
Crepe is also manufactured using a slightly twisted thread, but in a far tighter weave than chiffon, meaning it is not as transparent. Though it is still tighter than chiffon, the weave is loose enough that the fabric is malleable and still drapes comfortably.
Dupion
Dupion is usually only used on the outer shells of dresses or with a more comfortable lining. Lightly lustrous, the fact that it is woven with particularly short threads means it exhibits a somewhat nubbed texture.
Taffeta
Taffeta is a simpler, though still loose weave of silk, often used in gowns which feature full skirts. Taffeta is well known for its distinct rustling sound, and like dupion, it has a softer lustre than more tightly woven silk.
Zibeline
The silk called zibeline is what most imagine when the term silk comes to mind. It is a tight, fine weave which produces a high gloss. Zibeline is soft and smooth on the skin, but it has a very stiff drape which may not be ideal for shorter dresses.
Satin
Often considered the poor man's silk, satin is cheaper while still being soft and highly lustrous, even glossy. Its distinctive look and texture are achieved by adding floating threads into the weave. Satin bridesmaid dresses exhibit excellent drape and can be worn without a lining fabric.
Bridesmaid Dress Silhouettes
Bridesmaid dress silhouettes have as much variety as the bride's dress, which can be a complicated assortment to look through. Of them all, though, most are variations on these common styles.
A-Line Dresses
A-line dresses are one of the most common varieties of bridesmaid dresses, as they are designed for nearly any figure. They are closely fitted to the torso, either with sleeves or without, and they have a rapidly widening skirt. They are found both in short, tea-length varieties or long, floor-length varieties, and they often complement more simple bridal dresses.
Babydoll Dresses
Babydoll dresses are short and generally sleeveless or feature only spaghetti straps. The skirt is gathered in the underbust fashion and usually gathered to ruche or pleat as it falls to the knee. These dresses complement any bridal dress style also gathered under the bust.
Mermaid Dresses
Mermaid dresses are fitted snugly through most of the torso and hips, with the dress beginning to flare only at the knee. These dresses are elegant when paired to match bridal dresses of the same style and when paired with opera-length gloves that are the same colour of the dress.
Sheath Dresses
Sheath dresses are closely fitted for the entirety of the dress, and for that reason are rarely hemmed below the knee. The gather is often at the waist, rather than the hips or beneath the bust. Because of this, they are less than ideal for bridesmaids without trim waists, as they may tend to look boxy.
Bridesmaid Dress Colours
Choosing a bridesmaid dress colour can be a cinch if the wedding colours are already decided. For those who have opted not to have wedding colours or need help selecting them, there are a few easy tips and tricks to determine the best bridesmaid dress colours. In all cases, the bridesmaid dress colours should be reflected on the groom's side with matching pocket squares.
Pale Colours
Pale colours are best suited to spring and summer outdoor weddings or to indoor weddings where much of the surrounding decor is dark. In both cases, the contrast provided by the pale silk will provide for better photography.
Dark Colours
Darker colours are suited to fall and winter or as an inverse to the rule above and for indoor settings where the environment is mostly pale. Dark blues, purples, and burgundies are a common choice. They are softened by adding lace or ribbon accents, such as sashes or belts.
Bold Colours
Bold, bright colours are often avoided in bridesmaid dresses for the simple reason that they tend to draw the eye even more than the bride's dress does. An option reserved for summer or tropical themed weddings and those as bold as the colour, bold colours also tend to make paler bridesmaids appear washed out or very pale.
Warm Neutrals
Warm neutrals are an ideal catch-all option and include the various shades of off-white, taupe, tan, brown, and even gold. These options look pleasant against a wide range of skin tones (so long as they do not t match too exactly) and can serve to pleasantly offset the bride's white dress without being too distracting.
Sizing a Silk Bridesmaid Dress
Before purchasing a silk bridesmaid dress, the wearers should have measurements taken. In many cases bridesmaid dresses follow a few different size mechanisms, so knowing the actual measurements can help ensure that the buyers avoid ordering the wrong size.
To properly get a measurement, buyers should use a measuring tape. They need to set one end of it at the centre of either the widest part of the bust, the slimmest section of the waist, or the widest area of the hips to record either the bust, waist, or hip measurement, respectively. Then they need to loop the tape around the body and record where it snugly, but not uncomfortably, meets the end. It should not be twisted and needs to lay flat over the back during measuring.
| Sizing Chart | XS | S | S | M | M | L | L | XL | XL |
| --- | --- | --- | --- | --- | --- | --- | --- | --- | --- |
| Number Size | 6 | 8 | 10 | 12 | 14 | 16 | 18 | 20 | 22 |
| Bust | 79 | 83 | 87 | 92 | 97 | 104 | 111 | 118 | 125 |
| Waist | 60 | 64 | 68 | 73 | 78 | 85 | 92 | 99 | 106 |
| Hip | 83 | 87 | 91 | 96 | 101 | 108 | 115 | 122 | 129 |
The above sizes are in centimetres. Those who at all exceed the number of centimetres listed for either the bust, waist, or hip category for their size should purchase the next available size up in their dress.
How to Buy a Silk Bridesmaid Dress on eBay
Buying a silk bridesmaid dress can be nerve wracking, but once you know what you want, shopping online at eBay will help reduce the stress of the process. Both the eBay homepage and every eBay internal page feature a search bar. Simply find this search bar and type in the terms which describe the dress you are after. Some good examples might be "A-line silk bridesmaid dress" or "spaghetti strap silk bridesmaid dress". Your search should immediately return a list of those items which match that description. Remember that keeping your search terms as general as possible will improve the number of results you get back.
Once you have the results, eBay makes the process of narrowing them down to the best options for you a cinch. You can choose to display only those listings which match a certain colour, style, or size, and there are even options which display the cheapest dresses first.
Conclusion
All bridesmaid dresses come in a seemingly endless array of cuts and styles, and silk varieties are no different. Buyers must decide if they want the entire dress to be composed of silk, or if they are willing to opt for non-silk underlayers. In all cases, bridesmaids dresses should complement the lines and cut of the bride's dress, while still being well suited to the wearers.
Bridesmaid dresses are expensive no matter what they seem to be made of, and one fashioned of silk can carry a price tag that leaves the shoppers feeling faint. One solution to avoiding such sticker shock is to opt for a silk-blend fabric instead, but another sound option is to avoid heading to traditional retail outlets altogether and search online instead. Websites such as eBay often offer an impressive assortment of silk bridesmaid dresses, while also allowing buyers to capitalise on substantial opportunities to save.