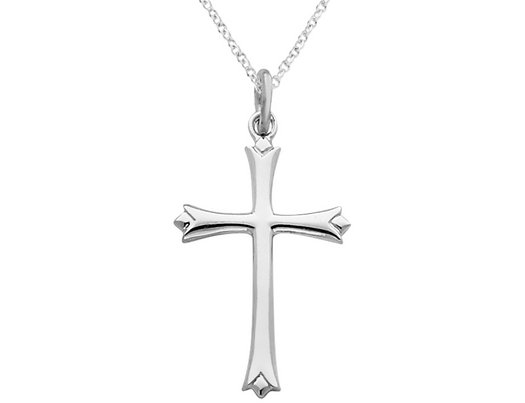 Whether you are looking to purchase a silver cross necklace for yourself, or give one as a gift, finding the right cross necklace can be an overwhelming task because there are so many varieties available. The cross has been a symbol for so many things to so many different cultures and religions, the most common being a symbol of commitment to the Christian faith. Some people wear a cross necklace because they believe it wards away all evil and the cross can protect them. Others wear a cross because it has become so popular that it has been accepted as a fashion accessory. Whatever the meaning behind it, men and women both take pride wearing a necklaces with cross pendants, so it is no wonder there are so many different types of cross necklaces to choose from. A silver cross necklace is one of the most common pieces of jewellery, and it can be dressed up or worn casually.
In order to make an informed decision when purchasing such necklace, you should know about different types of silver, different meanings behind the symbol of the cross, and other helpful factors that can make the search for your silver cross necklace easier. Once you have been informed of the features and styles of a silver cross necklace, you can start your jewellery search either at high-end street jewellery shops or on eBay.
Types of Silver Cross Necklaces
There are several types of silver to choose from when purchasing a silver cross necklace. The variety of silver is what causes such an extreme price range. The three main types of silver are pure, sterling, and mixed silver. The difference in all of them is the percentage of alloy, or the percentage that is actually silver. You may notice that your silver jewellery is marked with a '925' symbol. This is because silver has to go through specific regulations in order to be considered true silver. The regulations are different for each country, but the standard is 92.5 per cent pure silver and 7.5 per cent copper or other metals. This mix keeps the silver from tarnishing. Knowing the main characteristics of each type of silver can help you choose the right silver cross necklace for you or a loved one. The main types of silver are listed next in order of what is typically most expensive to what is typically least expensive.
Pure Silver Cross Necklace
Pure silver cross necklaces, or fine silver necklaces, are made of silver in its purest form. When silver is in its pure form, it is a very soft metal. Because it is so soft, it typically needs to be mixed with other metals in order to be useful. Pure silver is great for making intricate designs for pendants, such as crosses, but may be a little too soft for a necklace chain. A stronger form of silver or a different metal altogether would be best for the necklace chain. Fine silver is made up of at least 99.9 per cent of silver in its pure form; consequently, silver cross necklaces are usually more expensive than those made of a silver mix.
Sterling Silver Cross Necklace
Sterling silver is the most common type of silver. It is a high grade silver that is made up of 7.5 per cent or less alloy. Sterling silver is still considered a high grade of silver and is next in line to pure silver. Sterling silver comes with the '925' marking, which is representative of the fact that it is made up of minimal fineness, or 92.5 per cent pure silver. If your silver cross necklace does not have the '925' marking, then is most likely not true sterling silver.
Mixed Silver Cross Necklace
Mixed silver cross necklaces are typically made up of mostly other metals, with a smaller percentage being actual silver. It is not uncommon for inexpensive jewellery or costume jewellery to be made of mixed silver because it keeps the price down. There are no strict regulations on which percentage of the metal needs to be made up of silver, so it is easy to mix the silver with stronger metals to make up the chain of the necklace.
Styles of Silver Cross Necklaces
Aside from there being different types of silver, there are also many different styles of silver cross necklaces. There are simple, elegant crosses that are often given as religious gifts. There are also more modern, sleek crosses that are worn as more of a fashion statement. The most popular styles of silver cross necklaces include gothic, religious, and celebrity-designed jewelleries.
Gothic Cross Necklaces
A gothic style cross looks much different than a traditional style cross. Gothic cross necklaces have sharper points and are much bulkier. A gothic cross is typically worn as a fashion accessory, and most people are unaware that there is even meaning behind this specific style cross. A gothic cross represents more of a dark and dangerous world, and is much bulkier than a standard cross. Most people choose to wear a gothic cross either to make a fashion statement or to symbolise that they worship the occult. There are a few different styles of gothic cross pendants, each with its own meaning. For example, an inverted cross is said to represent death, an upside down cross represents the rejection of Jesus Christ, and a Celtic cross is said to represent everlasting life. Gothic silver crosses can also come embellished with stones or gems, and have many different options for the chain, including leather, which is unique to the gothic style silver cross.
Religious Cross Necklaces
Religious silver cross necklaces are worn primarily by Christians who wish to show their devotion towards their faith. It is a common gift to be given to young children for a Christening or baptism. A religious silver cross necklace is generally very simple, and is worn by men, women, and children. There are silver cross necklaces available with prayers engraved on the cross. Some sellers offer the option of personalising the prayer engraved, which is a common thing to do to show respect towards someone's passing. Another style of prayer necklace is a rosary bead necklace with a silver cross attached. This is also a very popular gift, and some necklaces even come blessed by the Pope.
Celebrity Designed Cross Necklaces
Because cross necklaces have become so popular over the past few years, several celebrity designers have come out with their own designs. Two popular designers are Lauren Conrad and Kelly Ripa, both from the United States. Lauren Conrad's design is popular amongst younger people, and is a simple cross that hangs sideways. Her sideways design has become trendy, and has inspired other designers to consider the style of hanging the cross sideways as opposed to straight up and down. Kelly Ripa's design is a silver cross necklace covered in diamonds. There have since been similar designs that are much more affordable.
How to Buy a Silver Cross Necklace on eBay
When you have considered the different types of silver and various styles of cross necklaces, you are ready to start your search for the perfect silver cross necklace on eBay. It may be helpful to determine a budget before starting a search. Setting a budget helps narrow down the search and ensure that you stay within a desired price range. Once you decide on a particular price range, you can select it from eBay's search options. If you are unsure of a budget, you can see what the average price of a silver cross necklace is on eBay and decide from there whether you are looking to spend more or less than that.
Next, if you have a particular type of silver you prefer, you can type that into the search bar. For example, if you are looking for a cross necklace made of sterling silver, simply search 'sterling silver cross necklace' and browse through the results displayed. Once you look through the results and come across a necklace you like, read the description and make sure it comes with a chain and is not just the necklace pendant. After you have done all of this, you are ready to make your purchase on eBay, and are one step closer to enjoying your new necklace.
Conclusion
There are many different styles of cross necklaces, usually with their own specific meaning. Whether it is to show devotion towards your faith, or to make a fashion statement, no reason is too small to purchase a silver cross necklace. eBay has thousands of options, so you are likely to find the perfect necklace that suits you. You can find an elegant, pure silver cross that would make a wonderful gift for a loved one or a durable sterling silver cross you could give to a child to grow old with.
A necklace can be something special and treasured. It can be a piece of jewellery that can be passed down from generation to generation, and can acquire a significant sentimental value. It can be something given at major life milestones, or birthdays, or can be given to somebody special for no reason at all. Whatever the reason, a silver cross necklace is a timeless piece of jewellery that never goes out of style.