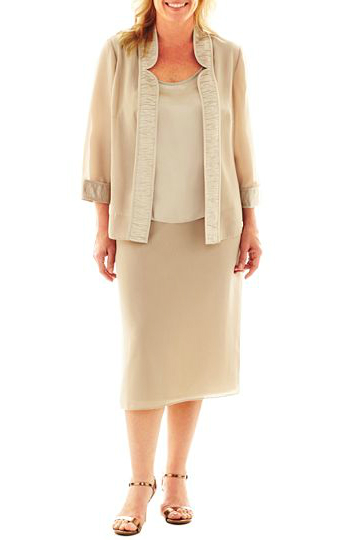 The modern professional woman knows that, in today's world, appearance is one of the most important tools she has to obtain credibility. While female pant suits are acceptable in the workplace, the classic fashion of a skirt suit can help you make the best first impression. It is also still the first choice in conservative settings and male-dominated fields such as law firms and executive branches.
Finding a stylish skirt suit for women can depend as much on the cut and design as it does on fit, wardrobe versatility, and your overall comfort. Skirt suits traditionally consist of a matching, fitted jacket and a tailored skirt in one of several styles from pencil to A-line. In the past, women's suit sets were created in basic colours and styles but, now, designers are beginning to focus on bringing out the stylish qualities of suits while keeping them professional. More women are also pairing suit separates with casual items in their wardrobes for a wider variety of classic, everyday looks. You also need to be aware of which accessories and shoes you will be wearing with the skirt suit as you shop.
Women's skirt suits can be purchased at nearly any retail outlet or department store, as well as from Internet marketplaces. Online auction sites such as eBay have a wide variety of suits and can be used for comparison shopping, as well.
History of the Skirt Suit
The earliest women's suits date back to the riding habits of the 1660s which, much like modern skirt suits, contained a tailored jacket or coat and a matching skirt that coincided with the era's fashions. Made for rough wear and tear while on horseback, these riding habits were also used for travel and other strenuous pursuits. Later in the 19th century, similar attire in the form of a walking suit was designed for less demanding activities.
The skirt suit became more common in the beginning of the 20th century with women wearing them prevalently both in the workplace and when out of the house. Dressmakers began to design the suits with a mind towards fashion with soft fabrics and more aesthetic details. From this came the cocktail suit for semi-formal events in the 1950s.
In the 1970s and 1980s, the organisation Dress for Success, established a uniform consisting of a tailored shirt, tie, fitted jacket, and matching skirt for the working woman. This has remained a staple in the business world. Women's pant suits were developed in 1964 but were actually considered more casual and have only gradually become accepted as a professional alternative to the skirt suit.
What Makes a Skirt Suit
A skirt suit, as it sounds, consists simply of a jacket and matching skirt with a blouse or collared shirt underneath. The jacket generally has a notched collar and, sometimes, closed or open pockets. The number of buttons varies from the traditional three to more or less depending on the style and use it is intended for. Some women's business jackets don't have any buttons.
The skirt, despite its style and cut, will ideally have a knee-length hem and a zipper or button fastening it in the back. It can be of matching material and colour with the jacket, though modern fashion does not always follow this rule.
While it is possible to approximate the appearance of a skirt suit in this way, with a skirt and jacket, developing fashion can sometimes blur the lines a little. Some one-piece dresses in the form of a traditional coat and skirt have also been presented as a permissible choice for a professional working woman. When in doubt, however, it is best to stay on the side of conservative tradition.
What to Look for in a Skirt Suit
As you shop for a suitable skirt suit, keep in mind the importance of considering your own style and body shape, as well as the environment in which you will be wearing the suit. Your body shape may work best with a particular style, for example. Conditions such as weather or formality of the office setting will also affect what may or may not be appropriate.
Weight and Type of Fabric of a Skirt Suit
The type of fabric your skirt suit is made out of is crucial, no matter if you work outside or inside. Be careful to always dress for the season you are in. When you wear a light linen suit, for example, in the middle of winter, you may become too cold. Worse, you might look as if you are not aware of your surroundings. The same goes for a heavy wool suit in the middle of the summer. Dress for the season accordingly.
Style and Features of a Skirt Suit
There are many opinions on the proper attire for a businesswoman and most of them revolve around the style and features of her skirt and jacket. While you do not want an overabundance of frills, that does not mean that you are stuck with a one size fits all option. The idea is to choose a suit with clean, straight lines to give off a professional air. Small embellishments such as a side-slit or a ruffle on the skirt will add character to professionalism if utilised in small doses. In the same way, the style of the skirt will determine the impression you are making. The following table shows some of the styles that should be considered when choosing a skirt suit.
Style

Features

Professional

Clean, straight lines with tailored fit

Solid, neutral colours

Knee-length skirt

Evening

Aesthetic detailing such as ruffles, beading, or oversized lapels

Made from satin, silk, or taffeta

Can feature a shorter or longer skirt

Business-casual

Modern or unconventional cuts and styles

Made from cotton, linen, and other light fabrics

Can be worn together or mixed with other separates
A tailored fit is the most important aspect of pulling a professional look together, which is why getting a good fit is so important. You do not want to choose a skirt suit that you cannot move in or one that is so baggy that it gives off a frumpy appearance.
Accessories
Accessories that fit well with your skirt suit and make a statement about your style will help you to stand out in a good way. The key here is to limit the distractions of your accessories. You do not want to overwhelm yourself or downplay all the hard work that you have put into your skirt suit. Jewellery should be minimal, such as post earrings or a classic necklace. If your style is bold, choose one piece that has no unusual colours or sparkles and leave the rest at home.
Shoes complete an outfit and nowhere is this more true than with a skirt suit. Closed-toe heels are the safest choice, no matter what season it is, for a clean, professional look. They should be scuff-free and match the colour of your suit in an understated way. Most importantly, they should be comfortable.
Following these simple rules will complement and enhance the skirt suit you have chosen.
How to Buy a Skirt Suit on eBay
Women's skirt suits of varying styles, sizes, and colours can be easily purchased from sellers on online auction sites like eBay. Begin your shopping by entering a set of keywords into eBay's search field that can be found from anywhere on the site. Auction listings can then be refined according to your choice of categories. A good phrase to use first is "women's skirt suits." Click "search" then look through the auction listings that appear onscreen. You can also refine your search using the category options in the sidebar or by limiting the results to all new clothing or brown suits, for example.
Be ready to take your time and browse the listings. You'll want to examine each listing, along with its description, pictures, and price. Some sellers cover shipping charges while others don't, so be sure to add those charges to the overall price so that you can compare the total with your budget.
Most importantly, take your time when perusing the sellers. Find the one who not only matches your budget and style but also your quality and service requirements. Seller ratings, along with positive feedback from other customers, can be read from the listing page or from the seller's profile page. This can be accessed by clicking the seller's name. Looking for a top seller is good, since these sellers are the ones who have been rated the best in their service and the quality of their items by other buyers.
Conclusion
Finding a professional yet comfortable skirt suit for the business world will not only give you more confidence but will make the right impression, as well. Choosing the right skirt and jacket ensemble is easy once you know what styles are best for which settings, along with the right colours, accessories, and shoes to match. Whether a skirt follows conservative traditions or takes a chance on something a little more stylish, it is important to know how to pull the look together to create a professional and credible overall appearance.
Skirt suits can be purchased from department stores, specialty women's suit shops, and through online marketplaces and auction sites like eBay. Remember that you should shop around and compare prices to find the highest quality suits. Choose the one that will best complement your tastes and comfort while maintaining the look you want to achieve. With a little searching and your new knowledge of what makes a skirt suit look great, you can easily achieve your business goals in comfort and style.