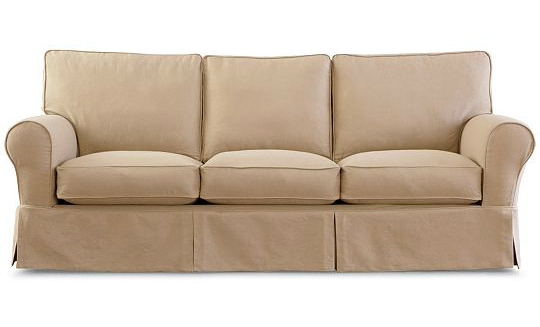 The sofa is one of the central parts of any living room. At the forefront of comfort and functionality, it is perfect for gatherings as well as cosy nights in. However, as it is such an important part of home furnishings (not just in living rooms) the sofa is often subject to wear and tear, as well as facing the prospect of not being fashionable for the years that it needs to be.
To solve both of these issues, it is a good idea to purchase a slipcover for your sofa. A slipcover is material that will cover a piece of furniture, giving it a new lease of life as well as protecting it from getting damaged or losing it lustre. Slipcovers are perfect for when it comes to redecorating a room but keeping hold of the existing sofa or armchair.
There are a number of options and variables available, and this guide will outline the possibilities as well as give details on buying a sofa slipcover on eBay.
Features of Sofa Slipcover
The types of sofa slipcovers available are as diverse and customisable as sofas themselves. They can perfectly compliment any room or styling, and can be changed and replaced depending on personal taste. There are a range of fabrics available, as well as patterns, colours and brands. On eBay it is possible to find those that are new or used, as well as those for specific rooms. Here are some features to look out for when searching for sofa slipcovers:
Furniture to Cover
The main consideration to look out for is the type of furniture that the slipcover is going to be placed upon. This seems simple, but of course there are many different types of sofas, and as such a variety of different covers exist. Whilst simple chair or armchair ones may not be applicable here, for smaller sofas they could present an option. Other than that there are slipcovers available for 3-seater sofas as well as smaller 2-seater sofas. Whilst this may seem straightforward when choosing a slipcover, it's always a good idea to check individual product descriptions to see sizes and measurements to make sure it fits. If applicable, there are also slipcovers available for chaises longues.
Main Colour
This can be a tricky feature to get right, as the colour needs to either match or compliment the main colour scheme of the room in which the sofa resides. There are lots of beiges, browns and whites that are quite neutral, but there are others to consider too. In this instance it would be useful to try and get hold of a sample to gauge how well it fits. If in doubt, play it safe, but bear in mind that if the room's colour scheme changes it is possible and easy to replace the slipcover.
Material
The material of the slipcover will contribute to a couple of other factors when deciding upon a slipcover. There are plenty of cotton blend slipcovers to select from, as well as those that are 100% cotton. These materials tend to be quite hardy and wear well, but there are other materials that share these properties such as jacquard and faux leather. A certain amount depends on personal taste – the appearance of these materials differ significantly, as does the cost. It's worth examining some examples first hand to see what is the best match in terms of comfort and appearance.
Pattern
Pattern is again a factor that is determined by personal taste. There are many different stylistic choices that could be made, for example a floral patterned art nouveau would work well in a room that shares that styling, while block or checked patterns would work well in a more modern setting. It is also possible to get novelty patterns that could work well in a child's or play room. Ultimately it comes down to what works well in the room, so again samples would be particularly useful at this point.
Room
Sofas aren't just for the living room, and so by extension neither are sofa slipcovers. The tone and use of a room will affect what kind of slipcover will be purchased. It is not uncommon to have a sofa or sofa bed in a bedroom, and as mentioned previously, a playroom or kids room may also include one. For a room that sees little use, a lighter more ornate slipcover could be used, whilst in a kid's room the fabric should be hardy and easily washable in case of spills. Of course, a sofa could be moved to a different room, but the ease of using a slipcover means that it could be changed to suite the environment. Remember though, practicality should be a consideration that is as much a priority as appearance.
Buying Considerations
Once a decision has been made on the needs of the slipcover (the location, appearance, material and furniture it will cover) there are a few aspects to think of when actually purchasing one on eBay. Thankfully the wide range of products and styles available makes it easy to narrow down.
Price
Price is always a driving factor when decorating, so it's a good idea to have a budget. Often a slipcover will be chosen because it is a cost effective way of revamping existing furniture, but factors such as size, material and style will have an impact on price so it's good to be aware of these. A handy hint is to research possibilities first in order to gauge what sort of price ranges exist.
Condition
On eBay it is possible to buy slipcovers that are new, but an affordable way of finding the perfect slipcover is to buy one that is used. Personal preference as well as price can determine whether to buy new or used, so be sure to explore both possibilities.
Purpose
Finally the purpose of the slipcover should be clearly decided on. If it is going to be used as an ornamentation then a delicate or embroidered slipcover will work well. However it is going to be used on a daily basis then it is worth considering buying one that is made from a material that wears harder and can withstand washing, vacuuming or wiping down.
Conclusion
This guide has shown the different features that are applicable when buying a sofa slipcover. Variables such as price, design, material and purpose should all be considered when making a purchase, as should personal taste and the styling of the room that it will furnish. Buying a slipcover on eBay is easy and intuitive, with plenty of features that make it possible to find the perfect item. With eBay's buyer protection policy, it is possible to shop securely and with confidence.