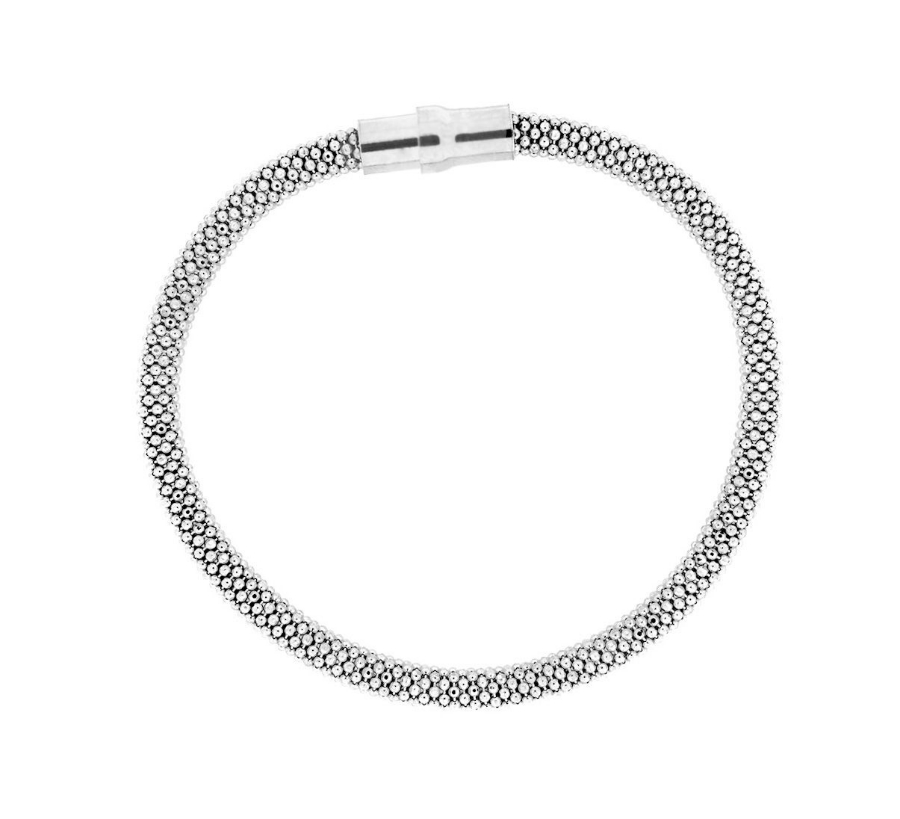 Buying the right sterling silver chain can make a special pendant or a stunning outfit all the more striking. Although they are often ignored in favour of gems and other, larger pieces of jewellery, chains can make a subtle, yet powerful statement about one's fashion and taste. Also, sterling silver is less expensive and equally fashionable alternative to fine silver, white gold, and platinum chains.
However, finding that 'just right' sterling silver chain is a little bit more involved than simply heading down to the nearest jeweller and picking out the first silver chain that falls within your budget. Indeed, there are several factors that one must consider when it comes to buying any jewellery, from material to length to type of chain.
Therefore, savvy buyers, when beginning the process of buying a sterling silver chain, will familiarise themselves quickly with some basic bits of information about sterling silver itself, before moving on to estimating the ideal length and identifying the type of chain they desire. Once those decisions are made, a savvy buyer will do a little investigation into the best and often most convenient places and methods to shop for a sterling silver chain, whether that be in person or online.
The History of Sterling Silver
Sterling silver is a rather generic term often used by many people from the counter staff in fine jewellers to department store jewellery employees. Yet, not everyone actually understands the distinction of sterling silver, its history and the implications of that term. In fact, the composition and uses for sterling silver make it a unique and interesting choice when buying a chain for a variety of reasons.
Composition of Sterling Silver
With its origins in continental Europe, the history of sterling silver as it has existed in the UK is well documented. Its composition has been regulated dating back to at least the rule of Henry II in the 12th century. In fact, a piece of silver from that time was used as a standard in the Trial of the Pyx, the judicial assessment where the standard of silver in coins to ensure their value is performed, until 1843 when silver was deposited in the Royal Mint. In fact, a statue of Edward I from 1275 is responsible for the first legal definition of sterling silver. It states that the 12 ounces of silver used for coins must comprise 11 ounces plus 2.25 pennyweights of silver and 17.75 pennyweights of an alloy (there are 20 pennyweights in a Troy ounce).
Today, many people mistakenly identify sterling silver as synonymous with (that is, the same material as) 'pure' silver. However, sterling silver is actually a silver alloy made of 92.5 per cent silver and 7.5 per cent of other metal alloys such as copper. These percentages mimic that of the 13th century statue of Edward I, but have now become a global standard. By contrast, the alternative to sterling silver, fine silver, contains fully 99.9 per cent silver.
Uses of Sterling Silver
Because of its strict definition, the manufacture of sterling silver is pretty widespread and reliable. Indeed, the strength added to silver through the addition of an alloy makes it ideal for a variety of purposes. In addition to its standard use as material for flatware and jewellery, sterling silver has had some interesting historical uses. Among the most popular of these are as medical instruments (through the mid-20th century) and brass wind instruments, such as saxophones and flutes. The latter is a practice still used today and popular amongst top of the line manufacturers Selmer and Yanagisawa, who believe that silver gives their instruments a more resonant timbre.
Chain Considerations: Length and Type
Once you have committed to the purchase of a sterling silver chain, there are two major issues that should be considered before moving on with the purchase. These considerations are the length and type of chain desired. Each of these decisions will affect the price of the sterling silver chain.
Chain Lengths
There are three standard sizes of chains, and the exact dimensions of these chains will vary, depending upon whether the sterling silver chain is purchased for a man or a woman. Choosing a size is important because it will determine where the necklace sits on the neck as well as the effect that will be created if you choose to add a pendant to the necklace.
The table below outlines each of the three most common sizes for chains. (There may be additional lengths available for women, however, which vary from manufacturer to manufacturer.) What is most important to consider is the 'look' each chain will create on the neck.
| | | | |
| --- | --- | --- | --- |
| Men's Size | 45 cm | 50‒55 cm | 60 cm |
| Women's Size | 40 cm | 45 cm | 60‒75 cm |
| Location | base of neck | collarbone | below the neck; at the sternum |
Deciding upon the desired length of a sterling silver chain ahead of time helps you to narrow down your selections, something that is particularly helpful when shopping online. For example, knowing that you want a chain that will sit at a lady's collarbone, also known as a 'Princess length', will allow you to easily limit your online search by entering the search phrase 'women's 45 cm sterling silver chain&'.
Chain Types
In addition to deciding upon the length of a sterling silver chain, buyers should also consider the type of chain they would like to buy. Type refers to the actual design of the links that make up the length of a chain. Here is a list of the most popular chain types on the market:
Bead
Byzantine
Cable
Rolo
Rope
Snake
Venetian/Box
Wheat
Although this is not as essential a choice to make as length, unless you intend to pair it with a particular pendant or accent piece, choosing a chain type early on can help you to continue to narrow down your purchase options when searching online. Therefore, a search for 'sterling silver rope chain&' will be far more exact than 'sterling silver chain&' alone.
Buying a Sterling Silver Chain
Once you have decided upon the optimum length and type of sterling silver chain you want, you may begin the actual shopping process by going either online to jewellery-specific merchants, department stores, or marketplace-style sites like eBay. Additionally, you may want to go to physical stores first to look at a number of styles of chains and try them on before committing to a purchase. Either way, there are some specific points to remember when buying sterling silver.
An Important Tip for Buying Sterling Silver
Sterling silver is a precious metal due to the amount of silver alloy used to make the material. Therefore, it is important to make sure that any sterling silver chain you buy is authentic. There are a few ways to do this. First, simply ask the merchant if the piece is authentic. Then, either inspect or ask for photos of the piece that display one of the following stamps: the number '925', 'Sterling', 'Str', or 'Sterling Silver'. Although the absence of such a stamp does not definitively rule out that the piece is sterling silver, it does mean that your ability to trust the seller of the piece is far, far more important before investing in such a purchase.
Buying Sterling Silver on eBay
Because of the precise nature of shopping for sterling silver chains, buyers may wonder if using eBay, which is a website that unites multiple sellers, is a good idea. The good news is that, with the right preparation, buyers can have a very positive experience buying sterling silver chains on eBay. Buyers simply need to know how to learn about a product and evaluate their seller.
Reading the Product Listing
The first step to buying a sterling silver chain on eBay is learning to read the product listing provided by the seller. This listing is standard with any eBay product and is completed by the seller personally. Minimally, it should include a description of the product and a picture of it. A good seller will generally also include a generous amount of detail and additional pictures, including one of the aforementioned stamp of authenticity.
The Importance of Seller Evaluation
In addition to looking at the product being sold, it is also important to take a close look at the seller who is offering it for sale. eBay makes this process easy by providing an entire section of seller feedback as well as an easy-to-read seller rating provided in the form of feedback stars. Do not hesitate to contact a seller with any questions you may have regarding their product before committing to purchasing it. The response you receive will also help you to evaluate a seller as well.
Conclusion
Buying a sterling silver chain can be a great way to display a favourite pendant, complement an outfit, or simply showcase your style. However, before beginning the buying process, it is enormously helpful to first understand a little bit more about just what sterling silver is and what is it made of, in order to make a fully informed decision and establish a piece's authenticity. Before you buy, determine the ideal length and type of chain desired. Once these determinations have been made, you can begin the buying process with comfort and confidence.
Buying a sterling silver chain can be accomplished at a number of places from physical stores to online merchants and websites like eBay. Regardless of where you choose to buy a sterling silver chain, it is important to take precautions to ensure authenticity. This means looking for a stamp on the chain and working with reputable merchants. On eBay, this can be accomplished simply through using the product listing page, as well as evaluating the seller. Ultimately, this makes buying a sterling silver chain fast and easy while assuring you that you have indeed made an excellent and informed choice.