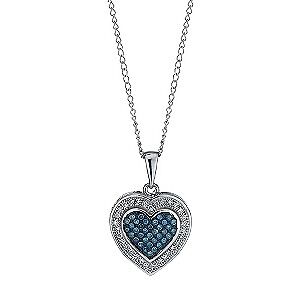 Accessories are an important part of everyday dress. In addition to belts, shoes, handbags or laptop bags, and hats, both men and women typically own some jewellery items. Men often have some chains or necklaces which they wear either alone or with pendants such as dog tags.. Women typically have a wider variety of styles from which to choose, ranging from chunky chains, to intricately woven pieces, to delicate single strands.
One of the best-loved and most beautiful materials for necklaces is sterling silver. A sterling silver necklace or chain is a must-have, especially for women. Whether buyers are purchasing their first sterling silver necklace or replacing a broken or damaged piece, they need to know some important facts about sterling silver and about choosing a necklace made of this particular precious metal. Sterling silver necklaces are widely available in local jewellery shops, as well as from websites like eBay.
About Sterling Silver Necklaces
Silver is a soft, malleable metal which must be reinforced with an alloy before it can be used to create jewellery, silverware, or other products. The official standard for sterling silver is 92.5 per cent pure silver and 7.5 per cent alloy. The alloy typically used is copper. Germanium, zinc, and platinum may also be used in some cases. These other metals can prevent or slow the tarnishing process.
Understanding Tarnish
Tarnishing occurs over time as the silver is exposed to certain chemicals and substances in the air, including sulphur and ozone. Tarnish, which is actually silver sulfide, appears as blackened or darkened areas on the jewellery or silverware. Buyers who plan to invest money in a fine sterling silver necklace should take precautions to prevent tarnishing.
Caring for Sterling Silver Necklaces
Sterling silver necklaces that are worn regularly develop a soft shine called "patina". The natural oils of the wearer's body help to prevent tarnish from developing. However, if sterling silver necklaces are rarely worn and are left out in the open air, they quickly tarnish. Owners who plan to wear their sterling silver necklace only on special occasions should purchase a special storage box, a polishing cloth, and some silver polish. Periodically, they should polish the jewellery to keep it ready for wear. Gentle polishing by hand with silver polish and a soft cloth (or with mild soap and a soft toothbrush) removes tarnish and keeps sterling silver necklaces beautiful.
Sterling silver necklaces should never be worn in the shower or in the pool. The chemicals present in the pool water or the soaps used in the shower can cause tarnishing almost instantly. The necklace should not be worn to bed, either, since it could get tangled or broken as the wearer moves during the night.
Sterling Silver vs. Silver Plated Necklaces
A solid sterling silver necklace is fairly expensive. A cheaper alternative to solid silver is silver plating. Silver plated necklaces are made of a lesser metal, and are then coated with sterling silver. They have the same lustrous sheen as a solid silver necklace, and allow buyers on a budget to enjoy stunning, high-quality jewellery without the associated price tag. However, over time, the silver plating may tarnish and degrade, allowing the metal underneath to show through. True sterling silver necklaces, however, last a lifetime and beyond, retaining both their value and their beauty.
What to Look for in a Sterling Silver Necklace
When buyers begin shopping for a sterling silver necklace, they should keep in mind several key factors. They need to know the style and length that best complements the outfits in their wardrobe. They should also look for a maker's mark and other indications of a good quality piece.
Style
Sterling silver goes with nearly anything. Gold necklaces work better with warmer colours, but a simple sterling silver necklace complements both casual outfits and professional wear. Women who have several types of pendants among their jewellery may want a selection of sterling silver chains in different styles and lengths. This way, they can combine the perfect pendant with the right necklace for every outfit. Some sterling silver necklaces are not slender chains intended to be paired with pendants. Instead, they may be created from intricately interwoven strands or designed as a setting for fine jewels.
Maker's Mark
Most sterling silver items include a hallmark or maker's mark, indicating the manufacturer of the piece. They also have a separate quality mark that identifies the piece as true sterling silver. These marks are typically present on the underside of sterling silver dishes or silverware. However, since necklaces are often too slender for such markings, many designers include a tiny silver tag near the clasp imprinted with an "SS" or the "925" mark. "SS" means "sterling silver", while "925" is indicative of the requisite 92.5 per cent silver content. Buyers should always look for this mark on any sterling silver necklace they are considering.
Length
Sterling silver necklaces come in a variety of lengths. Some shirts, blouses, or dresses look better with a short necklace, while others are more attractive with a long one. Before selecting a length, buyers should think about the outfits with which they plan to wear their new sterling silver necklace. If uncertain as to which necklace length looks best with an outfit, buyers can ask for advice from a fashion-savvy friend or family member.
The chart below lists some common types of necklaces, and provides a brief description and the typical lengths of each.
| Necklace Style | Description | Length (in cm) |
| --- | --- | --- |
| Choker | Rests just above the wearer's collarbones | 35-40 |
| Princess | Rests over the collarbones | 45-50 |
| Opera | Rests over the wearer's breastbone | 75-90 |
| Rope | Falls below the breastbone or bustline | 80+ |
| Lariat | Falls to the waist or below it | 90+ |
While many necklaces have a clasp, rope or lariat necklaces do not require one since they are long enough to slip over the head. Lariat necklaces can even be wound two or three times around the neck, so that they give the appearance of multiple necklaces.
Most women choose necklaces that are choker, princess, or opera length. Men need slightly longer necklaces than women do, since their necks are usually thicker. On the average man, a necklace that is about 45 or 46 centimetres long should rest at the collarbone. A necklace of 60 centimetres or more should fall at the breastbone or sternum. Buyers who are unsure what necklace length they need can put a measuring tape around their neck to get a fairly accurate estimate.
Other Indications of Quality
Besides the hallmark or maker's mark, there are other ways buyers can determine the quality of a sterling silver necklace. They should inspect the necklace closely in person. If purchasing it online, they should request high-resolution, close-up digital photos of the piece. The surfaces of the silver necklace should be smooth and flawless, with a soft gleam that only silver can produce. If there are tiny pits, spots, scratches, or other blemishes, the necklace may not be true sterling silver, or it may be a pre-owned piece that was roughly used by its former owner.
Another indication of quality is the clasp. Buyers should look at the way the clasp and necklace are attached. The two should be firmly and securely moulded together. The clasp itself should be easy to use, but not so easy that it could come loose during normal wear.
Buying a Sterling Silver Necklace on eBay
Department stores and jewellery shops in your town probably carry a variety of sterling silver necklaces. eBay is another prime source for jewellery, and is likely to have both lower prices and a broader selection. Simply enter "sterling silver necklace&" into the search bar on eBay's homepage, and the search engine should return thousands of results. You can narrow those results down by choosing the condition, price range, seller options, and shipping options that you prefer. You can also enter your postcode and a maximum radius to look for sellers who live in your area.
Many eBay sellers offer free P&P or 14-day return policies as incentives for buyers. Other sellers bundle a core item together with a few useful accessories at a low price. Some sellers' listings have a prominent Top-rated seller seal, indicating that the seller has received very good feedback from other eBay buyers. Top-rated sellers usually offer fast, courteous service to their customers. To ask any eBay seller about their policies or products, click Contact Member in the seller's profile or click the Ask a Question link on the listing page.
If you cannot find the exact sterling silver necklace you want, check out eBay Shops, the retail area of eBay's website. You can also save your search, giving eBay permission to notify you whenever new listings for sterling silver necklaces are posted. This feature allows you to stay up to date on the necklaces that are currently available.
Conclusion
Picking out a sterling silver necklace is sometimes complicated, but it can also be fun for buyers, especially if they find a fantastic price on a genuine sterling silver piece. Buyers should always check for the little tag or imprint confirming the necklace's sterling silver quality. They may want to visit a jewellery store and familiarise themselves with the look and feel of true sterling silver, so that when they visually inspect pieces from private sellers, they know what characteristics to look for. Length and style are important factors as well. Buyers should look through their current jewellery and their outfits to determine what sort of necklace they need. In addition to the necklace itself, they should consider purchasing a polishing cloth, a lined case, and some special polish to facilitate the proper storage and care of the sterling silver. With these supplies, buyers should be prepared to enjoy their new sterling silver necklace for many years.