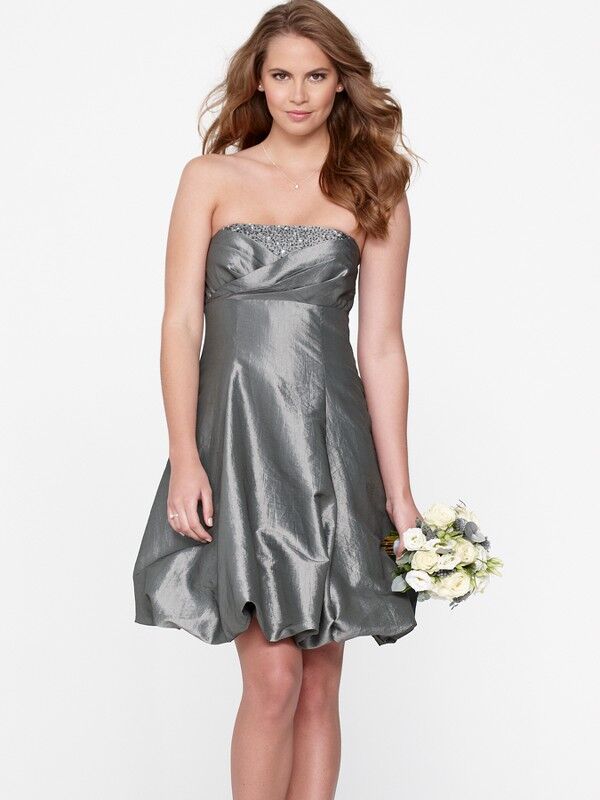 Being invited to be a bridesmaid at your friend's wedding is a special honour and can make for many fun memories later in life. Part of the success of those memories depends on the dress. As a bridesmaid, you will be wearing the style and colour the bride has chosen. While this can make finding the perfect fit difficult for bridesmaids, getting it right will please both the bride and yourself.
Many brides appreciate versatility and leave it to the bridesmaid to determine what type of strapless bridesmaid dress to purchase. While there are many to choose from, the decision-making process is not always easy. Knowing ahead of time your size, what colour to look for, which accessories you will need, and even the shoes you plan to wear will greatly improve your shopping experience.
Strapless bridesmaid dresses can be purchased at department stores, wedding shops, and from Internet retailers. Online marketplaces such as eBay are an excellent place to find a wide selection of dresses and can be used to compare the best prices for both new and used gowns. Start your shopping by learning about the styles and options available for strapless bridesmaid dresses.
Choosing A Dress
The material, colour, style, and size of a strapless bridesmaid dress all contribute to the effect it has on your body and at the wedding party. If the style is left to the bridesmaid, knowing which options are best for specific locations and settings is important for your comfort, confidence and the success of the wedding day.
Type
The first thing to consider when shopping for a dress is the type you want. A strapless bridesmaid dress is a style in itself but there are many types of gowns available within this style. Rounded necklines will lend a classic look to your appearance, while a sweetheart neckline is optimal for a covered but visually engaging style. Whichever silhouette you choose will look best if you shop for your body type. An A-line dress is traditionally formal and highlights a slim waist while hiding wide hips and thighs. For women who are short or plus-sized, on the other hand, an empire waist will elongate your frame and draw the eye up towards the bust line. Other options include natural waists, trumpet or mermaid skirts, and surplice bodices.
The length of the dress should be chosen based on the formality and location of the wedding ceremony. Typically, a floor-length gown works well indoors while tea-length or cocktail dresses are suitable for garden events.
Size
Size is everything in a strapless bridesmaid dress. Too small and you will look as though you are bursting out of it. Too large and it might fall off, with no straps to hold it in place. It is best to have your measurements taken by a professional seamstress or tailor to ensure accuracy. This will also reduce the number of alterations needed when the dress is delivered.
Formal dresses are usually measured in centimetres and may also have a corresponding number or range of numbers as the overall size. If this is the first time you have worn a bridesmaid dress, be aware that these sizes do not often correspond with the size on your casual clothing. Ignore the size and concentrate on how the dress fits.
There are five steps to taking your own measurements so that you have an idea of what size to look for. First, put on every undergarment that you will be wearing under the strapless bridesmaid dress, including a bra, corset, or slip. If you plan to include body shaping underwear, put that on as well. This will help you determine the correct dress size.
Secondly, begin measuring at your bust line by wrapping the measuring tape around the widest part. Hold the tape firmly but don't pull it too tight. Remember that this will be the actual bust size of the dress. You want to be able to move and breathe freely. A good way to make sure it won't be too tight is to see if you can stick your thumb between the tape and your skin. If not, it needs to be looser.
The third step to measuring yourself is to wrap the measuring tape around your natural waistline. If you are not sure where your natural waist is, stand with your hands on your hips at the hip bone. Where your hands are resting is your waist. Again, be careful not to pull the tape too tightly. If you have to stand rigidly or with your breath held in to measure, you will spend the entire wedding doing the same.
Measuring your hips is the fourth step. The style of the strapless bridesmaid dress you have chosen will determine where you measure. For an A-line dress, place the tape measure around the biggest part of your hips. A sheath or trumpet dress is measured around the biggest part of your bottom.
The final step is to calculate your height. For accurate results, it is best to have someone else help you. Wear the shoes that you plan to wear with the dress and stand with your feet together. Have your friend stretch the tape from the top of your head to the floor. If you happen to be shorter than 153 cm or taller than 178 cm, you may want to order a petite or extra tall dress, respectively.
Materials
The material used for a strapless bridesmaid dress determines its overall appearance, how durable it is, and how much it will cost. Below is a table that offers a look at the most common cloth used in bridesmaid dresses and how it affects them.
| Material | Description |
| --- | --- |
| Chiffon | A chiffon bridesmaid dress is made from silk or polyester blends and is sheer and flowing. Because it is nearly transparent, chiffon is usually layered over other fabrics. Because it can be draped, it is good for all shapes and sizes. Silk chiffon is good for summer locales while polyester chiffon is best in cooler climates since it does not breathe well. |
| Lace | Lace is an openwork fabric made from cotton thread and patterned with open holes in the cloth for aesthetic purposes. For this reason, it is often draped over other fabric. Lace dresses can be both formal and casual in all weather. |
| Organza | Organza is popular for both bridesmaid dresses and wedding gowns. It is similar to chiffon but more crisp than fluid. Like chiffon, an organza dress is often layered over another fabric. |
| Satin | One of the most popular fabrics for wedding and bridesmaid dresses is satin. Satin, frequently confused with silk is woven so that the sheen is only on one side. It can be made from silk, polyester, or acetate and is routinely chosen because it is a good compromise between the beauty of silk and the cost of something less fine. Satin bridesmaid dresses are generally used in formal or evening weddings. |
| Taffeta | A traditional fabric, taffeta is crisp and has no sheen like silk and satin. It can be either heavy or light and is made from silk, polyester, and fine tissue. This makes it ideal for ruching or gathering. Taffeta bridesmaid dresses are most often used in traditional or formal weddings. |
Although the table above is not exhaustive, it should give you a general understanding of the various materials and functions available.
Accessories
The accessories you plan to wear are also determined by the style, cut, and overall look of the dress you have chosen. A formal setting, for instance, might require a simple, sophisticated necklace and earrings with little else. On the other hand, a bride who has an outdoors theme may have the bridesmaids wear flowers, large jewellery, and more. Fortunately, a strapless bridesmaid dress lends itself well to nearly any look. It can be dressed up or down and allows for a wide variety of jewellery.
Matching with Shoes
The bridal party looks and feels most natural when everything has been coordinated and the shoes a bridesmaid wears is no small part of that continuity. Matching the dress with the shoes gives you a finished look while not stealing the day from the bride by drawing attention to your feet.
Strapless bridesmaid dresses go well with nearly any style of shoe. A good way to match up the colours is to pair a neutral shoe with your dress. Dark beige, for examples, blends well with bold and dark coloured brown, red, blue, and green dresses. Light beige and off-white shoes look best with pastel gowns. If you have chosen a casual dress and it is a summer wedding, you may want to look at a pair of pretty sandals.
If you are still unsure what dress will best complement your shoes, choose a strapless bridesmaid dress that is one or two shades darker than your shoes. Be aware that this only works with dark dresses and light shoes, not the other way around. You can also purchase shoes that can be dyed to exactly match the colour of your dress.
How to Buy a Strapless Bridesmaid Dress on eBay
Strapless bridesmaid dresses of all cuts, materials, sizes, and colours are available from a wide range of sellers and online marketplaces like eBay. To begin your search, you can enter keywords into the search field on eBay's home page. Auction listings can then be refined according to your choice of categories. A good way to start is to type "strapless bridesmaid dresses" into the search field. You can look through the large number of listings that appear or tone down the number of choices by refining your search to new or used, for example.
Take your time when searching through the listings. Examine the item and its description, along with any pictures the seller may have provided. Be sure to check the price of the dress to ensure it fits your budget, as well as the listed shipping charges.
You will also want to inspect the seller of each dress to make sure that you will receive a quality product. Seller ratings and positive feedback from other customers can be seen on the listing page or by clicking the seller's name to bring up his or her full profile. Top sellers are those whom the community has rated the best in quality of product and service. Once you have purchased from a seller, you can leave your own feedback to inform future shoppers about your experience.
Conclusion
Finding the right strapless bridesmaid dress will not only enable you to feel more comfortable but will also be the perfect accompaniment to the bridal party. Choosing a dress can be easy once you know what to look for and how to match it up to the wedding's theme. Whether a strapless bridesmaid dress is worn to a formal evening event in a chapel or dressed down with sandals and flowers for a garden locale, obtaining the correct style and size will improve your confidence and comfort for your friend's big day. Consider the type, size, materials, accessories, and your chosen shoes to begin shopping and remember to refine your results by your style parameters.
Strapless bridesmaid dresses can be purchased from department stores, specialty clothing shops, and online auction sites like eBay. Remember to shop around to find the best selection of dresses and choose one that will complement both you and the bride. With some patience and a little know-how, you will have fun and look great in your strapless bridesmaid dress.