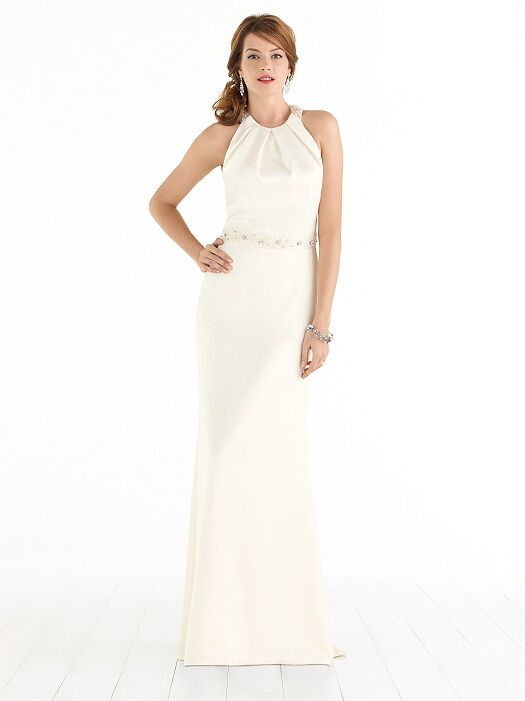 Many women have envisioned their wedding dress from the time they were a little girl. The dress should make a statement and make the bride look stunning on her big day. Some styles are better suited to certain ceremonies, but the design of the dress is ultimately determined by the bride's taste. Satin wedding dresses are stunning and provide the perfect lustre to show a woman at her best.
Many people think that satin is a type of material itself, but it actually refers to the finish of the fabric, or weave of the cloth. Satin is known for giving the fabric its glossy appearance. This finish comes in a variety of weaves and when blended with fabric, a wide array of colours as well. Silk satin is often the ideal choice for wedding dresses, but at a high cost. Satin may also be woven with acetate, polyester, viscose, nylon, or a mixture of fibres. Each type has different characteristics, serving different purposes. Wedding dresses can be bought at specialist wedding boutiques and department stores, as well as online. When purchasing a stunning satin wedding dress at retailers such as eBay, buyers should consider the differences between silk and synthetic satin, the types of satin weaves, and how to properly care for satin.
Differences Between Silk and Synthetic Satin
Silk satin contains a beautiful natural shine and feels great on the wearer's body. Synthetic satin, such as polyester, gets its shine from the clear plastic thread that it is made out of. Often, it is the plastic thread that causes the fabric to look unnatural. Synthetic satin does not feel as good to the touch. Silk satin does not attract static electricity and breathes well, whereas synthetic satin tends to cling and is does not provide good air flow. Wedding dresses made of silk satin are able to achieve a richer colour.
Types of Satin Weave
There are many different types of satin weave. These weaves differ in their weight and finish. Some satin is heavier and reserved for more structured wedding dresses, while other satin is lightweight and better suited to loose flowing dresses.
Duchess Satin
Duchess satin, also known as princess satin, delustered satin, and bridal satin, is heavyweight. This finish has one glossy side and one smooth side and comes in various widths: 110 centimetres or 140 to 150 centimetres.
When blended with silk, duchess satin comes in various pastel colours, shades of white, ivory, and cream. This high quality fabric gives the wedding dress a pearly lustre. Duchess satin is generally used to make formal, structured dresses and is designed to be worn with a petticoat. The fabric is often stiffened to help the dress to hold its shape. This fabric has the best consistency and weight to support intricate beading and embroidery. If looking for a wedding dress that flows, duchess satin is not an advisable choice due to its stiffness.
Charmeuse Satin
Charmeuse satin is soft, lightweight, and flowy. This finish works well with bias-cut wedding dresses that hang gracefully or cling to the wearer. Women who are tall or have a slim figure will benefit from this finish. Curvier women should avoid charmeuse satin as it tends to emphasise the wearer's hips and bust.
When blended with silk, charmeuse comes in a wide array of colours, ranging from pastels to brights. It has a glossy appearance, with a high lustre. This fabric looks elegant on wedding dresses that are layered or combined with beaded or lace fabrics. Charmeuse satin may also be used for the lining of a wedding dress.
Charmeuse is difficult to work with because of the glossiness of the fabric. It also shows pinholes, so buyers must take extreme precautions when altering a wedding dress made of charmeuse satin. In addition, the fabric can be compromised easily as it is highly susceptible to scuffing and marks. The long warp threads can sometimes be pulled loose, creating catches in the fabric.
Crepe Satin
Crepe satin is similar to charmeuse satin. However, this finish is not as shiny. Crepe satin is matte and has a rough, grainy surface. A sand-washed finish may be applied to crepe satin, giving it a softer, suede feel and helping to remove the fabric's lustre. A sand-wash finish is more flattering on larger figures.
Double Sided Satin
When blended with silk, double sided satin is a lavish fabric and works well with bias-cut wedding dresses. It feels smooth on the wearer's body as it contains a glossy finish on both sides of the fabric. Double sided satin is typically heavier than charmeuse. However, not as heavy as duchess satin.
Panne Satin
Panne satin is lightweight. When blended with silk, the material gives off a high lustre and a wax-like finish. This fabric is stiff and compresses easily, making it better suited for more structured wedding dresses.
Proper Care for Satin
Special care must always be taken with satin in order to preserve the fabric's appearance. This is necessary when cleaning the dress for storage after the wedding or when buying a used dress. Laundering and ironing the satin wedding dress properly, as well as treating the fabric to rid the dress of stains, maintains the dresses beauty.
Laundering a Satin Wedding Dress
Each type of satin is cared for in a special way, considering water temperature and the type of detergent that can be used. Buyers should check the care label before proceeding to wash the dress. For best care and to preserve the quality of the fabric, it is best to dry clean all satin, especially silk satin, but satin acetates, nylons, and polyesters are more durable and can be hand washed in warm water using a liquid detergent that is designed for delicate fabrics. Buyers should always turn the wedding dress inside out prior to washing it by hand. While washing satin in a washing machine is possible, it is not recommended as the agitation may be too much for the material.
Satin wedding dresses should be laid flat to air dry. It is important that the buyer never wrings out the garment in an attempt to remove excess water. Instead, buyers should opt to roll the dress up in a dry towel while applying slight pressure.
Ironing a Satin Wedding Dress
Satin wedding dresses can be ironed on a warm setting. However, steam should never be used. Buyers should always use a pressing cloth, such as a thin handkerchief, as a barrier between the iron and the fabric. Ironing directly on the fabric can create an impression of the iron's plate and ultimately damage the fabric.
Stain Removal for a Satin Wedding Dress
It may be difficult to remove stains from a satin wedding dress. Buyers should treat the stain as quickly as possible, before it has time to set. Buyers should check to make sure that the stain remover is safe to use on satin before use. Bleach should never be used.
Where to Buy a Stunning Satin Wedding Dress
Satin wedding dresses can be found at many bridal and department stores as well as online. An excellent option for finding all sorts of satin wedding dresses at good prices is to shop at eBay, where the bride has a chance to shop for hundreds of different stunning satin wedding dresses.
Find and Buy a Stunning Satin Wedding Dress on eBay
eBay provides a useful search feature to locate exact items. After determining the specific type of satin wedding dress you want, simply type the keywords into the search field. For example, if looking for crepe satin, simply type in "crepe satin wedding dress" and this will take you directly to a page of listings for this item. Check eBay's Search Tips for other suggestions on the keyword search function.
Feedback Ratings
Check a seller's feedback rating before purchasing a stunning satin wedding dress. Ratings are determined by information provided by other buyers within the past 12 months. This information, along with the number of transactions that a seller has completed, can offer an insight into the level of service a seller provides. Check that the seller has a returns policy in the event that the dress does not fit. Upon receiving the dress, leave feedback for the seller.
Conclusion
Shopping for a wedding dress can be an exciting adventure, but it can also be stressful and overwhelming. The selection of satin wedding dresses available on eBay is far larger than what almost any other retailer can offer. So, brides-to-be get the pick of the most interesting and unique dresses at some of the best prices. Wedding dresses come in many different types of satin. When determining the best type, brides should consider the type of gown that they desire. While duchess or panne satin is ideal for women who want a structured dress or a dress with intricate beading, charmeuse satin will create a gown that is loose and flowing. To ensure that no stains settle in the fabric, buyers should have the dress laundered immediately following wear. While hand washing satin can be an option, dry cleaning is the better choice. Women will want to preserve their wedding dress for long after the wedding.