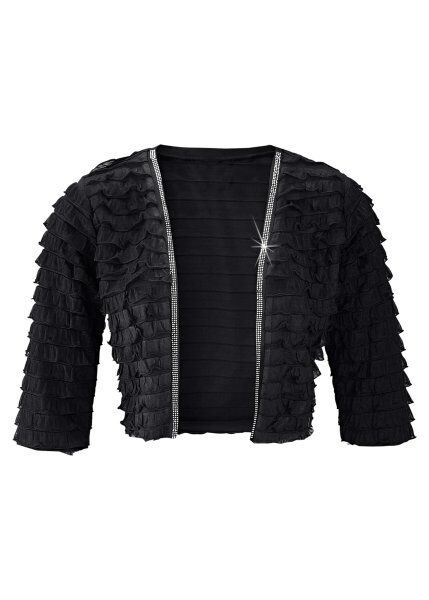 You may have heard of a bolero before, but you're not sure exactly what the term means. A bolero is a short, cropped jacket that is meant to go over an existing top, camisole, dress, or blouse in order to either cover the shoulders in a bare dress or shirt, or add a cute layer to an outfit. Boleros can be worn for dressy, formal occasions or for casual ones. Because boleros come in many materials, styles, and colours, they are a very versatile addition to a wardrobe and perfect with dresses or with tops. The great thing about boleros is how flexible they are, and the fact that they can be worn with just about every type of outfit, dress, or skirt and make a fashionable statement.
A bolero jacket may also be called a shrug. Shrugs can be made of fur, cotton, lace, or covered with sequins. Boleros and shrugs can simply slip over the shoulders, or provide more coverage if needed, but most boleros and shrugs don't go down lower than the waist. Many are short and will only hit the area under the bustline. It really depends on what you need the shrug for; because shrugs and boleros can be matched to any outfit you have already and add some pizzazz to it or protect your arms on a chilly evening. Boleros can be short or long sleeved. No matter what you need it for, there's as bolero that's perfect for your outfit and will complete it as well as flatter your figure.
What to Consider Before Buying a Bolero
Before you buy a bolero, think about what outfits you'd like to wear it with. A bolero can be paired with something as simple as a camisole, or as something as dramatic as a strapless, formal dress. Think about your existing wardrobe and what colours and styles of boleros would go well with your clothing. Select a lightweight bolero to complement summer dresses and tops, and a heavier sweater-style bolero jacket to go with winter wear. Bring your summer tops into colder weather by simply adding a bolero to the outfit.
Types of Boleros
When it comes to boleros, there isn't just one type or style, there are many. It's important to know what type of bolero you're looking for to make shopping even simpler on eBay. For instance, if the weather is warm and you simply want a bolero for style reasons, opt for a lightweight bolero. If you actually need coverage on a chilly day or night, you'll need a heavier weight bolero, perhaps like a small sweater. Some occasions may call for a more formal bolero that can be added to a nice evening or cocktail dress.
Light Boleros
Lightweight boleros, or shrugs, can be made of thinner materials, such as lace, light cotton, or they can be crocheted. A lightweight bolero can be either short sleeved or long sleeved, and perfect for warmer weather. Some light boleros are even made of sheer, light chiffon, cotton jersey material, or polyester. These light boleros look stylish over a sundress, pretty camisole, tank top, or lightweight blouse for an extra layer to create a finished look to an outfit.
A lightweight bolero might also be smaller, and some boleros may just barely fit over the shoulder to cover bare ones. They may not come down to the breastbone but simply cover shoulders for style reasons or if you're wearing something strapless and need just a bit of extra coverage. Some boleros are made to look like small vests, and may not have sleeves at all. These may offer a more sporty and casual look. Bolero jackets can button, stay open, or tie across the chest. It depends on the bolero you buy and what look you prefer.
Heavy Boleros
A heavy bolero is going to offer more coverage and may be a better choice for cooler weather. Heavier boleros are typically made of cotton or polyester and can be similar to a cardigan sweater style. They may be long sleeved and come down farther on the body to provide more coverage for you. These types of boleros could be made of faux fur, corduroy, knits, or wool boleros for cold weather.
Heavy boleros are a great complement to long sleeved shirts or dresses that you want to wear even when it's chilly outside but may be short sleeved or strapless. They not only provide you with coverage, but their thicker, heavier materials will keep you warm, too. A bolero jacket that's meant to be worn in cooler weather can be just as versatile and stylish as a cardigan sweater, and can be worn in place of one of those for a different look in the fall and winter months.
Formal Boleros
Formal bolero jackets are meant to be worn with cocktail, party, or evening dresses. These are an updated version of a shawl or a wrap that you would wear to an elegant event or dressy occasion to cover your shoulder when you're wearing a body baring dress. These dressier boleros might be made of silk, satin, fur, or they can be covered in sequins to add some pizzazz to your evening outfit. Another type of formal bolero is a cape. Capes are elegant and can also be made of different materials such as fur or sequins.
A formal bolero could look like a miniature business suit jacket, and be worn with dress trousers and a blouse. Try a gorgeous velvet, velour, or satin bolero to even add some drama to a pair of jeans and a sparkly camisole. Some brides are even putting satin boleros on their bridesmaids to complement dresses that are strapless or have spaghetti straps. The right bolero can really add something to even the most formal dress, or dress up the most casual pair of pants or jeans.
How to Wear a Bolero
Pair a bolero with a strapless top and jeans for a date night or going out with friends for dinner and drinks. Try a satin bolero with a rhinestone encrusted brooch to jazz up your old faithful little black dress, or wear a lightweight cotton bolero over a summer dress with spaghetti straps. Contrast colours by wearing a black bolero with a brightly coloured top or dress, such as red or purple, and pair a cute knit cardigan style bolero with a T-shirt or tank top and jeans for the ultimate summer outfit that is cute and casual. Boleros also look great with skirts; create a visually interesting look by adding a brightly coloured bolero to a denim skirt and neutral coloured top.
Bolero Size Chart
Bolero's come in many different sizes from medium to XXXL. In order to better understand what you are looking for when it comes to the size of Bolero you want, it's important to check your measurements against size charts. The size chart below will come in handy, especially when shopping online.
| Order Size | M (cm) | L (cm) | XL (cm) | 2XL (cm) | 3XL (cm) |
| --- | --- | --- | --- | --- | --- |
| Top to Bottom | 35.56 | 38.1 | 40.64 | 43.18 | 45.72 |
| Neck to Shoulder | 11.43 | 11.43 | 12.7 | 13.97 | 13.97 |
| Sleeve Hole | 12.7 | 13.33 | 15.24 | 15.24 | 17.78 |
| Armpit to Armpit | 45.72 | 48.26 | 50.8 | 53.34 | 55.88 |
When you have determined your size in comparison to your measurements, purchasing a bolero online will be a breeze. Not only will you get a bolero that is both comfortable and stylish, it will fit great as well.
How to Buy a Stylish Bolero on eBay
First, do a general search for boleros to find the perfect bolero or shrug for you. You'll see a wide variety of boleros and shrugs, so narrow the field based on the colour you need or the material the bolero is made of. Once you've made a few selections, you can see what's available so selecting the right bolero will be a breeze. Purchase several bolero jackets to go with different outfits, because a bolero can add that extra polish to any outfit and make it look more complete and put together. A great bolero adds something special to a pair of jeans, or a pretty dress whether it's a cotton summer sundress, or an elegant evening dress or cocktail dress.
Reach out to eBay's Top-Rated Sellers that have excellent feedback when you're looking for the right bolero for you. Perhaps one seller can offer you more than one bolero, and when the items are bundled together a great shipping price can be offered. Find a local seller nearby that you can do a personal pick up from, to create a more customised and personal shopping experience on eBay, not to mention lower or do away with shipping fees completely. Purchase with confidence on eBay and find the perfect bolero for your needs without having to go to a million stores; your dream bolero will be shipped right to your door.
Conclusion
You may have never thought about purchasing a bolero, or you may already have several of these handy and cute additions to your wardrobe. Either way, having a few boleros on hand can be great whether it's winter or summer, because the extra layer on top creates a polished, put together look for any outfit. They are also practical and can keep bare shoulders protected, and add coverage to body baring tops and dresses. Purchase boleros for any type of weather, and to match casual or evening wear. They have a multitude of uses and are really a quite versatile part of any woman's wardrobe that every woman should own.
Once you put a cute bolero on, you will feel completely dressed. They are also flattering and some boleros that have a tie in front may tie right around your natural waistline, highlighting your thinnest area. Don't get lost in a baggy bolero; purchase your normal size so it will fit properly. Only buy heavy boleros if you'll be wearing them in the coolest months, and having a couple of formal, dressy boleros needn't wait until your next cocktail party invitation; dress up a great pair of jeans with a sequined bolero a beautiful velvet shrug.