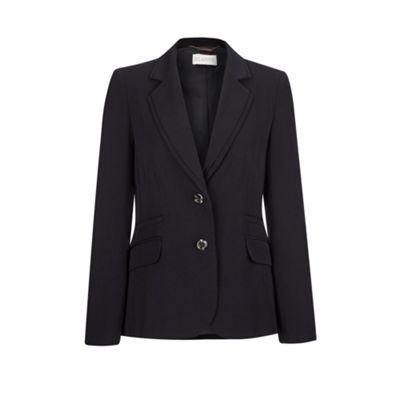 The shoes are buffed and shined, comfortably worn over a pair of soft cotton dress socks. With a perfectly fitted pair of men's dress pants, lightly starched dress shirt, and tastefully designed tie, this man looks the part of a high-powered executive who plans to wear his work attire out to dinner after a long day at the office. The only problem is that he does not have a suit jacket that matches his dress clothes. In fact, he does not even own a suit jacket.
Suit jackets are the neglected piece of formal attire. The reason may be that it is difficult to shop for a suit jacket, since it requires diligent research and some time spent with a tailor. However, the suit jacket completes the suit and men should consider buying a suit jacket, which is the most important part of their formal wear shopping. They can find suit jackets in the men's clothing section of department stores, at men's clothing stores, formal wear stores, and on the leading online auction site, eBay. Before breaking out the measuring tape, men should learn why it is important to buy a suit jacket, the features to look for in a suit jacket, and how to obtain accurate measurements for a suit jacket fitting.
Why Buy a Men's Suit Jacket?
When asked this question, many men respond with "because it makes me look good". While it is true that a suit jacket enhances a man's appearance and it may well be the most important reason for buying a suit jacket, there are three other more subtle, yet important, reasons for men to consider buying a suit jacket.
Perceived Body Proportion
The human eye finds certain body proportions more pleasing than others. One of the proportions that the human eye likes to see is one that proportions a man's body in a one to two ratio. This means the eye perceives a top third of the body above the waistline, with the remaining two-thirds falling below the waistline. Unfortunately, most men are shaped so that roughly half of their body is above the waistline and half falls below. A suit jacket raises the perceived waistline closer to the one to two ratio.
Slimming Effect
A properly tailored suit jacket tapers a little above the waist and it should flare out over the stomach and hips. The narrow midsection projects a healthy image and it attracts the attention of women who like the slimming effect. Outward-spreading men's suit jacket lapels make the suit jacket seem as if it is tucked at the waist, and the drape in the back hides any extra weight carried around the waistline.
Adds Shoulder Bulk
Very few men like to use clothing shoulder pads to present a bulkier appearance. A suit jacket adds thickness to a man's frame, but especially on, and around, the shoulders. The light drape of a relatively thin suit jacket appears to smooth and broaden the shoulders. Lapels that sweep outward also add apparent bulk, which helps slender men promote more of a muscular physique.
What Men Should Look for in a Suit Jacket
The improvements in appearance that a men's suit jacket provides may prompt some men to look into buying their first suit jacket. Before making the big decision, these men, along with seasoned suit jacket buyers, should review a few features that buyers may choose depending on their body, age, and lifestyle.
Single vs. Double Breasted
Men's double-breasted suit jackets convey a distinguished, Oxford professorial appearance. However, younger men, and men who want to avoid looking wider, should not buy double-breasted suits because they can be overwhelmed by the suit jacket's width. Any man, of any build, can look sharp in a single-breasted suit jacket.
Number of Buttons
Double-buttoned suits are a classic style that looks good on virtually everyone. Three-button suits have gained in popularity over the past few years and clothing manufacturers produce enough three-button suits to make them widely available. One-button suits went out of fashion in the 1960s. Custom made suit jackets can include four buttons that make a fashion-forward statement. Most men's business suit jackets include two buttons to present a more conservative look.
Lapel Sizes and Shapes
Thin lapels, which were popular in the 1960s, add a retro look to suit jackets. While the thin lapel look is making a comeback, men who wear suits that have lapels between 7.5 and 10 cm wide own a timeless suit jacket. Peaked lapels appear on double-breasted suit jackets and notches are most likely to be part of a single-breasted suit jacket.
Vent
Suit jacket designers call the opening that appears on the back of suit jackets a vent. Double vents allow men to move about with less restriction than single or no vent suit jackets. Also known as side vents, the double vent suit jacket has more style appeal. Single vents provide men with moderate restriction and suit jackets that do not have any vents are best left to Hollywood actors who recreate one of the black and white film classics.
Waist
The fit at the waist is an important consideration because it influences how a suit jacket looks after a man buttons it. European men tend to prefer the suppressed waist style, which projects an appearance that people consider to have been professionally tailored. Suppressed waists look flattering on thinner men who like tight fits. Americans prefer a looser fit around the waist, hence the term American fit.
Shoulders
Tailors cannot alter shoulder appearance, so men need to consider whether to add bulk with shoulder pads. Most suit jackets have some level of padding to compensate for suits that droop over the shoulders and arms. If a man's shoulders have a strong slope, then he should consider a suit jacket that possesses a thicker shoulder pad. Broad shouldered men should avoid wearing suit jackets that have more than minimal padding.
Suit Jacket Measurement Guide
Measuring for a suit jacket may be the most important facet of the suit jacket buying process. While men can measure themselves for a suit jacket fitting, they can ensure accurate measurements by having a professional tailor measure their chest size and arm lengths.
Suit jacket measuring begins with a man standing straight and resting his arms by his sides. Tailors first measure the broadest part of the shoulders, and then move the measuring tape over the arms, while keeping the measuring tape parallel to the ground. Once the arms have been measured, the tailor measures the chest, and typically add 2.5 cm to the measurement to ensure a loose fit. Men can measure the chest, but the arm measurement requires some awkward positions that make it difficult to steady the measuring tape.
Here are the UK men's suit jacket sizes in centimetres (cm). Short, Regular, and Long represent sleeve sizes.
| | | | | | | | | | | | | |
| --- | --- | --- | --- | --- | --- | --- | --- | --- | --- | --- | --- | --- |
| Chest | 32 | 34 | 36 | 38 | 40 | 42 | 44 | 46 | 48 | 50 | 52 | 54 |
| Short | 59 | 59 | 60 | 60 | 61 | 62 | 62 | 63 | 63 | 64 | 65 | 65 |
| Regular | 62 | 62 | 63 | 63 | 64 | 65 | 65 | 66 | 66 | 67 | 68 | 68 |
| Long | 65 | 65 | 66 | 66 | 67 | 68 | 68 | 69 | 69 | 70 | 71 | 71 |
Men should remember that recommended sizes may not match their unique physiques. This is another reason why men should always receive a suit jacket fitting from a tailor.
How to Tell if a Suit Jacket Fits
The style of the suit jacket has been chosen and the measuring is now complete. The final step for buying a men's suit jacket is to confirm that the suit jacket fits. To ensure that a suit jacket fits, follow a few tips. First, any shoulder padding used to bulk the suit jacket should not hang over the shoulder. Second, a flat hand should slip into the suit jacket under the lapels. Third, the top button on a two-button men's suit jacket or the middle button on a three-button suit should be above the navel. Fourth, after resting the arms at the sides, a man's knuckles should be at the same position as the bottom of the suit jacket. Fifth, jacket sleeves should cover the arm and end where the base of the thumb meets the wrist. Finally, only about 1.25 cm of shirt cuff should be visible.
Buying a Suit Jacket on eBay
Men who know their exact suit jacket measurements can find suit jacket deals on eBay. Some eBay sellers provide suit jackets that have never been worn because they either bought the wrong size or ordered the wrong style. To find suit jacket sellers, simply type a few keywords into eBay's search engine. Instead of typing generic keywords, such as "suit jackets", try typing specific keywords to reduce the number of search results pages. For instance, type "men's single breasted suit jacket" or "tweed suit jacket". You can also search for suit jackets by reviewing the search results eBay presents by product category and subcategory.
Once you decide on a suit jacket that matches your buying criteria, the next step to take on eBay is to analyse the list of sellers who offer your preferred suit jacket. Each seller uploads a product page that consists of an enlarged photograph of the suit jacket and a detailed product description. You will also be able to review delivery terms, return policies, and the accepted method of payments.
How to Buy on eBay
When shopping on eBay, look for a small ribbon icon that eBay places next to the product photographs of the top-rated sellers. These sellers have demonstrated a record of selling high-quality products and running fair auctions. You can also review customer feedback that is posted by previous customers on seller product pages. Look for sellers who have received positive feedback over the past year and have a proven record of selling men's formal wear.
eBay Stores
While eBay is known for auctions, suit jacket buyers can cut right to the chase and buy suit jackets from sellers with whom they have successfully conducted business in the past. Many eBay sellers specialise in selling specific products, which means you can cut down the amount of time you spend buying a suit jacket during an auction and buy directly from a seller's eBay store. Your favourite sellers may also offer discounts on shipping charges or bundle products at prices that are lower than if you had bought the products separately. The sellers that you choose for buying a suit jacket may throw in a men's dress tie to sweeten the deal.
Conclusion
Buying a suit jacket is one of the more difficult articles of clothing that men have to buy. Men have to consider a number of factors that include number of vents, number of buttons, lapel shapes and sizes, and whether to buy a double-breasted or single-breasted suit jacket. After creating the perfect suit jacket, men should visit a tailor to receive an accurate measurement of their chest and arm lengths. Men should be fitted for a suit jacket that is loose around the chest and barely touches the base of the thumb at the end of the wrist. The suit buying process may seem involved, but it is worth it once a man understands the many benefits that come along with wearing such a distinguished article of clothing.
Men can now buy a pair of khaki pants, a white polo button down dress shirt, and a plaid tie before deciding on what type of suit jacket to purchase. This type of buying pattern allows men to mix and match formal outfits to match the dress code expectations of numerous professional and social occasions.