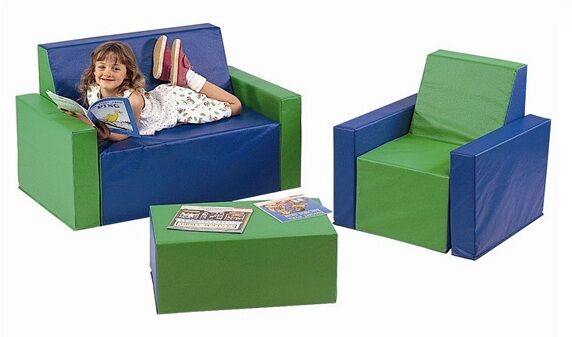 A three-piece furniture suite is a set of three pieces of furniture that match, and the three pieces are commonly accepted as being a sofa and two armchairs. A three-piece suite is seen as being essential to the modern home, providing elegance and comfort in a room where the family can get together to relax, or where friends and acquaintances can be entertained. Their popularity is due to their looks and comfort, as well as the air of grace that they lend to the room where they are located. The choice of three-piece suite can make or break the ambience of a room, so care and caution must be exercised when choosing.
Intitial Factors to Consider When Buying a Three-Piece Furniture Suite
At first glance, deciding on a suite would appear to be rather daunting, as there are so many styles, designs, and colours to choose from, and it may seem like an impossible task to get it right. However, on the positive side, because there is such a wide choice, it means that whatever is being sought will most likely be found.
Room Size
Measure the dimensions of the room to check that it can accommodate a three-piece suite without any problem. Of course, that's more relevant if there is currently no suite in place, but even if there is, it's still worth doing, as it may be possible to find one that is a better fit than the current model. A suite that is too big, no matter how expensive and comfortable, will make the room look overcrowded. Conversely, a suite that is too small can look lost and give the room an empty feel. There are a couple of ways of getting this right other than relying on one's own judgement. First, visit some friends and neighbours and check out what they've done, and second, go along to a local store and talk to a knowledgeable salesperson. Either way, a solution will be found regarding the ideal size for the suite.
Furniture Dimensions
Whether these are looked at before or after the room size, it doesn't matter, but it's vital to know the range of possible suite sizes at the outset. Not only will the information be useful when looking for the ideal room size-suite size combination, it will also help to hone the initial "wish list" down to a manageable size.
Price
Know how much money there is to spend, and stick with it. This will curtail any desire to look at suites outside the targeted price bracket, and save time, and frustration. Furthermore, having set a figure to spend, unless it was plucked out of thin air (not advisable), it will have been calculated on the available income and expenditure patterns of the household, and any overspend could cause financial problems further down the line. It's all too easy to be tempted into spending just that little bit more when buying a luxury item like a three-piece suite, so be strong and don't fall into the trap.
Three-Piece Furniture Suite Construction
So now it's time look around, see what's on the market in the chosen price bracket and make a decision to buy. As this is an expensive purchase, it has to be right, not only from the aesthetic angle, but also from that of value-for-money. In other words, the suite that is purchased has to be capable of giving sound service for a good number of years. Many people look for ten years of life, but personal circumstances will be a key factor here. For example, the suite of an elderly person living alone will last and look good for longer than one serving a family with three or four young children, a couple of cats, and a dog. However, whatever the circumstances, the suite has to be constructed soundly, so it's worth knowing a little about that area to ascertain if the chosen piece adheres to the required standards.
| Construction | Description |
| --- | --- |
| Frame | The frame should be made from a hardwood such as oak or ash, which has been dried in a kiln to remove all moisture to produce wood that will remain stable over time. It should be constructed using joints, doweling, and corner bocks, for extra strength and reinforcement, and then finished with glue and screws. The legs should form an integral part of the framework, with additional ones in the centre of the sofa to provide extra support. |
| Springs | The springs used in the sofa and armchairs not only provide support, but are also an important ingredient in the comfort of the finished pieces. There are two main systems in use: sinuous and eight-way hand-tied. The latter is generally thought of as being superior and is to be found in better quality three-piece suites, although sinuous is also very highly rated. Some suites use webbing, but this is considered by many to be not as robust. |
| Padding | The frame's padding affects both the comfort and durability of the piece. It's important that it covers the whole of the wooden frame and doesn't leave any area of the final fabric cover exposed to the wood, as that will cause wear and tear. Most suites are padded with cotton and polydacron, while seat cushions use a variety of filling combinations. The most common filling is polyurethane foam enveloped in Dacron. The degree of softness depends on the density of the foam and the quantity of Dacron used for the wrapping. High-density foam provides a firmer cushion. An alternative filling features springs inside the foam. The package is then wrapped in Dacron and surrounded by down, or down and feather. It's also possible to find cushions without the springs, or even minus the springs and foam, but these pure down, or down and feather, cushions require a lot of plumping and care if they are to remain in shape and look good, even though they are incredibly soft and comfortable. Back cushions tend to be stuffed with man-made fibres, although down and feather is not unheard of. |
| Fabric | The best wear comes from tightly woven fabrics. The durability of a suite cover is calculated by the number of threads per square centimetre rather than the thickness of the yarn that is used. As a rule of thumb, printed fabrics will not last as long as those where the pattern has been woven in. Fabric fibres range from the natural to the synthetic, and they all have different properties. Natural fibres are still considered to be the best, as they are softer and very versatile, although there are also blends of natural and synthetic which aim to bring out the best properties in both. |
Conclusion
The purchase of a three-piece suite is a major decision for any household. If sufficient care isn't taken during the buying process, it's very easy to get carried away with an item of furniture that is going to provide comfort, colour, and warmth to the home, especially when viewed in the seductive surroundings of a store or showroom. They are expensive items, and nobody wants to be looking for replacements every two to three years. Take the time to check the construction and materials used thoroughly, and the suite will be all that is desired for as long as required.