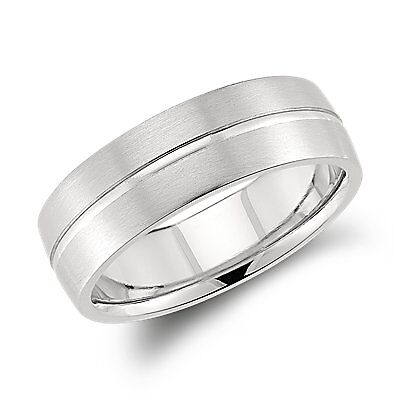 For most people, a marriage is one of the biggest moments in a person's life. As a result, society invests a lot of money into wedding rings to symbolise this everlasting union. The wedding ring is an infinite circle that symbolises never-ending love and commitment between two people. Because wedding rings are worn for the duration of a marriage, they should embody the style and personality of the couple. Today, unique wedding rings are often selected over very traditional rings to do just this.
Unique wedding rings vary from unique stones used in the settings to unique designs on the band. Unique wedding rings can be purchased at fine jewellery stores, department stores, and online. Today, it is common for a couple to pick out wedding rings together, but regardless of who is doing the shopping, every buyer should keep a few things in mind. First, there is a difference between wedding bands and engagement rings. Second, there are several different kinds of wedding bands and engagement rings that have unique features to choose from.
Types of Wedding Rings
The term wedding ring can refer to two different types of rings, which include the wedding band or the engagement ring. These are two very different types of rings that are used for different purposes, so it is important for a consumer to understand what type of ring they are looking for when shopping for a unique wedding ring.
Wedding Band
The wedding band is a ring typically made of precious metal, such as gold, silver, or platinum, that indicates that the wearer of the ring is married. In most cultures is it worn either on the left or right ring finger. Although wedding bands were originally worn only by women, starting in the 20th century through today it is common for both partners in a marriage to wear a wedding band. The wedding band of one partner matches or resembles the wedding band of the other partner. Unlike engagement rings, wedding bands are usually exchanged between a couple during the actual wedding ceremony.
Engagement Ring
Engagement rings are a popular tradition in Western culture that are worn by one partner, typically the woman, indicating that she is engaged to be married. One partner typically uses the engagement ring to propose the idea of marriage to the other partner. In this way, the engagement ring acts as a type of contract that both partners enter into. An engagement ring usually features a diamond or another precious stone. After the wedding, a woman usuallys wear both their wedding band and engagement ring. Some people even get the two rings soldered together for a unique look all their own.
Unique Wedding Bands
Because wedding bands are worn by both partners in a marriage, the style picked out for the wedding band should work for both people. Additionally, the wedding bands should also be compatible with each other. The major difference, particularly for a man and woman, is the sizing and width of the wedding band.
Celtic Wedding Band
A Celtic wedding band includes two unique designs that are popular amongst consumers who enjoy Irish-heritage inspired styles. The first band is the Claddagh wedding band that features hands holding a heart, wearing a crown. The hands symbolise friendship, the heart symbolises love, and the crown symbolises fidelity. The Celtic knot wedding band is another popular style. The twists and turns of the Celtic knot that wrap around the band symbolise unending love and interconnectedness through life. Celtic wedding bands are usually available in silver, yellow gold, or white gold.
Infinity Wedding Band
The infinity symbol has no beginning and no end. As such, it has become a popular choice for wedding bands for couples who embrace this symbol to represent their marriage. Infinity wedding bands either have one infinity symbol at the front of the ring, or are also available in a more subtle braided design that spans the whole band. Braided infinity bands are often soldered or made to match an engagement ring. Infinity wedding bands are most popular in sterling silver and diamond.
Mixed Metal Wedding Band
The mixed metal wedding band is a great choice for couples who cannot choose between silver or gold, or who wear both colours often. Mixed metal wedding bands are a mixture of different metals, or different colours of the same metal, in an array of designs and styles. In addition to mixed metal, these bands can also have decorative grooving or embedded diamonds. Mixed metal bands allow a couple to choose a variety of the styles, stones, and metals they love in one ring.
Signet Wedding Band
Signet rings have also become a popular non-traditional wedding band. The signet ring comes in a variety of precious metals with a face for engraving. Signet wedding bands typically have the partners initials or the wedding date engraved into the face of the signet ring. The signet wedding band face is known to have a small circle, oval, or heart. Because signet bands are not a consistent shape the entire length of the band, buyers should consider what type of engagement ring a woman wears with the signet band to ensure that the two are compatible.
Unique Engagement Rings
Whereas wedding bands are worn by both partners in a marriage, an engagement ring is typically worn by just one partner, usually the female. Therefore, unique engagement rings are generally more feminine than their wedding band counterparts. While traditional engagement rings usually possess at least one solitaire clear diamond, there are no hard and fast rules for purchasing the perfect unique engagement ring.
Precious Stone Engagement Ring
Precious stones are a unique alternative to diamonds as the centrepiece of an engagement band. Popular precious stones for engagement rings include emeralds, sapphires, rubies, and opal. These precious stones vary in colour and texture. Many of these stones have a similar lustre and brilliance to the popular diamond and are found in similar shapes. Since the use of precious stones is a unique twist on the traditional engagement ring, a consumer should be sure that the stone fits the personality of the receiver of this unique engagement ring.
Nature-Themed Engagement Ring
A nature-themed engagement ring can be anything from a vine of diamond flowers to diamonds that resemble the petals of a rosebud. Nature-themed engagement rings are a unique idea for those who share a special connection with the natural world. Nature-themed engagement rings are particularly fashionable on a rustic gold band or an oxidised silver setting.
Coloured Diamond Engagement Ring
A great way to make a typical diamond engagement ring unique is to consider a coloured diamond. Coloured diamonds are just as valuable, if not more so than traditional clear diamonds. Consumers can choose from a variety of hues from bright yellow to blue. Buyers should consider picking a colour that is meaningful to the couple, such as a birthstone, anniversary stone, or a favourite coloured stone.
Vintage Engagement Ring
Vintage engagement rings are a must-have for a partner who collects or enjoys vintage jewellery. Vintage engagement rings are at least 25 years old and have been pre-owned. Vintage engagement rings come in a variety of shapes and styles and often possess a different look than modern engagement rings. Vintage engagement rings often hold old mine cut, rose cut, or table cut diamonds. Vintage engagement rings from the Art Deco period of the early 1900s boasts unique geometric designs and abstract diamond patterns.
How to Buy a Unique Wedding Ring on eBay
Buying a unique wedding ring is a way to show your significant other that you put a lot of effort into the purchase. That being said, a unique wedding ring should still fit the individual styles and personalities of the wearer. Whether you are looking for unique matching wedding bands or an engagement ring, eBay has thousands of options to choose from. Perhaps you are looking for a unique Celtic diamond wedding band. Simply type 'Celtic diamond wedding band' into the keyword search box within the eBay website portal. A list of engagement rings matching this exact description is then be populated for you.
Buying a unique wedding band or a unique engagement ring is a considerable investment. Luckily, eBay helps ensure you are purchasing a unique wedding ring from a reputable seller. eBay provides a format for buyers to leave sellers individual feedback on items they have previously purchased. This tool can help you do the right research into the seller you are looking to purchase a unique wedding ring from.
Conclusion
For most, the wedding ring is a symbol of everlasting love and commitment. Whether an engagement ring or a wedding band, a unique wedding ring is a thoughtful touch to a traditional piece of jewellery. However, unique wedding rings should still fit the individual style of the person wearing the ring. There are two basic types of wedding rings, including wedding bands and engagement rings. Whichever type a buyer is in the market for, there are a number of ways to make this symbol of marriage unique.
Wedding bands come in mixed metal bands, as well as Celtic designs. The engagement ring counterpart typically holds a diamond or another precious stone as the centrepiece. However, these stones vary in design and origin from classic diamonds such as a vine of flowers or a flashy emerald. Whatever style of wedding ring a buyer prefers, there are a variety of unique ways to meet anyone's wedding ring needs.