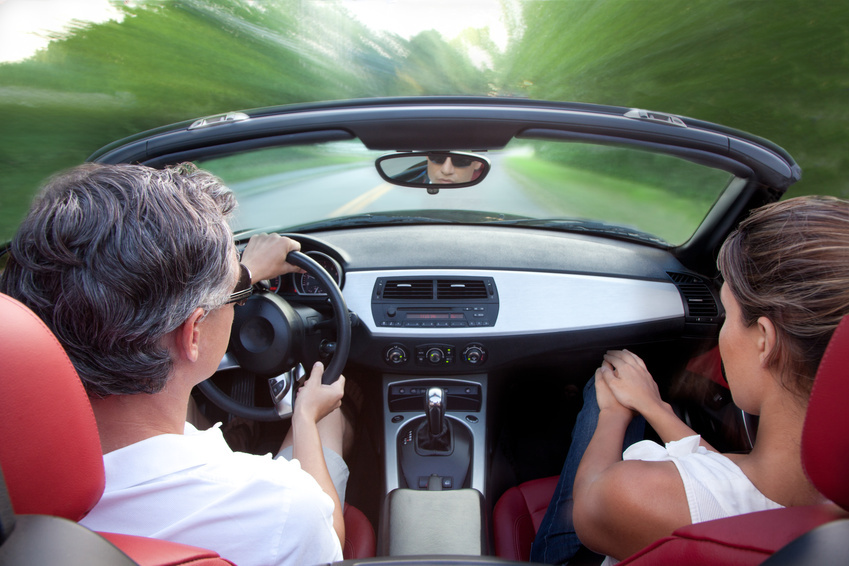 BMW is thought of as a top of the line car, both in terms of performance and luxury. Convertibles make the experience of driving around town even that much more enjoyable. Used BMW convertibles are widely available and offer a more cost efficient way for entry level buyers, or historical collectors, to find the right car for them. BMW makes a few different models of convertibles and with many of them, the similarities end after the retractable roof. This makes it critical for buyers to narrowly identify their needs, and conduct research to ensure that they find the best used BMW convertible to suit their needs.
Currently, BMW offers six different types of convertibles with countless other models having been offered in the past. The most popular models are the 3 Series convertible, the Z4 Series convertible, and the M3 Series convertible. Lesser known but still widely available models include the One Series, Six Series, and M6 Series. The models offered by BMW include two and four capacity vehicles. Finding a used BMW convertible can be simple and straightforward once the buyer sufficiently narrows his focus to only suitable models.
History of BMW Automobiles
BMW, short for Bavarian Motor Works, is a German company that has been a leader in automobile industry for quite some time. It was founded in 1917 and has been producing top quality automobiles ever since. In addition to high-end luxury automobiles, BMW also has an excellent motorsports department which produces top of the line motorcycles.
Base Model History
BMW offers a number of different models. The 1 Series is the smallest offering from BMW and is available in a convertible. The 3 Series is a compact luxury car that is larger than the 1 Series, and is also available as a convertible. The 5 Series is the next iteration in the line and is larger than the 3 Series but is not offered in a convertible model. The 7 Series is BMW's flagship sedan and although it is not offered as a convertible, it does offer some interesting technology features, such as an option for a hydrogen engine that emits only clean water as waste.
Other BMW Models
BMW also has a variety of other models outside their base series. The Z Series are small, sports coupes that are offered as convertibles and interestingly, have been featured in some James Bond movies. The X Series is BMW's SUV line, and features a variety of hatchbacks, crossovers, SUVs, sport SUVs, and light duty trucks. Finally BMW's M Series is the high-end performance versions of the BMWs number series. Basically, it takes BMW's base models, suchs as the 3 and 5 Series, and uses better performing components to improve the overall performance of the vehicle. Many of BMW's M Series are available in a convertible form as well.
Convertibles
Convertibles, as the name implies, can convert from an open-air vehicle to a closed mode. While there are a few different versions of convertible roofs, BMW mainly uses a folding textile roof which is electronically retracted or raised. A cloth or vinyl barrier sits atop a retractable frame that typically also includes sound dampening insulation, this helps eliminate road noise when the roof is in the up position. The top is connected to the front of the car through the use of manual latches, or clasps, that must be secured by the driver and passenger. The hydraulics that control the convertible roof are typically easy to use, and function with just the press of a button.
Factors to Keep in Mind
There are some downsides to a fabric top convertible. In addition to potentially reduced safety for the passengers and drivers, it is much easier to break into a fabric top convertible. As such, valuables should be locked in compartments within the car or better yet, not in the car at all. Fabric roofs also tend to be less durable as the fabric is exposed to weather and sunlight, and breaks down much more quickly than a traditional hard roof. Finally, the rear visibility may be reduced as the back windshield is usually smaller and not as clear as with a hard top roof. With these issues in mind, convertibles are still the primary choice for enjoying open air drives.
BMW Convertibles
BMW offers a variety of different convertibles that are available in both new and used models. It is important for buyers to focus on what they intend to do with the vehicle, as this can often guide their purchasing decision towards a successful outcome. It is also critical to avoid options and components that buyers may not need, but can have a great impact on the overall price of the vehicle. Casual drivers just looking for a luxury convertible likely have no interest in the high performance M Series. Families of more than two likely should steer clear of the Z Series as they only offer two seat coupe models. The chart below illustrates the various BMW convertibles and their best uses.
| Model | Use |
| --- | --- |
| Z Series | Two person, high performance |
| 1 Series | Entry-level, four seater |
| 3 Series | Luxury, four seater |
| M Series | Highest performance, capacity varies |
The Z Series are the smallest vehicle offered by BMW seating only two with little room for much else. They have high top end performance, and are a good choice for those looking for a quick and agile sports convertible. The 1 and 3 Series offer a great compromise between performance, price, and luxury. They can perform well as family vehicles, but also serve as performance machines. Finally, the M Series is for the serious auto enthusiast. These are the most expensive models and usually employ cutting edge technology and high end performance components.
Z Series
The Z3 was replaced by the Z4 but the basic premise of the Z Series has remained the same. In addition to the Z3 and Z4, the Z1, 507, and Z8 have also been produced under this line. It is a rear wheel drive sports coupe that seats only two. The Z Series also has some models that employ hardtop convertible technology. The Z Series is a high performance model that is mostly considered by buyers that are interested in a high performance, luxury coupe that is not going to be relied on to transport large groups of people. The Z Series also has an exceptionally small trunk so storage space is limited in terms of storage capacity.
1 Series and 3 Series
The 1 and 3 Series are basically the same vehicle, with the 3 Series simply being a bit larger and bit more powerful. The 1 and 3 Series are the entry level models that are the most inexpensive models offered by BMW. Do not be fooled however, as the 1 and 3 Series are still high performance luxury automobiles. They seat four comfortably and have a variety of options and features that may be added onto the vehicle to increase performance, or improve the luxury of the vehicle. The 1 and 3 Series are also the most familiar BMW automobiles and are available as a fabric convertible.
M Series
The M Series is similar to the 1, 3, 5, and 6 Series offered by BMW from aesthetic perspective. An M3 and a 3 Series look remarkable alike, but it is what is under the hood that explains the true difference. The M Series is also the most expensive model offered by BMW, but offers up the highest levels of performance. The M Series is available as a fabric top convertible and offers a variety of options that can greatly improve the performance, such as exhaust components, air filtration, etc.
How to Buy a Used BMW Convertible on eBay
Buying a used BMW convertible on eBay is made both easy and reliable with the intuitive website tools. The best way to begin is to conduct a basic keyword search by entering basic search terms into the search box located on every page of eBay's website. Once the results are displayed they can be sorted and filtered in a variety of ways and most importantly, the results can be limited to used BMW convertibles leaving the shopper with only the most relevant results.
Alternatively, shoppers can navigate the categories provided by eBay in order to ultimately arrive at the broad search results. The results should be narrowed to BMW convertibles in used condition and then refined even further by price, time left auction, buying format, and other relevant features. Buying a used BMW convertible on eBay puts buyers in an advantageous position to find the ideal product to suit their needs while priced at the best possible value.
Conclusion
Considered among the top of the line luxury and sports cars, BMW is thought of alongside such other manufacturers as Mercedes Benz, Audi, and Lexus. BMW is also the parent company of Rolls Royce. Buying a BMW convertible is a great way to get behind the wheel of a high-performance, luxury automobile. Buying a used BMW convertible is the best way for entry-level or budget conscious shoppers to get in on the action.
BMW convertibles come in a variety of different models and with many different features, all that affect performance and price so buyers should carefully consider their intended use prior to purchase. Buyers seeking something more sporty, or higher performance, may want to consider the Z or M Series, known for exceptional speed and handling. Those looking for a more luxurious option that can transport more people should consider the 1 and 3 Series. No matter what type of used BMW convertible a buyer is seeking, eBay is sure to provide them with the most options at a price that works for them.