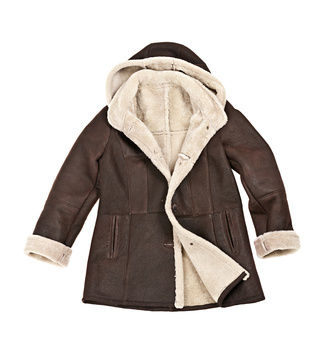 Coats are garments worn for both warmth and fashion. They typically have long sleeves and are opened and closed using a zip, snap fasteners, or buttons. Their length varies, although most men's coats end above the knee. Coats come in a wide array of styles, colours, and fabrics. Coats typically receive light use, especially in a country where a different coat is needed for each season. Buying a used coat is an excellent way to save money. Coats are often considered an expensive investment, especially those manufactured by high-end designers. Buying a used coat, especially a designer model, makes it easier to budget for a garment that would ordinarily be too expensive to purchase. Aside from saving money, buying used clothing is kind to the environment, since recycling clothes saves energy and keeps discarded clothing out of landfills.
Coats can be bought at men's clothing shops and department stores, as well as online. When purchasing a men's used coat at retailers such as eBay, buyers should consider the various types of coats, how to find the right size for their figure, and learn how to check for damage.
Types of Coat
Men's coats come in a wide array of styles, ranging from formal attire to more casual wear. When determining the best type, buyers should consider the intended purpose of the coat.
Trench Coat
Trench coats are styled after those worn by military personnel in World War I. As such, these coats feature epaulets along with a fabric belt, hip level pockets, stand-up collars, and double breasted detailing. They are generally designed to be waterproof and are cut at various lengths between the wearer's hips and mid-calf. Trench coats can be found in a wide array of colours and fabrics including gabardine, cotton, vinyl, or leather. They can be worn fashionably all year round as both formal and casual wear, offering the wearer less warmth in comparison to other types.
Car Coat
A car coat, also known as a three-quarter length coat, generally falls between mid-hip and the knee. The coat is designed to provide the wearer with a degree of warmth while driving, in place of a bulky winter coat. The car coat is generally made from wool, canvas or corduroy fabric. In the colder seasons it may also be found in sherling and faux fur. These coats contain simple detailing such as colour matched buttons, exterior side pockets, and upturned collars.
Frock Coat
Frock coats generally reach knee-length, have buttons that run almost the entire length, two wide lapels, and are flared at the hem line. They also have two buttons at the back for decorative purposes. These coats are traditionally double-breasted and offer the wearer a close fit, accentuating the waist. Although associated with formal wear, frock coats may also be single-breasted for a more casual look. Frock coats are conventionally made out of wool in a subdued colour such as black, charcoal, or navy. More modern frock coats are made of a crushed velvet or a lighter polyester.
Pea Coat
Pea coats, also known as reefer jackets, were traditionally worn by sailors in order to protect them from the harsh sea weather. Authentic pea coats, made for the navy today may have to meet certain requirements. This may include a double-breasted overcoat, a Melton shell, full fleece lining with satin sleeves and yoke, slash pockets, cash pocket, inside breast pocket, convertible collar, wide rounded lapels, venter back with parallel tack, and traditional anchor buttons. Due to their fibre content, pea coats tend to be bulky, so buyers may need to order one or two sizes larger.
Reproduction pea coats strongly resemble that of authentic coats with only minor design changes. They are generally made of a warm, coarse wool.
Sports Coat
A sports coat is a tailored jacket for men. It is similar in cut and length to that of a suit jacket, but typically worn for more casual occasions. Unlike a suit jacket, a sports coat does not come as part of a suit and, thus can be worn on its own. Sports coats come in a wide array of styles, fabrics, colours, and patterns. The weight of their fabric varies with the season. Winter sports coats are generally made from a heavier wool than those that can be worn for the rest of the year. Summer sports coats are often seen made of a fine wool blend with linen, silk, or nylon.
Duffle Coat
Duffle coats are made from various patterns and materials, more traditionally, coarse, thick wool with a checked pattern. These coats are characterised by their large hood, buttoned neck strap, two large pockets, and four wooden or bone toggles. They typically fall just above the wearer's knee. Once worn by members of the British Royal Navy in World War I, the coat gained widespread popularity and is still considered fashionable in the eyes of the general coat wearer. They are usually lined and insulated. Originally designed to fit over another coat, the duffle coat offers wearers a roomy interior and superior warmth.
How to Size a Man's Coat
Determining the right size for a man's coat is crucial to ensure comfort and to create a well-groomed appearance. Some coats are manufactured in generic small, medium, and large sizes, while others are made in numbered sizes. This can make it difficult to properly size the garment. Men's coats are designed to be worn over sweaters and suits. So, buyers should account for under layers when considering the size of the coat. Sports coats should fit snugly since they are worn with thinner shirts. On the other hand, pea coats require additional room to accommodate heavier sweaters. Buyers should also consider the man's measurements and the intended purpose of the coat.
In order to determine the numbered size, a tape measure should be placed completely around a man's chest, directly under his arms. The measurement, in inches, is considered the proper size. If the coat feels excessively tight when worn with the arms crossed, this is an indication that the shoulders or arms are too narrow. If this is the case, a man should consider choosing a larger size.
Checking a Used Coat
Buyers should carefully inspect the coat before purchasing in order to ensure that there is no substantial damage. This entails checking the fabric and seams for stains, or wear and tear.
Fabric Performance
Buyers should thoroughly inspect the fabric in order to get a better sense of the coat's overall condition. The fabric should be free from tears and thinly worn patches. There should be no evidence of pilling.
Seams
Seams are especially prone to damage. Buyers should ensure that there are no loose threads and that all stitching is intact. If the coat is too tight, seams may be compromised when the wearer crosses his arms.
Zips and Fasteners
Buyers should examine the coat carefully for missing or damaged hardware. This includes buttons, zips, snaps, and other enclosures. If hardware is missing, replacement parts should be available readily. If the buttons add detail to the coat, it is important to replace any missing ones with identical versions. Zips should be in working condition, opening and closing smoothly.
Stains
Both the interior and the exterior of the coat should be checked for stains. Buyers should pay close attention to problem areas such as the underarms that may become discoloured with sweat or contain deodorant stains. Some spots may be removed by having the item dry cleaned or washed. However, this is never guaranteed. It is best to opt for coats that have been dry cleaned before being made available for sale.
How to Buy a Used Coat on eBay
Shopping for a used coat is easy when you see the variety available on eBay. From the eBay home page, simply enter your search for any type of used coat by entering "used coat&" into the search box, and a wide variety of results appear. Alternatively, buyers can use eBay's advanced search feature to limit results based on delivery option or distance from a particular location.
You can also browse the different types of used coat available by going to the eBay home page and searching by the category listings. You can narrow down the results by selecting the "Used" condition. You can also filter by price.
Before finalising a purchase on eBay, be sure to thoroughly investigate the seller. On eBay, this is simply a matter of reading a seller's feedback comments and checking their rating. Consistent positive feedback ensures that the seller provides high levels of customer service and good quality products.
Conclusion
Men's coats are both practical and fashionable. Buying a used coat is a great way to save money on designer wear. Some coats, especially those tailored for special occasions, are rarely worn, leaving them in near perfect condition and suitable for being resold. When shopping for a used coat, buyers should check the coat's overall condition by using the photos in the item listing. Ask the seller about the state of the fabric, the seams, and the coat's hardware. It is best to buy a used coat from a seller who has a returns policy, especially when buying a pricier garment. This makes it easier to return the coat if a fault is found after it has been purchased or if it does not fit. With so many used coat listings to choose from, eBay can help any man to find the perfect coat to keep him protected from the elements in any season.