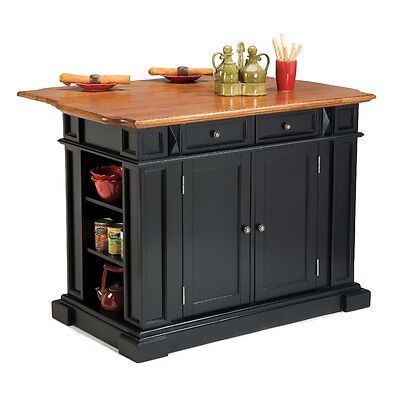 A kitchen island is a type of counter that is unattached to any walls and stands in the middle of the kitchen. It can be accessed from all sides and provides good use of space and an additional surface for food preparation. The customising options of the kitchen island are almost limitless because there are many features that can be adapted: the kitchen island can have many drawers and shelves for cooking utensils, as well as racks to store wine or herbs and spices. A kitchen island is not only for food preparation. It can also be used as a breakfast bar, or a space to gather in the evening with friends and family.
Buying a kitchen island is a good option if you want to create an extra worktop and table in the kitchen. Purchasing a used kitchen island is an even better option as a good quality piece may be found for a fraction of the price of a new model. It is also a more environmentally friendly option. To save money and preserve the environment, look for a used kitchen island in larger high street charity shops, car boot sales, or online at eBay.
Features of Used Kitchen Islands
When buying a kitchen island, there are a number of features to consider. These include the shape and size of the kitchen island as well as its function.
Shapes of Used Kitchen Islands
The most common kitchen island shape is rectangular. However, more interesting designs are available, such as oval, round, or L, S, or U-shaped. Buying a kitchen island with a curved shape not only adds some smooth lines to the kitchen, but it is also useful if there are young children who could bump into rectangular corners. The shape chosen is largely determined by the space available in the kitchen. Narrow rectangular kitchen islands are more likely to fit into smaller kitchens than large L-shaped islands that combine worktops with a dining area.
Sizes of Used Kitchen Islands
The size of the kitchen island depends on how much space is available and how it should be used. It is not necessary to sacrifice all of the free space in the kitchen to the island. When choosing the size, bear in mind that it should be comfortable to walk around the kitchen island and that it should be accessible from all sides. Choose a kitchen island that does not get in the way of any doors, the fridge, or worktops, otherwise it loses its functionality. If there is a lot of spare space, then opt for twin islands that can be separated to create a walkway between them, rather than buying one huge block for the centre of the kitchen.
There are recommended measurements for the space between the kitchen island and any other worktops. If there is one cook in the kitchen, the distance should be at least one metre, while two cooks or more already require 1.2 metres to work freely. A walkway passing by the island should measure 90 cm wide, while the distance between a walkway that passes behind seating needs a width of 110 cm. Consider these measurements when choosing the size of the kitchen island. Also, remember that a good kitchen island is built in a way that the centre can be reached easily. If the centre cannot be reached without an uncomfortable stretch, then the kitchen island is too big.
Functions of Used Kitchen Islands
If the room has an open floor plan, then the kitchen island can be a divider between the kitchen and the dining or living area. The kitchen island could also function as storage space if it comes with shelves, racks, and drawers. It is possible to have a portable kitchen island, or trolley, that has wheels attached. More elaborate kitchen islands are equipped with a hob, sink, and sometimes even a fridge or dishwasher.
Materials for Used Kitchen Islands
In generally, the kitchen island materials can be divided into two categories: the worktop materials and the base materials. The worktop should be designed for preparing and serving food, while the base is a supportive structure on which the island stands.
Worktop Materials for Kitchen Islands
The kitchen island worktop material largely depends on what the island is used for. If it is only used as a dining area where the family gathers, then the surface does not need to be knife-proof. For dining, inexpensive laminate worktops should be sufficient. These are available in an array of finishes from matte to glossy. Choose a granite or wooden chopping block surface if the worktop will be used for cooking. A modern material choice is quartz, which comes in many colours and is known for its stain and scratch resistant properties.
The overall design of the kitchen also plays a role if the work surfaces and the kitchen island are to match. If all the other worktops are made of quality granite, ceramic tile, or wood, then consider a kitchen island made of the same material otherwise it may look out of place. Alternatively, making a feature of the kitchen island could be a good idea, in which case laminate surfaces and a granite or ceramic tile kitchen island could add style to the kitchen.
Base Materials for Kitchen Islands
The base of the kitchen island is likely to be a type of wood and can therefore have different finishes. A good quality kitchen island could be made of oak and buying a used one could make it easily affordable. Veneer and other wood options, such as maple, are also available.
Condition of Used Kitchen Islands
As the kitchen island is used, pay close attention to its condition in order to get the best quality for a lower price. Examine both the worktop and base carefully. If possible, try the drawers that are integrated into the base to see if they slide smoothly and are intact. Check that the shelves are still in place and that there is no woodworm or staining. If there are any cupboards, open the doors and check that they close properly. Look for scratches and wear marks on the work surface. Some wear is normal, but it should be minimal.
Buying a Used Kitchen Island on eBay
When looking for a used kitchen island, first go to the eBay homepage. Start with a simple search, such as "kitchen island", which can be typed into the search box. Once you receive your initial results, you can set the condition to "used" and browse for pre-owned kitchen islands. Alternatively, you can start your search by typing the keywords "used kitchen island". If you have any particular materials or colours in mind, include these in your search terms.
As you are buying a used kitchen island, look at the photos included in the item listing carefully to check for signs or wear, tear, or damage. If any flaws are suspected, then ask the seller for more detailed photos or a thorough description. The item listing should contain information about the kitchen island's size, materials, and condition, payment methods, delivery costs, and the seller's returns policy. If any of this information is not clear, or if there are any questions about the used kitchen island, feel free to contact the seller using the "ask a question" link. The used kitchen island is likely to be bulky and heavy and therefore may incur high delivery costs. Consider looking for a local seller who may be amenable to you collecting the item in person to save on postage and packaging.
Conclusion
A kitchen island is an counter that sits independently in the kitchen and serves as an additional worktop, a dining area, or both. Kitchen islands usually have many drawers and shelves for storage and are a good way to use the space in the kitchen. Kitchen islands are designed in a range of shapes from traditional rectangular to smoother S or U-shapes. The shape chosen is largely determined by how much room is available in the kitchen. There should be enough space left around the kitchen island for walking around it, and between the island and other worktops and kitchen furniture.
The base of the kitchen island is usually wood or veneer, while the worktop material varies: it can be affordable laminate, or more elaborate quartz or granite. The material depends on the purpose of the worktop. If it will be used for cutting, then should be a scratch-resistant material or wood, whereas if it is just to be used for dining, then the options are wider.
Buying a used kitchen island is a good idea because not only helps to save money, it is also good for the environment. However, it is only worthwhile if it is in good condition. Examine any photos of the kitchen island for signs of wear and tear and ask questions to clarify that any drawers and doors are fully functional. eBay sellers offer a range of used kitchen islands.