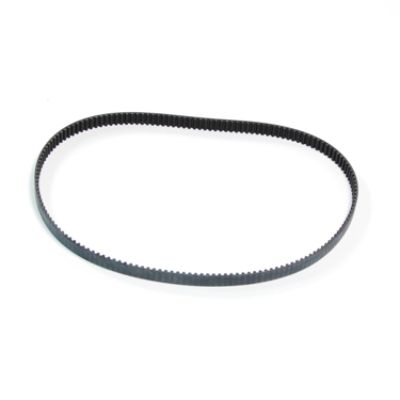 It is important to the health of a lawn to keep it well maintained. The best way to do this is to cut the grass regularly during the spring and the summer. Regular mowing, not only keeps the lawn looking beautiful but cutting the grass to an even height actually stimulates the grass to grow and curbs the proliferation of weeds.
Most people usually hire lawn mowing services to mow their lawns for them, but for those who take an active role in maintaining the health of their lawns, it is important that they invest in the right equipment.
Maintaining one's lawnmower is an important step in maintaining one's lawn. An important part of a lawnmower is the belt. This component is located between the mowing deck and the engine, and is fixed at the main drive gear, connected to a pulley that is attached to a clutch. The belt tightens to move the wheels once the transmission is in the reverse or forward gear.
As with all machines, there comes a time when one has to replace a component or two. The lawnmower's belt can be costly to replace. Some will simply opt to buy a whole new lawnmower, but this is not necessary. It is possible to find a used lawnmower belt for your existing mower. The easiest place to find a used lawnmower belt is eBay.
The Importance of a Lawnmower Belt
Why is the lawnmower belt important to the proper operation of a lawnmower? The lawnmower driver belt is the component that transfers the power from the lawnmower's engine to the machine's wheels. It is important to check the belt regularly. If there are any signs of damage or the belt appears to be defective in anyway, it should be replaced immediately. If the lawnmower belt fails and rips off while the lawnmower is running, the belt can shoot out from the lawnmower and potentially injure the operator.
A new replacement lawnmower belt is therefore advisable. However, used lawnmowers belts should be considered as a cheaper, but no less safer alternative. Aside from being more affordable when compared to new belts, a buyer can often get a better deal on a used lawnmower belt, as long as the buyer knows exactly what to look out for.
Types of Lawnmower Belts
There three major types of lawnmower belt available on the the market today. They are the V- belt, the universal fraction HP belt, and the original equipment manufacturer (OEM) belt. It is important that the buyer knows exactly what type of belt is compatible with their lawnmower. If the original owners manual is no longer on hand, then a buyer should call the manufacturer and ask them what type of belt is compatible with their make and model of lawnmower.
Industrial V-Belts
Industrial V-Belts are engineered to be used in industrial type lawnmowers. Industry lawnmowers can either be push or riding lawnmowers. These lawnmowers have higher horsepower and are considered heavy duty lawnmowers. These type of lawnmowers are used to mow large lawns, parks, and sports fields.
Universal Fraction HP Belts
Universal Fraction HP Belts are found in domestic lawnmowers that have lower horsepower compared to the industrial lawnmowers. However, if the lawnmowers horsepower is more than 3.5 hp, then it is not advisable to use an HP belt.
OEM Belts
OEM Belts or owner equipment manufacturer belts are the original belts designed for particular models of lawnmowers. Only OEM original belts are made to precisely meet the specifications set by the manufacturer. Particular OEM belts are guaranteed to work properly if they are fitted to particular lawnmowers. Therefore, this type of lawnmower belt can be more expensive compared to other types. However, used OEM belts are cheaper than other types of belts purchased new.
Used and Slightly Used Lawnmower Belts
With every purchase there are the positives and the negatives to consider. When buying a used lawnmower belt, one of the obvious advantages is that used lawnmower belts are cheaper than new ones. The downside is that used lawnmower belts are just that, used, and a used belt may be nearing the end of its product life. A shopper may not get much use out of a used lawnmower belt. It is therefore wise to consider the length of time the used belt was in use. A good used lawnmower belt is one that is considered to be slightly used or one that is still in its packaging. This is the lawnmower belt that was purchased but was never used. It just spent its time sitting on a shelf in some garden shed somewhere. A slightly used OEM lawnmower belt is a better choice than a brand new lawnmower belt that is not suited to your particular make and model of lawnmower. A used certified part is better than a new uncertified part.
Some replacement lawnmower parts are best purchased new, like sharp and shiny new blades. But lawnmower belts don't have to be purchased new, and you can save a bundle by seeking out used belts. However, there are a few things one should considered before closing a deal on a used lawnmower belt.
Is It a Certified Approved Part?
Before making the purchase, one must ensure that the lawnmower belt is a certified approved used part. This means that the lawnmower belt is still in good condition and the new buyer can still expect to get a fair amount of use out of it. Certified approved parts are those parts that while considered 'pre-owned', the parts were in fact barely used or were not used at all. Such belts or the bands have been checked by authorised representatives like the manufacturers and certified as such before being put on the market. A buyer can save up to 40 percent on certified pre-owned parts.
How Close Is It to the End of Its Life?
It is also important to know how long the part was used prior to being sold. Some personal sellers or retailers sell these used parts at prices 30 percent lower than the original prices. The belt may be as old as the belt it is replacing, but if it was hardly used, the age of the belt does not matter. If one is buying from a personal seller, one should ask how often they cut the grass using that belt. The more use it was put to, regardless of age, the closer the used lawnmower belt is to the end of its product life.
Buy from Reputable Sellers Only
It does happen that retailers sell used parts and do not disclose that the part is damaged or is nearing the end of its product life. It can be difficult to ascertain a seller's reputation if you just picked them out of the classifieds, but with eBay it is a cinch. Each seller is rated by the buyer they do business with. If the transaction went well, their feedback score goes up, if the seller sells a buyer shoddy merchandise, and the seller receives negative feedback from the buyer, their score goes down. eBay makes it very easy to research a seller's reputation. This helps the prospective buyer decide whether or not to do business with a particular seller.
Searching for Used Lawnmower Belts on eBay
Begin your search on the eBay home page. On the this page, and every page on the eBay website you will find a search bar. Simply enter the description of the item you are looking for. In this case you would enter a generic search query like "lawnmower belt". Next on the results page, you select 'Lawnmower'. After that, you will be able to specify your brand of lawnmower and condition, in this case it would be 'used'.
Read the item description very carefully and have your mower's specifications handy so you can refer to it. If you need more information to help you come to a purchasing decision, go into the seller's profile and click on the contact link. This is how you can ask the seller questions. While you are in the seller's profile, note their feedback score. The sellers with the highest feedback scores are referred to as top-sellers. You are able to sort the listing to only show those posted by top-sellers.
Conclusion
It is not that easy to keep a lawn looking beautiful. A healthy lawn needs proper maintenance, and this includes regular mowing. Lawnmowers wear out over time. To keep a lawn in good shape, a lawnmower should be kept in good shape, too. Damaged parts should be replaced immediately to maintain the lawnmower's efficiency. A damaged lawnmower belt can cause injury. Therefore, it should be checked regularly for wear and tear and replaced if necessary. It is possible to replace a used lawnmower belt with a used one.
It is important for a buyer to look for a lawnmower belt that will fit their brand and make of mower. Ideally, it should be a slightly used belt or one that was bought, but was never used. It is important that the buyer check with the seller that they can still get a season's mowing out the used lawnmower belt. Buyers can search for new and used replacement lawnmower parts, including blades and belts, on eBay.