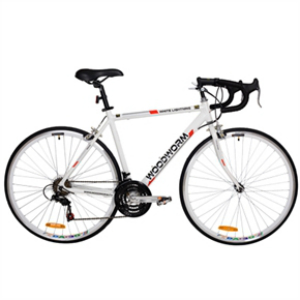 Competitive cycling is one of the most popular sports in Britain, with thousands of people competing up and down the country in various forms every week and millions often watching professional events on television at home. This along with the health benefits and social side of the sport often appeal to people who see it as a worthwhile way to spend their time.
Whether you have been thinking recently about starting to take part in cycling as a sport or whether it was a past hobby and now would like to get back to participation the first thing that is needed is a racing bike.
Although on occasions, there are some great options and deals on a brand new road bike on eBay, it is often the case that this specialist equipment is highly expensive and often out of the question for a hobbyist with a limited budget. This isn't a problem whilst using and purchasing on eBay however, as each month there are literally thousands of fantastic deals to be had on used racing bikes which are perfectly suited to novice and casual cyclists as well as those who are simply seeking a bargain. Here is the eBay guide to buying a used racing bike..
What Makes a Racing Bike?
Racing bikes (also known as road bikes) are bicycles that are specially designed for competitive cycle racing and all are designed to convene with the standards of the UCI or the Union Cycliste Internationale, which governs the world of competitive cycling. Racing bikes have a number of distinctive features that separate them from other bicycles like mountain bikes or BMXs:
Firstly, they are almost always fitted with drop handlebars, as appose to flat handlebars which are commonly seen on mountain and city bike designs.
Drop handlebars aren't as wide as standard handlebars and curve back in towards the bike to form a backwards "C" shape when viewed from the side. This design does a number of things. Firstly, it provides a greater surface area on the handlebars to give the cyclist a wider choice of grips during long rides in order to stay as comfortable as possible.
The position of the handlebars also means that the rider is forced to sit in a position where he or she is leaning forwards in the saddle and their body slopes towards the front of the bike, this has the effect of giving the rider more leverage on their pedals and allowing them to go faster as a result.
The frame itself on a racing bike is also much lighter than on a mountain bike for example, minimising the effort it takes for the cyclist to pedal and maximising the potential speed that can be achieved.
Probably the most striking feature on a racing bike is its wheels, which are usually extremely thin and often come with slick tires. This is another design feature that enables the bike to travel as fast as it possibly can.
The thin, slick tires mean the bike encounters less resistance with the ground and can move faster as a result.
Why Buy a Racing Bike?
Some people may wonder why they should buy a racing bike and why is it any different to other kinds of bikes available on the market. There are numerous answers to this question.
Firstly, even if there are no plans to take part in competitive cycling or join a cycling club, a road bike could save time if you commute to work by cycling. Road bikes are much quicker than mountain bikes, a bike design, which has becoming increasingly popular in recent years.
Mountain bikes were originally designed for crossing rocky or difficult terrain in a safe, balanced manner; they have thick, knobbed tires for extra grip and heavier frames for balance.
Although many people will use mountain bikes for commuting purposes, they are not designed for riding on roads and cyclists will have to put in extra effort to get to where they need to be on time.
A racing bike is designed to be fast and manoeuvrable on road surfaces, making it the perfect bike for commuting. Racing bikes are also a great way to stay in shape.
Cycling on a road bike is considered by making to be much more fun than riding on say a city bike because there is a higher level of skill involved and the ride the bike itself will give a more enjoyable experience.
The key to staying fit is enjoying the exercise, so cycling may be the perfect way to keep healthy, especially with some of the deals on used racing bikes that can be found on eBay.
What Size Should I Buy?
Racing bikes are available in various sizes to better suit individual cyclist's heights and allow them to have a more comfortable ride. It is important to find the right frame size when buying a racing bike, as riding a bike, which is either too big or too small, can actually be dangerous because there is the likelihood that the rider is not in full control of the bicycle.
To determine what cycling frame size is required, it is best to take a measurement of the rider's inseam. To make sure the right size frame is selected for a person of the appropriate height. Here is a table, which references the sort of frames needed for each individual:
| Cyclist's Inseam | Required Frame Size |
| --- | --- |
| 25.5"- 27" | 46- 48cm |
| 26.5"- 28" | 48- 50cm |
| 27.5"- 29" | 50- 52cm |
| 28.5"- 30" | 52- 54cm |
| 29.5"- 31" | 54- 56cm |
| 30.5"- 32" | 56- 58cm |
| 31.5"-33" | 58- 60cm |
| 32.5"- 34" | 60- 62cm |
| 33.5"-35" | 62- 64cm |
These figures are a rough estimate, but they can be used to determine what size frame will be required and they should be accurate enough to allow every rider to pick the right frame. Remember; be sure to measure the inseam more than once so that the correct measurements have been taken. This is because it is important to make sure the rider provides as accurate frame size choice as possible to avoid disappointment.
Why Buy a Used Bike?
Buying a used racing bike is a brilliant way to get a great deal on a bike that may have been out of price range otherwise. People have the misconception that used bikes are mainly worthless and turn their noses up at the idea of buying one. This certainly should not deter a purchase however; many seasoned cyclists will sell their old racing bikes after on eBay after purchasing new ones.
The vast majority of these bikes will have been maintained in pristine condition, so even though they are used, they may actually be in better working order than some brand new bicycles. An added bonus of choosing to buy a used bike is that it is benefitting environment. As there is the opportunity to choose from thousands of used road bikes on eBay that are in perfect working order, it almost seems wasteful to go out and buy a brand new one. Many cyclists would also argue that a bike that has already been ridden before has a certain character to it that cannot simply be found in a bike that's brand new. If a used bike is the perfect buying solution for the individual in question.
Conclusion
In summary, eBay is the perfect place to find a fantastic deal on a used racing bike. Just follow the simple guidelines written in this article and you will be able to select the ideal used road bike and make some great savings along the way. To conclude:
Always bear in mind that if previously you've been using a mountain or city bike to get around town and commute to work previously, it's much faster and easier to get around using a road bike, as their slick, thin tyres and lightweight frames make them fast, manoeuvrable and portable.
Be sure that the buyer purchases the correct frame size for a person of your height, because riding a bike with a frame, which is either too large or too small, can be dangerous as there is limited control is a wrong-sized bike is purchased.
Helpfully, eBay have included a search function for road bikes that means the easy option to browse by frame size, so it eradicates the potential to make the mistake of buying a bike which is the wrong size again.
Finally, remember that buying a used bike is often a useful way to find a great deal. The racing bikes listed on eBay are often being sold by experienced cyclists who have taken a great deal of care over their bike and there is the opportunity to find models for sale which are in absolute top condition. Some cyclists will also say that an older bike has much more character than a brand new design and if this is something that offers value, and then it is a great option. Why not try searching for the perfect used racing bike on eBay today.