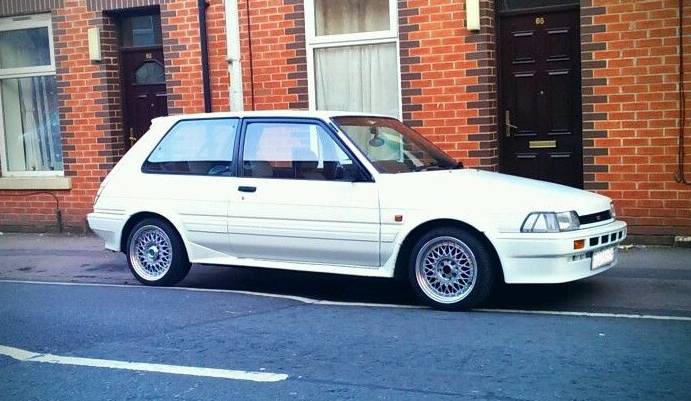 The GTI was the high-performance version of the Toyota Corolla E90 from 1987 to 1992. While no longer available new, and something of a rare car, you can choose to purchase a used Toyota Corolla GTI as an affordable alternative to a new model vehicle. Considering the features that affect your used Toyota Corolla GTI purchase before buying helps you find a better car, and get a good deal.
Used Toyota Corolla GTI Engine, Model, and Chassis
The Toyota Corolla GTI comes as a liftback and a hatchback, but this includes just two of the model choices. The five-door liftback was the most popular in Great Britain, so that is the most available model. Pre-1989 models feature a twin-cam 4A-GE 1.6 litre six-valve engine with big ports. Post-1989 models feature the third generation of the engine, which has smaller ports, affording it slightly more power. The Corolla GTI features front-wheel drive on all of the models. While there are few variations in body and engine size in the United Kingdom, you can take the time to look for a specific three-door hatchback, although it is a rare car here. Also look for the third generation 4A-GE engine, if you want a different model.
Age of the Used Toyota Corolla GTI

One thing to keep in mind is that the age of the used Toyota Corolla GTI affects the amenities, fuel economy, features, and insurance rate. For example, the 1992 GTI might feature more amenities such as a CD player, air conditioning, and sunroof (in some models), while the 1987 model does not have air conditioning, features a cassette player, and no sunroof. The age also affects the fuel economy to a small extent, although GTIs mostly get about the same factory fuel mileage. Generally, the newer the car the longer it should last, so a 1996 model is a better option than a 1991 model, unless you are looking to save as much money as possible in the purchase.
Condition of the Used Toyota Corolla GTI

Checking condition is the most important aspect of buying any used car, including high-performance models like the Corolla GTI. Consider if the vehicle runs, if the frame or chassis is rusting, if the body is rusting or damaged, if the vehicle has been in an accident, and if the interior is in good condition. Corolla GTIs are several years old, so most are not pristine, but you can save money on repairs by choosing a model in roadworthy condition. Consider looking up the service history of the specific vehicle you are planning to buy to check its accident history and condition before making the purchase. You can also purchase a discounted Corolla in poor repair, and then fix it up yourself as a hobby or buy it to save money.