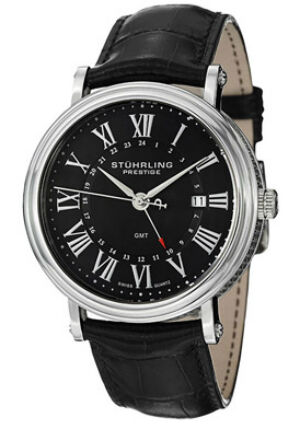 When you are looking for a used wristwatch, there are a lot of options, whether it is a casual watch, a sports watch, or a luxury watch. Buying a used wristwatch can be much more affordable than buying a new one, and it is possible to find a great used wristwatch that is of high quality condition for a good price on eBay. There are a number of wristwatches to choose from, whether it is a men's or women's watch, and there are some popular brands that buyers enjoy getting for a good price, such as Bulova, Omega, and of course, used Rolex watches.
When it comes to used wristwatches, there are many options but the easiest way to select a used wristwatch is to first assess whether the watch is for a man, woman, or child, and then see what choices are available in those categories based on your budget and your personal style.
A used wristwatch is a good way to get an expensive, name brand or high end designer watch at a lower price. Buy a used wristwatch based on your needs, whether it is a fancy watch to wear out on the town or an everyday watch with a digital face and a plastic band. There are a variety of watches that suit everyone's taste. When shopping for a used wristwatch, you should consider your budget as well as your own style when deciding between the options for men and women.
Men's Watches
Men's used watches basically fall into a few separate categories. They can be classified by what material they are made from, what kind of strap they have, what sort of features they offer, and whether they tell time digitally or through an analogue watch face. Selection of a used men's wristwatch should be based on what type of watch you favour best that matches your existing wardrobe as well as complement your personal style.
Stainless Steel/Gold Watches
Men's watches that are made of metal are typically either made of stainless steel or gold. These watches may be a bit more costly than watches that are made with leather or plastic bands, but they are a good option for a dressy, elegant type of watch. Stainless steel watches and watches made of other metals are quite sturdy and can be long lasting.
Some of these watches have additional features that you might enjoy, such as a glow in the dark face or night vision face, an alarm, self winding mechanism, date and day display, and water resistance. A used stainless steel men's watch or gold watch can have a band made of the same material that looks like chains or links. Some very sophisticated stainless steel watches may even have diamonds on the bezel. Rolex is a very popular brand of stainless steel and gold watches for men, and buying one used can be a good option for you if you cannot afford a brand new one.
Plastic Watches
A men's plastic watch is a much more casual look. A used plastic watch typically has a plastic or metal face with plastic bands. These can come in a variety of styles and colours, and include features like glow in the dark hands, digital display of time, and whimsical faces, such as men's Swatch watches.
Plastic watches can be trendy and sporty, as well as bright and colourful. Timex and Casio are also popular brands of plastic watches for men. Plastic watches can be very versatile, as a coloured one can be fun for day, but a black one can go with almost anything in your wardrobe. They are also comfortable, affordable, and lightweight.
Leather Watches
Men's used leather wristwatches are another common type of men's watch. Buying a used leather watch is simple. They are generally watches that have a metal or stainless steel face and a leather band. However, there are a lot of choices when it comes to a leather watch for men. The band can be black or brown leather, and in some cases you can find a leather watch that has a coloured band.
Watches with leather bands can be purchased with an analogue or a digital face, and they can offer many different features such as alarms, date and day display, flashlight, stopwatch, and a compass. These features are optional. A very basic leather watch can also be purchased if you would rather not have all the bells and whistles. Popular brands of this type of watch include Breitling and Omega.
Women's Watches
Though women's used wristwatches may be smaller, thinner, and a bit daintier than men's, they come in several of the same types of styles; though they may offer a different look overall. Used women's watches can be a great buy, especially for designer name brand watches.
Stainless Steel/Gold Watches
Women's used watches that are stainless steel, gold, or silver typically are style similar to men's, but the band is thinner and the face is smaller. Some women's watches have a square face, and some might have a round face. Mostly you see analogue watches that are stainless steel, but there are a couple of Casio digital watches for women that are stainless steel.
Women's watches may also have more decorative straps and embellished faces, unlike men's stainless steel watches. There are some watches that are decorated with diamonds or other gems, elegant engravings, or painted watch faces. Buying a used women's stainless steel watch can be a lot of fun because there are simply so many options to choose from, in so many various price ranges.
Plastic Watches
Women's used plastic watches are very similarly styled to men's. They offer fun faces and colourful straps in some styles, and a more sporty, oversized look in others. They may not come with as many features as other watches, and they can be digital or analogue. Casio and Swatch are common brands of plastic watches for women.
A fun plastic watch can be a great way for you to express your personality and sense of style. Plastic watches may have cool features like glow in the dark hands or a flashlight feature. They typically have a plastic face and plastic straps, too. They are an affordable way to have a creative, interesting timepiece that can brighten up any outfit or look.
Leather Watches
Women's used leather watches offer a large variety. Leather bands can come in many colours, and watch faces offer a variety of styles, such as coloured faces, rhinestone studded numbers, or digital faces. The straps on women's leather watches are typically thinner than men's leather watch straps. Some watches may even come with several straps you can change out to match your outfit or look.
Women's leather watches may be decorated with stones or diamonds, or simply have a coloured face. A used leather watch is a good choice for an everyday watch that can easily transition from day to night in its simple elegance.
Watch Bracelets
Women's used bracelet watches look similar to the style of a bracelet, but may have a watch face embedded in the bracelet. These can be very trendy and can come in a variety of colours and styles. There are diamond bracelet watches, leather bracelet watches, and silver bangle bracelet watches. These are a fun accessory that you may not wear all of the time, but may liven up certain outfits.
How to Buy a Used Wristwatch on eBay
When you are buying a used wristwatch on eBay, there are a lot of choices. Search for used wristwatch, and then select the specifications you would like in your watch. Ensure that the watch is in great, gently used condition, and see if the watch has any flaws you need to know about. Ask to see lots of images of the used watch, and ask the seller any questions you might have about the watch. Only purchase used watches from merchants that are Top-Rated Sellers on eBay and have a lot of excellent feedback from other buyers that are satisfied.
A used wristwatch can be a much more affordable option if an expensive watch just is not in your budget, but you need a new timepiece. There are many types of watches available on eBay that look amazing and fit into your budget without straining it. Contact local sellers to see if you can save even more money on shipping costs by picking up your used watch in person. This can be a stress free and more fun way to shop on eBay.
Conclusion
If you need a new watch and you are not sure how to afford one, consider purchasing a used wristwatch. Most used wristwatches are still in wonderful condition, and some sellers even offer them with the boxes they originally came in. You may even be able to afford more than one watch when you are buying them used. A casual day watch and an evening watch would create a great watch wardrobe for all of your unique looks and outfits, and sometimes one watch just does not always fit the bill.
Buying a watch on eBay is a stress free experience that can be quite enjoyable. Whether you get the watch shipped to your door or you experience the personal pick up of meeting a seller in person, it is a convenient way to get an affordable wristwatch no matter what brand or style of watch you have been searching for.