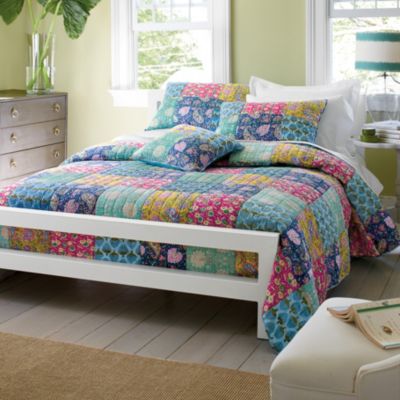 Homes with a vintage twist, whether they are cottages, contemporary lofts, or even minimalist spaces, are increasingly being enhanced with one of the more adaptable, affordable, and portable of antiques, decorative quilts. A tradition which has crossed 'the pond' from North America, which is the collecting and displaying of vintage quilts is a deeply satisfying pursuit. As enthusiasm grows, owners of such quilt get to know about the history of quilt making. There exists a quite fascinating compendium of different designs, each with a name and an origin.
Finding vintage decorative quilts by any method other than online is often a quite labourious and difficult task. Time and money are spent travelling to out-of-the-way antique stores, finding the dates and venues of antique fairs, or attending auctions where hopeful purchasers are inevitably competing with keen collectors. Occasionally, small adverts in local papers may yield interesting examples of vintage quilts, and the journey to collect them may be worthwhile. In contrast, online sourcing is almost certain to prove fruitful, because the online community is particularly well geared for the buying and selling of used items. The hugely popular auction website eBay has listings of vintage decorative quilts, and items are added regularly by sellers.
As the world of vintage quilts is something of a treasure trove itself, prospective owners of these gems of bygone days benefit from getting acquainted with some of the background of these items, such as the history, the varied designs, the materials, and the care of vintage quilts.
Introduction to Vintage Decorative Quilts
In many countries, quilt making has long been a way of preserving family memories. This is done by incorporating into the quilt patches of fabric from used clothing, including shirts, skirts, baby clothes, and dresses. These garments become utterly transformed, and effectively 'disguised' when they are absorbed into the intricate patchwork pattern. The result serves not just as a warming item of bedding, but also as a consciously attractive heirloom.
Basic Classifications of Decorative Quilts by Size
Essentially a padded bed cover made originally by hand, the decorative quilt is now a very desirable component in any home. The top of the list in quilt varieties is the really large bed cover which is intended to drape generously over a double or king size bed. And it is a little more than a centimetre in depth. A rather different type of quilt, the much more puffy version, on the other hand, is designed to be a 'topper', and it covers only the top of the bed surface with no drop. Still, there is another quilt which is intended for a child's bed, and it is correspondingly smaller. Lastly, a pram quilt was often made by the younger daughters in a family.
History of Vintage Decorative Quilts
The quilts which today we consider as vintage were once wholly practical and relatively unremarkable products of pre-industrial culture. Almost exclusively the domain of the female members of a family, quilts were often created for the 'bottom drawer', prior to marriage. In some cultures, quantities of quilts sewn by the bride-to-be formed her dowry.
Origins of Quilts
Countries as far apart as France, the Cook Islands, Japan, and North America all possessed quilt traditions, and of which some characteristics and highly striking examples still survive.
North American Quilts
In many cases, members of the settler families, or Founding Fathers, who colonised the continent of North America back in the 17th century, brought quilts with them which were amongst the limited number of belongings to cross the Atlantic. Similarly, the settlers established many of the patterns which today are so emblematic of the western handmade quilt tradition.
Patchwork designs based on intricate templates representing the shapes of animals, flowers, hearts, and fruits are amongst the triumphs of early North American quilting, as well as strongly geometric designs such as 'log cabins' and various star formations.
European Nation Quilts
Amongst European countries, France, notably the Provence region, stands out as having had a strong quilt-making tradition. Italy, too, produced quilts, and today a genuine Italian Renaissance quilt sometimes sells for thousands of pounds.
The British Isles was particularly active in quilt production, and some cotton quilts made by machine in the northern textiles towns of Lancashire are still found, originally made as far back as the late 18th century. Up until the 20th century, Lancashire continued to produce quilts, some of which were influenced by the Provençale tradition. Note that Vintage English quilts are regularly listed on eBay.
Indian Subcontinent Quilts
India, Bangladesh, and Pakistan have rich quiltmaking traditions, and amongst the widely popular imports are the following: the kantha, the gudri, and the ralli. The skills of appliqué, patchwork, and embroidery are involved in their construction.
Construction of Quilts
The basic concept which distinguishes the quilt is its construction from layers of cloth with wadding or stuffing sandwiched between, in order to provide warmth. Repeated blocks of patchwork pattern typically form the top layer (the surface which is on show), and usually a whole series of blocks are produced first in preparation for the assembly stage (when all the pieces are brought together). Calico was the fabric most commonly used, or in some cases the more fragile muslin.
Vintage quilts which we treasure today include not only the handmade patchwork variety, but also the squashy satin quilts in solid colours which, during the 1960s and 1970s, were commonplace throughout the United Kingdom. They have individual machine-stitched patterns in the fabric. These quilts were very durable, and today they still look good as part of an attractive retro look; a look which many householders choose as a theme for the home.
Types of Vintage Quilts
No truly exhaustive list of all the quilt design variations is possible; however, several recognised and very collectible styles come up for sale again and again. They are sought after either because of their attractive singular appearance or because of their place in history.
The Dresden Quilt
One of the most frequently seen and affordable of the genuinely vintage quilt types, the Dresden quilt follows a popular North American pattern. It resembles repeated 'plates', each with a circular centre and an array of many equal-sized 'petals' made from random fabrics, all against a single-colour background, traditionally made from feed sacks.
The Crazy Quilt
Not unlike crazy paving, the vintage crazy quilt is compiled from random patches creating a haphazard riot of colour, and in some ways representing quilting at its most authentic, since, originally, items of clothing, as their usefulness ceased, were the raw material for quilts. The joins are often emphasised by the use of 'turkey track' stitching, which produces a zig-zag effect.
The Medallion Quilt
A really authentic vintage artefact, the medallion quilt is one which has a large central motif with the surrounding fabric being successive borders. The subject of the medallion may be something of symbolic importance to the maker, and may or may not be appliqued. The rarity means that the quilt is more likely to be available as a reproduction quilt.
The Ralli Quilt
A reversible, usually thin quilt, and sometimes used as a rug which is based on blocking with similar patchwork, a Ralli quilt is oftentimes breathtakingly intricate. Often a pattern on many triangles creates the design. Still made today, often by women's cooperatives in India, the modern-day version differs little from its vintage predecessors.
Vintage Quilt Care
Depending on the quilt's antiquity, there are a few golden rule for care; some of which might prove crucial to preventing deterioration to a handmade quilt, especially if it is on display. Key advice includes not hanging the quilt in direct sunlight. Also, avoid washing the quilt, but if you do, wash it extremely gently and ensure that your hands are clean with no sharp hangnails on your fingers. Also, keep watches or item of jewellery away, as they may rip the material. Keep the vintage decorative quilt away from food and drinks and away from cigarette smoke and pets. Ironing is almost always a no-no, too.
Buying a Vintage Decorative Quilt on eBay
Once you conduct some research and decide on what vintages, materials, and places of origin to focus the search upon, the pleasurable task of casting an eye over the relevant eBay listings begins. In order to be sure of receiving only relevant results during an eBay search, decide on three or four key terms, such as "large American vintage quilt". Type these terms into the search field. A quick scrutiny of the sellers whose quilts then appear and will confirm whether you are on the right track. Then, if for example, "large" proves to be a too vague expression, narrow the search still further with a tighter descriptive term, such as "king size."
Naturally, the purchase of such a unique item as a vintage decorative quilt is one of life's more exciting experiences, and you risk possibly getting carried away. To avoid possible subsequent regret, it is advisable to resist being too impulsive. Pay close attention, as you browse, to any mention by the seller of wear, damage, or the need for some repair. In these situations, sellers normally supply photographic evidence of any such tears or faded spots. If you are keen to proceed, but not sure that you have all the facts, send a message to the seller, clearly outlining your questions. It is a good idea, too, to check what return policy the seller has, if any.
Conclusion
Whether seeking a feather-filled, eiderdown in terylene in order to capture a 1970s retro feel, or a Pakistani or Indian kantha, exquisitely made by piecing together colourful saris using hand-stitching, the acquisition of a vintage decorative quilt is an undoubted treat. Once hung, these quilts give endless pleasure, but careful hanging is required, preferably using a fixed bar or rail and evenly spaced curtain clips attached to rings.
Looking after an authentic vintage quilt brings with it responsibility, and precautions need to be taken to ensure that it does not become stained, permanently creased, or ripped. If put to use on a bed, the occupant has to be extra careful. The term 'vintage' can also apply a retro-inspired new quilt which deploys patchwork techniques and uses cotton prints based on former designs. Many highly affordable examples of this kind of quilt are available on eBay. The truly dedicated can buy vintage fabrics and put together their own heirloom decorative quilt.