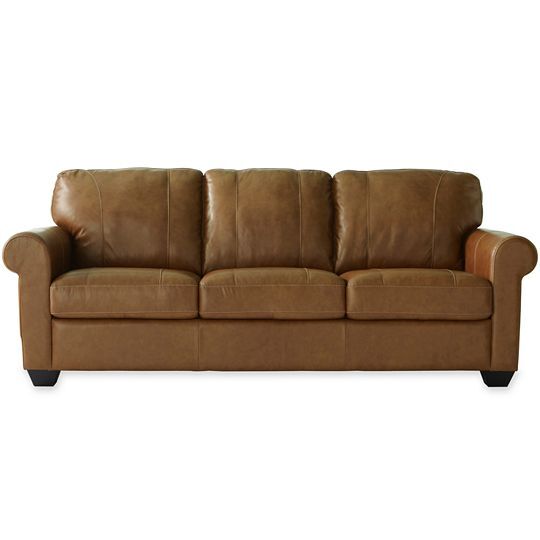 Leather has been used throughout history by many civilisations as clothing, furniture, and even walls for homes. Over time, leather preservation was discovered and continued to be developed to make it easier to work with. Leather grew to be a valued commodity worldwide over the centuries and began to be used in furniture. A leather sofa, whether new or vintage, has therefore become a prized possession in many living rooms.
When buying vintage leather sofas, individuals need to know the difference between vintage and antique leather, as well as the different types of leather that can be found in the marketplace. It can also help to understand that a vintage-style leather sofa is not a true vintage piece. To keep a leather sofa in good condition, one can avail of tips that can help with repairing the leather and wood components in a sofa.
Vintage leather sofas may be found at local retailers or private yard sales. However, one can find a wider range of choices online at auction websites such as eBay.
The Difference Between Vintage and Antique Leather Sofas
Knowing the difference between vintage and antique furniture helps buyers determine what they want when decorating. For a piece of furniture to be considered an antique, it needs to be older than 100 years. Vintage furniture is categorised as vintage when it is older than 20 years or part of a significant era. Even if an item is older than 100 years, it can still be considered vintage instead of antique if it is from a specific time period.
Types of Leather
Leather comes from the hide of animals such as sheep and cattle as well as sea creatures. Regardless of the animal that the leather came from, the processed hide is turned into one of three types of leather.
Aniline Leather
Aniline leather is a natural type of leather, but it is also easily damaged in the case of spills or stains. It is unprotected and, therefore, absorbs liquids fast and scratches easily. Colour variation in the leather, as well as scars or insect bites show easily on aniline leather. To protect aniline leather, it is recommended that a protective product such as a spray or a plastic sofa cover be used.
To clean aniline leather, one should not use household cleaners. It is also not recommended to spot clean, rub on the leather, or use excess amounts of water or liquid cleaner on it. Doing so can lead to staining or damaging the integrity of the leather itself.
Pigmented Leather
Pigmented leather is coated with a layer of polymer coating which seals the pores in the leather. The polymer coating adds protection to the leather against spills that would greatly affect aniline leather. However, because of the protective coating, the natural markings from leather are less visible or completely covered. The coating may be embossed or pressed to add the appearance of more natural markings. One of the downfalls to pigmented leather is that it is less able to breathe since the pores are sealed and the leather can retain heat.
Pigmented leather is easier to clean than aniline or semi-aniline leather since it does not absorb liquid from spills. Vintage leather sofas made with pigmented leather need to be cleaned or wiped down on a regular basis to remove potentially damaging body oils. If body oils remain on the surface, it can cause cracking in the polymer coating.
Semi-Aniline Leather
Semi-aniline leather is between aniline and pigmented leather in terms of both protection and natural appearance. The polymer coating is very fine so the natural markings can still show. Liquid can still be absorbed by the leather, but it takes longer and can be cleaned up quickly.
Tips on Buying a Vintage Leather Sofa
When purchasing a vintage leather sofa, it is important to remember that quality, rather than brand, should be the primary consideration that influences the choice of sofa. Just because a vintage leather sofa is made by lesser known company, it does not mean that the sofa is of lesser quality than that from a well known brand name.
If one is interested in purchasing vintage-style furniture, remember that this type of furniture is considered to be replicas of authentic pieces and are younger in age. Vintage-style pieces are made from new material to model furniture from specific popular eras.
As individuals purchase sofas, they need to look out for furniture made from inferior materials, whether they are vintage-style or authentic. Sofas from individual eras may be considered vintage, but they might nevertheless have been made from low quality materials.
Another factor to consider when purchasing a vintage leather sofa is its size as well as the location where it is to be placed. Be sure to take accurate measurements of the location as well as the sofa one is interested in, to make sure that the location can accommodate the sofa. An individual who has other furniture in the room already is well advised to consider finding a vintage leather sofa that complements the existing pieces. If uniformity is not an option, then one may choose sofa covers or couch throws and pillows that might make the furniture match more.
Repairing Minor Defects in Vintage Leather Sofas
As the age of a vintage leather sofa increases, its quality tends to decrease with use. Scratches on antique material can be repaired as long as they are not too deep. The following chart discusses how one may use specific materials to cover or repair a defect, whether it occurs on the leather or on the wood in a vintage sofa.
| Item for Wood Repair | How to Use for Wood Repair |
| --- | --- |
| Black Tea | Steep plain black tea until the colour of the tea closely matches the wood. Use a cotton swab or small paintbrush to lightly apply the tea to the scratch, wiping excess liquid away. |
| Wax Crayons | Wax crayons are made in many colours to help repair scratches in wood by filling the scratch. Blend the wax in by smoothing with a finger. |
| Instant Coffee | For darker woods, a thick paste made of fine coffee grounds can be rubbed into the scratch. |
| Item for Leather Repair | How to Use for Leather Repair |
| --- | --- |
| Olive Oil | Light scratches can be repaired by gently rubbing olive oil in a circular motion with a cotton cloth. |
| Water and Heat | For stretched material, use a cotton cloth to gently rub water into the area until damp and then use a blow dryer to move heat over it until dry to shrink the leather. |
| Dye | For discoloured leather, use dye manufacturer's instructions to mix dye and a cotton cloth to rub dye into material. Coat lightly and allow to dry before use. |
The preceding table discusses ways individuals can repair minor defects in leather and wood. Deep scratches or major defects like tears should be fixed by a professional. Remember that if the vintage leather sofa has defects, the defects may be used in negotiating a lower price for the sofa since repairing can involve additional expense.
Buying Vintage Leather Sofas on eBay
When you are ready to buy a vintage leather sofa, you may begin by looking online at an auction website such as eBay. Starting on eBay's home page, begin your search using the keyword search box by looking for "vintage leather sofa". Take advantage of the search box to enter something more specific that you may be looking for, whether it is a brand name sofa or a specific colour of sofa.
A vintage leather sofa can be an expensive investment, so individuals should do thorough research on what they want first. For individuals with questions on a piece of furniture, eBay makes it easy to contact the seller. Most questions can be answered on the product page, however. Users can find detailed seller ratings and customer feedback on seller profiles so that they feel comfortable purchasing from a specific seller on eBay. A potential buyer can also save on delivery costs by picking up an item personally if it is located nearby and the seller allows it.
A user with an account on eBay can change the way he or she views the account and customise alerts from eBay about items.
Conclusion
Leather has been used to clothe individuals as well as provide bedding and shelter for centuries. Over time, as the method of tanning hides improved and they became more durable and increased in quality, civilisations began using leather to make furniture. A vintage leather sofa is a piece of furniture that is over 20 years old or from a specific period of time. A vintage leather sofa can be a treasured item that can enhance the look of a room.
An individual looking for vintage leather sofas has a few options to choose from. Aniline leather is a natural leather, while pigmented leather is not natural and is covered in a layer of polymer coating. Semi-aniline leather has a polymer coating but is thinner and does not entirely protect furniture from stains. It is recommended that a prospective buyer do research prior to a purchase instead of simply relying on a name brand, since even name brand furniture can lose quality over time.
With its expansive catalogue, eBay represents an excellent online resource where one can find the vintage leather sofa that one is looking for in order to enhance a living room.