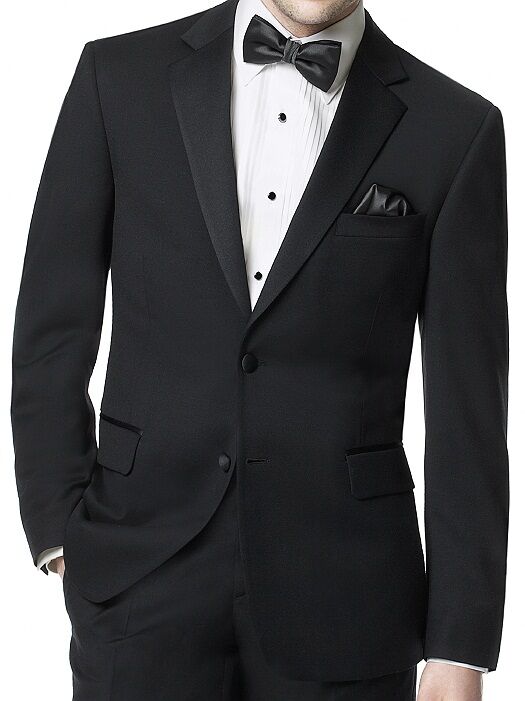 A tuxedo, or dinner jacket, is an item of men's formal evening wear, normally featuring a black, satin, wrap around shawl collar and satin lapels. Although dinner jackets are often purchased new, for many people there is something especially thrilling about wearing a piece from the tuxedos heyday in the 1920s or 1930s. For these men, dinner jackets from the mid-20th century are seen as more stylish and classier than modern pieces.
Although it is possible to pick up a real bargain when shopping for a vintage tuxedo, before starting the search it is useful for the buyer to learn little about the market. Understanding what is available, and knowing the best places to look for a vintage dinner jacket, will certainly increase the prospective buyer's chances of success.
By their very nature, as they are pre-owned items, good examples of vintage dinner jackets are difficult to track down. However, many buyers find that they have success searching for vintage dinner jackets online. Online retailers such as eBay offer a wide range of vintage tuxedos to choose from.
Advantages of a Vintage Dinner Jacket
The 1920s and 1930s are often looked back on nostalgically as being the height of sophistication and refinement, and the image of dressing up in black tie for dinner or a cocktail party is associated with those decades. With today's hectic lifestyle, few people have time to dress for dinner on a daily basis. This makes dressing for dinner or a cocktail party a rare treat, and many men relish the opportunity to don a tuxedo when the opportunity arises. It is probably for this reason that vintage dinner jackets are so popular, since they capture the essence of the decadent mid-20th century better than any modern jacket can.
There is also the advantage of cost. For those consumers who know what to look for, and where to do the looking, it is sometimes possible to pick up a sophisticated, beautifully crafted, handmade dinner jacket, for a fraction of the cost of buying the same tuxedo new.
Different Types of Vintage Tuxedos
Vintage dinner jackets can vary in their styling. As well as the distinction between single and double breasted, there is also a choice of plain black or plain white. For those planning on attending a very formal occasion or a ball, there is the option of tails.
Single Breasted Tuxedo
Classic dinner jackets are solid black, single breasted, with a wrap around shawl collar and a stepped lapel. The collar and lapels is faced with black satin, and the two buttons at the front and four on the cuffs is also faced with black satin. This style of dinner jacket is timeless and sophisticated, having been worn throughout the later part of the 19th century up to the present day. It should be worn with a black bow tie and white, stiff fronted shirt with a wing-neck collar.
Double Breasted Tuxedo
Increasingly popular from the 1930s onward, the double breasted dinner jacket has two flaps of cloth drawn left over right and closed with two out of the six buttons on the front. A further jigger button is invisible, but keeps the flaps properly aligned.
Apart from this style difference, and the fact that a double breasted tuxedo sports a peaked lapel, the double breasted follows a similar format to the single breasted, being solid black, or occasionally white, and having lapels and buttons faced in black satin.
Flamboyant Styling
These basic styles were modified in the 1970's and 1980's, by the addition of flamboyant touches such flares, braiding around the lapels and pockets, oversized lapels, the use of shiny polyester materials, and even velvet. These touches are a matter of taste and preference. For some they are a definite bonus, recapturing the colour and glitz of an ostentatious age.
Considering Different Materials
Whereas modern dinner jackets are likely to be a wool-polyester blend, authentic vintage pieces will not include any synthetics, unless they are post-1945. Even then, until the 1960's at least the most common cloths were all natural fibre.
Wool
Woolen gabardine or serge are the preferred candidates for a vintage dinner jacket. Mohair is another popular choice. A bespoke vintage jacket may well not have any label at all to reveal which cloth it is made from. A gentleman discussed the cloth with his tailor, and left it at that. Post-1945, mass produced diner jackets are more common, and some of these include wool-polyester blends.
Silk
Silk on its own was not the preferred cloth for a dinner jacket, but a silk-wool or silk-cashmere blend was popular.
Polyester
As discussed above, post-1950 vintage dinner jackets may include polyester. However, it was not until the 1960s or 1970s that polyester or polyester blends were used widely in this type of formal wear.
Velvet
Velvet was sometimes used for dinner jackets in the 1970s and 1980s, but properly speaking a velvet coat is a smoking jacket, not a dinner jacket. Ultimately though, it is a matter of preference.
Considering Authenticity
Vintage dinner jackets may either be genuine 20th-century pieces, or they may be modern reproductions. There is nothing wrong with a modern reproduction, as long as it follows the correct style. However, for some buyers it is important that they get their hands on an authentic 20th century item, and for these buyers it is helpful to be able to spot the difference.
Dinner Jackets Made Before 1950
Most if not all pre-1945 dinner jackets would have been tailor-made, probably bespoke pieces. These will readily be identifiable as the name of the tailor may be found somewhere inside, possibly on a small sewn in flash.
Labels
There is unlikely to be anything stating the size of the jacket, and the lining will be hand cut and sewn. This will look less perfect than a machine cut garment, but the stitching should be even, closely spaced and very neat. A buyer will certainly not find labels such as dry cleaning labels, washing instructions, or other modern paraphernalia.
Another good test of authenticity is to see whether the cuff buttons can be opened. A tailor made coat should have at least two on each side that can open.
Tuxedos Made After 1950
For post-1950 vintage dinner jackets, it becomes more difficult to judge authenticity. However, a bespoke dinner jacket can usually be recognised whichever period it is from, while the labels in a mass produced item will have a distinctly old fashioned look to them. They will certainly refer to inches rather than centimeters, are less likely to have dry cleaning or complex washing instructions, and will often refer to brand names which are no longer available.
Shopping for a Vintage Tuxedo
Many people feel that vintage dinner jackets have an indefinable quality which modern mass produced articles lack. The style, cut, quality of cloth and workmanship are often superior. Finding a vintage dinner jacket which has survived the decades in good condition is not always easy, however.
Most vintage dinner jackets come to light when families clear out old wardrobes before moving house, or when long forgotten trunks or suitcases are found in a loft and the contents sold off. This means that jumble sales, charity shops, and even car boot sales are better places to look than the high street.
Because of the effort involved in tracking down an authentic vintage dinner jacket, many potential buyers settle instead for a modern version. However one advantage of the growth in Internet shopping, is that vintage jackets can now be found relatively easily, online. Internet sites such as eBay sell a good selection of vintage jackets. Buying online from eBay takes the time and hassle out of the process.
Buying a Vintage Tuxedo on eBay
If you are thinking of buying a vintage dinner jacket on eBay, start your search at the eBay homepage. Each page on the eBay site has a search bar. Enter a simple phrase into this search bar describing what you are looking for. 'Vintage dinner jacket' or 'Vintage Tuxedo' are sufficient in this case. Either term will bring up a page with many listings from sellers with vintage men's evening wear to offer. You can narrow the listings down by refining your search, specifying details such as the size or colour you require.
Browse the listings until you find one which appeals. Study the images and the description carefully, to see if it matches your requirements. If you see a dinner jacket you like and want to know more about it, you can contact the seller through the contact link in their profile. If you do not find one that matches your requirements, you can broaden your search to include other eBay sites such as the United States.
There are two ways to buy items on eBay. Either you can take part in an auction, or you can buy the item at the listed price. The seller specifies which method is being used in the item description.
To take part in an auction, or to buy an item at its listed price, you first need to register as an eBay member first. Registration is free.
Conclusion
Dressing up in black tie for a formal dinner or an evening cocktail party is an exciting occasion. People often like to make the most of the experience by wearing genuine, vintage evening wear, which is perceived to have more style and more class than modern equivalents. Tuxedos from the 1920s to the 1970s or even 1980s are especially popular. The earlier dinner jackets would probably be handmade and of very good quality, whereas the later ones would often be manufactured, and flamboyant in their styling.
Finding authentic vintage evening wear is not easy, as the supply is limited to those few items which have managed to survive the decades in good condition. Charity shops and jumble sales may occasionally turn up bargains, but much time will need to be spent searching for them. These days, buying vintage formal wear online is much faster and easier. eBay has a wide selection of vintage tuxedos, of different styles and at range of prices.