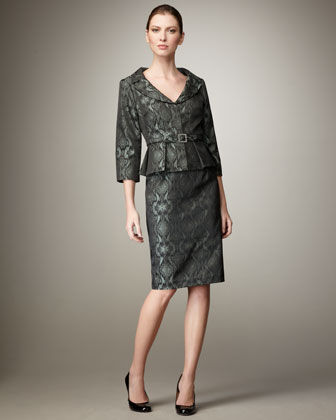 Since the 1660s, women in the West have worn suits consisting of a skirt and jacket set, whose practicality also made them ideal for travel and other daytime wear. Walking suits appeared in the late nineteenth century and, along with riding suits, they reflected current trends in sleeve and skirt fashions. With the invention of the bicycle, trouser suits were introduced as practical wear for ladies as they cycled. When women emerged as a part of the workforce at the turn of the twentieth century, women's suits were seen more and more as the everyday staple in the feminine wardrobe. Through the twentieth century, changes to the woman's suit reflected the styles and innovations in fashion.
Today, vintage suits can make a bold fashion statement, carrying the elegance of past eras into contemporary style. A stylish women's vintage suit, when in a cut that flatters her figure, may be mixed with other contemporary elements for a classic, beautiful look. Many vintage garments have the advantage of being carefully made in quality materials, setting them apart from mass-produced contemporary clothes. When shopping for vintage suits, women should know what to look for. The process involves some savvy, but can be exciting and rewarding, particularly once you've found a suit in a gorgeous vintage style.
Women's Suits Through the Eras
Vintage clothing is usually described according to its era, usually denoting a decade or dominant fashion trend. Women's suits emerged as everyday wear for urban working women in the first half of the twentieth century, and over the subsequent decades designers played with its structure and style.
Coco Chanel defined a new direction in women's fashion in the 1920s with her androgynous designs in simple lines. In the 1930s, jackets tended to be broad through the shoulders, cinched at the waist, and cropped fairly short. Skirts cut on the bias flattered virtually every figure. Suits from this era are generally in durable fabrics like wool or tweed, and come in rich autumnal colours or soft pastels.
During the years of World War II, style took a more conservative turn, with boxy jackets and minimal decorative detail due to wartime fabric rations. The second half of the decade and the early 1950s marked the beginning of the New Look, with Christian Dior's exaggerated hourglass designs featuring padded shoulders, miniscule waists, and full skirts. Dior's A-line skirts were also popular. In the 1950s, Balenciaga introduced another shape, the trapeze line. Trapeze tops and coats went straight out from the bust, without tailoring at the waist or hips. Chanel suits in this era featured boxy, and sometimes collarless jackets. Two-piece dresses were popular at this time, and cocktail suits in lightweight, elegant fabrics were worn for semi-formal occasions.
The early 1960s saw a continuation of the 1950s conservative style, while the emergence of Mod and hippie fashions dominated the styles of the middle and latter-half of the decade. André Courrèges introduced the trouser suit in 1964, but it took time before it was accepted as formal business wear. In 1966 Yves Saint Laurent's "Le Smoking " suit created a sensation with its androgynous style, and has been iconic ever since. One note about textiles is that in the 1960s, as clothing began to be more mass-produced, cheaper, less durable fabrics became more common.
In the 1970s, skirt and trouser suits appeared in softer fabrics with flowing lines, sometimes with a floppy tie. The 1980s was an era of exaggerated shapes and styles, reflected in angular, double-breasted power suits with heavily-padded shoulders.
Vintage Women's Suits to Match Different Body Types
Given the variety of cuts and styles, there are vintage women's suits to match all different body types. When shopping for a vintage suit, it helps for women to keep in mind their figure type, and look for styles that bring out their best features. The following chart outlines four basic body shapes, and recommended styles for them.
| Body Shape | Description | Vintage Suits to Look For |
| --- | --- | --- |
| Pear | Hips and thighs wider than shoulders; slender through the bust and waist | A-line skirts; long skirts; jackets with structured shoulders add more volume on top; avoid pleated skirts |
| Apple | Hips narrower than waist and possibly shoulders; no defined waistline; may have slender, shapely legs | Shift dresses with matching jackets; suits that do not emphasise the waist, such as Chanel boxy suits, and other 1930s, 60s, and 70s styles; shorter skirts show off shapely legs while lower necklines flatter the bust |
| Hourglass | Hips and shoulders equal size, with clearly defined waist | Cropped, boxy jackets; waist-emphasising cuts; full skirts; pencil skirts; avoid suits that do not define the waist |
| Rectangle | Hips and shoulders equal size; slender with little definition at waist | Wide-shouldered tops with cinched waists add curves; straight, androgynous styles from 1920s and 1960s; anything with a belted centre |
Every figure has its strong points, and the best clothes highlight them while drawing attention away from flaws. Choosing a suit that is styled to flatter one's individual shape can make a big difference in the way it looks and feels.
Vintage Garment Condition
Condition is an important consideration when shopping for any vintage clothing. There are several things to look for when assessing a vintage garment's condition.
Buying a vintage suit in person, shoppers have the chance to inspect it first-hand. When purchasing online, however, they should carefully read the description and clarify any questions with the seller. Responsible vintage clothing sellers adhere to descriptive terms that are relatively standard across the industry. The following chart outlines these terms.
| Garment Condition | Description |
| --- | --- |
| Mint | Garment is flawless, in perfect condition, just as it was when first made; often means that it is unworn; may have original tags attached; extremely rare to find mint vintage clothing |
| Near-Mint | Garment has probably been worn once or twice; condition is complete in all regards; many wedding dresses, ball gowns, and cocktail dresses are near-mint |
| Excellent | Garment has been worn, but well cared-for; its construction is entirely intact; if buttons or hardware are missing, they can be replaced |
| Very Good | Garment is wearable, though it has some flaws; may be lightly stained or have a construction flaw |
| Good | Garment is wearable, but can no longer be restored to excellent condition due to deterioration over the years |
While conditions such as fair and poor are feasible, they indicate that an item is unwearable, in which case it is not advisable to consider it for purchase. The garment's condition should be reflected in the price. Shoppers should expect to pay more for items in top condition.
Sizing for Vintage Women's Suits
Manufacturers' sizing in the past differs from today's sizing standards. As the "average " body shape has changed, sizing has generally gone down; for example, a woman who may have worn size 12 in the past might now wear a size 10. Of course, sizing has always depended on the manufacturer as well, so there are no hard and fast rules. Vintage stylists recommend rounding up one, sometimes two sizes when shopping vintage, but this is just an estimate. Always try on the garment when possible. Those who are buying online should take their own measurements, and ask the seller to specify the suit's measurements if they have not done so already. Measurements needed include: bust, waist, hips, shoulder width, length from neck down, sleeve length, and length from waist for skirts, or inside leg for trousers.
Value of Vintage Women's Suits
Vintage clothing, like cars, tends to depreciate with age and wear. The exceptions to this rule are certain rare, iconic, and designer items, which, if bought in excellent condition and well looked after, can be regarded as investments. For other items, it can be difficult for beginning vintage shoppers to know what to pay for an item they love. Informing themselves about the world of vintage clothing can help a good deal. There are many books on vintage fashion, and numerous resources on the Internet. Focusing on specific periods and learning more about designers and trends helps them identify rare and valuable finds, as well as avoid imitations.
How to Buy Vintage Women's Suits
Women shopping for vintage suits can choose between buying online or buying in person. Vintage shops, second-hand shops, and markets can be lots of fun to browse, and the shopper has the advantage of being able to look at the garment before purchase. They should feel the fabric, look at it in the brightest light available, sniff it for any odors, and check seams, zips, buttons, and hooks. Of course, they should try on the suit to make sure it is the right fit. Checking the shop's return policy is also advisable.
Shopping online for vintage suits, shoppers can take advantage of the tremendous selection at their fingertips, whether through Internet vintage sellers or auction websites like eBay. However, buying vintage items online requires strong communication with the seller to ensure a successful purchase. There should be ample product information, and the seller should answer any inquiries quickly and thoroughly. Some vintage items are sold by people simply clearing space in their closets without much knowledge about the items themselves. There is no reason to avoid these transactions, but buyers should be aware that they may not be getting full or accurate information, and should think twice before paying a lot of money for an item.
How to Buy a Vintage Women's Suit on eBay
For those who want to shop for their vintage women's suits online, eBay has a wide selection from which to choose. You can begin by entering keywords like "women's vintage wool suit " in the search bar on eBay's home page. eBay also lets you narrow the listings by size, era, brand, seller location, and more. Additional information on how to find what you want can be found at eBay's search tips page. If you still have not found what you want, check out eBay shops.
Before You Bid
As mentioned above, pay particular attention to product description. Items labeled "vintage style " are not genuinely vintage. Note details such as condition, measurements, material, and what the seller's return policy is. If you have questions about the suit, you can ask the seller a question. It also helps to read a seller's feedback, to see what comments previous customers have left. A high feedback rating and positive comments left by those who have purchased vintage clothing are good indications that the seller is reliable and knowledgeable. Top-rated sellers have earned their status by consistently offering the highest level of customer service.
Conclusion
Women's suits went through many transformations through the twentieth century. Finding the right vintage suit takes a little know-how, so would-be vintage shoppers should educate themselves before heading for shops, online or off.
There were many innovations in twentieth century women's fashion, and the suit reflected these shifts. It went from the androgynous Coco Chanel shapes of the 1920s to the hourglass lines introduced by Christian Dior in the late 1940s. Boxy jackets, A-lines, and trapeze lines eventually gave way to the trouser suit, and softer styles in the 1970s. 1980s suits were a return to lines, this time exaggeratedly so, with overly padded shoulders and stark geometrical cuts. Women have their choice when it comes to vintage suits, but they should keep in mind their own figure, and what complements it best.
Knowing how to shop for vintage items also involves an awareness of trends and designers, and what to look for in a quality garment. Item condition is very important in terms of wearability and, to some degree, collectibility. Informed vintage shoppers can enjoy the adventure and find a vintage suit that will look beautiful for years to come.