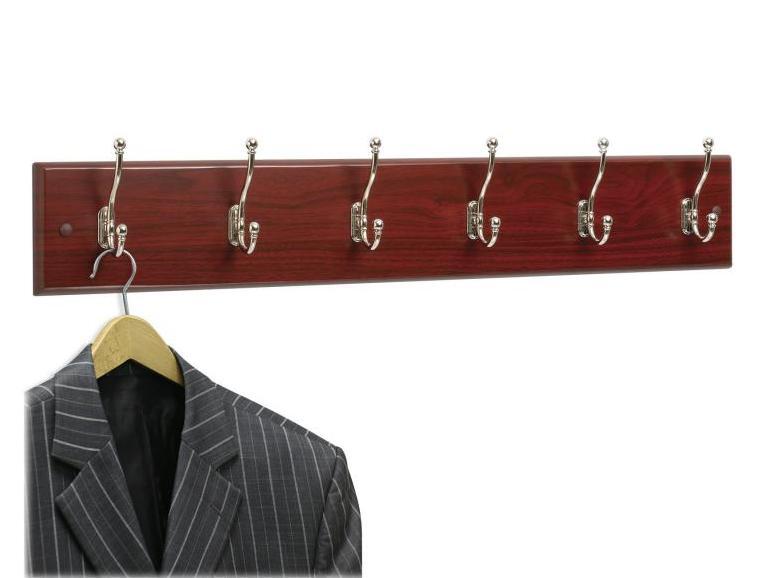 Wall-mounted coat hooks are functional household items that are found in a variety of places, from closets to entryways to bedrooms. Coat hooks help organise a space by providing a convenient location to hang clothing and accessories, including coats, jackets, scarves, and purses. They are available in a range of styles and finishes, each catering to specific design preferences and storage needs.
About Wall-Mounted Coat Hooks
Wall-mounted coat hooks are used to hang clothing, from outwear to accessories such as bags, purses, hats, and backpacks. Coat hooks are generally alternatives to standing coat racks. They are typically affixed to a wall or door using one or more screws. They can also be mounted on decorative backboards to add flare or be affixed on rails or panels as part of a coat rack. Wall-mounted hooks can be used to hang one article, or multiple hooks can be arranged to hang several items in one spot. As a result of their utility, wall-mounted coat hooks are found in several types of rooms and properties. Although they are typically located at a doorway or entryway, wall-mounted coat hooks are also placed in closets, behind doors, and in lockers. They are found in bedrooms, kitchens, bathrooms, and change-rooms in residential and commercial properties alike, including restaurants, clothing shops, recreation and fitness centres, hospitals, and schools
Choosing Wall-Mounted Coat Hooks
The choice of wall-mounted coat hooks depends on a range of factors, including available space and price, as well as the design, material, and finish of the hook. In addition to considering available wall space, the number of hooks used will typically depend on individual storage requirements. The number of hooks should reflect the anticipated number of users, such as the number of family members living in a household. If several coat hooks are being mounted to a wall or door, consideration should be given to purchasing a wall-mounted coat rack to avoid overcrowding a space with multiple hooks.
Types of Coat Hooks
Coat hooks feature a combination of prongs to hold one or more items. Hooks can be screwed into place on a wall, rail, or panel. They can also be fixed under a shelf. The table below provides information on various types of coat hooks.
| Type | Description |
| --- | --- |
| Single | Single coat hooks have one prong. These units the hanging of one article of clothing or other household item, such as a jacket, hat or scarf. |
| Double | Double coat hooks feature two prongs capable of holding more than one article. Prongs are arranged horizontally (side-by-side) or vertically (one prong above the other). When arranged vertically, the top prong is typically longer in order to hold larger items, such as a coat. The shorter prong is then used for smaller or lighter items, such as a scarf. |
| Triple | Triple coat hooks are designed with three prongs and hold at least three articles. Prongs are generally arranged with a longer hook placed above two smaller prongs. Heavier articles are placed on the top hook, while lighter articles are hung on the lower, shorter hooks. |
| Safety-Release Hook | Safety release hooks automatically drop and release items that exceed the recommended weight the hook is designed to hold. After an overweight item is released, the hook resets to its original upright position. |
| Flip Hook | Flip coat hooks are moveable. They can be flipped up into a groove in the wall or on a panel in order to create a streamlined look when the hook is not being used. |
Wall-Mounted Coat Hook Designs
The following table provides an overview of the common designs for wall-mounted coat hooks.
| Designs | Description |
| --- | --- |
| Traditional | Traditional and antique coat hooks typically evoke a sense of past. They can also appear rustic and weathered, although generally they feature a polished finish. Designs for traditional hooks are typically decorative, with noticeable curved or ball tips. |
| Contemporary | Contemporary coat hooks are often refined and subtle, with straight lines and modern brushed or matte finishes. Polished and brushed chrome and stainless steel finishes are also popular choices for contemporary coat hooks. |
| Decorative | Decorative coat hooks appeal to niche design preferences. They can be playful with colourful designs or bold with innovative silhouettes. Examples include paper-clip and animal-shaped hooks, or themed hooks such as nature or children's themes. |
Wall-Mounted Coat Hook Styles
The choice of coat hook style often relates to design preferences. The curvature and tip of a hook often can create either a traditional or contemporary look. The following table outlines the common styles for coat hooks.
| Style | Description |
| --- | --- |
| Curved | Curved tipped coat hooks are both decorative and functional. They are designed to properly secure items and prevent them from sliding off. While more contemporary hooks may feature subtle curves, traditional or heritage styled hooks are generally more distinctively curved tips. |
| Straight | Straight coat hooks are linear, with no or very little curvature. Many modern and contemporary coat hook designs feature straight prongs and tips. |
| Ball Tip | Ball tipped coat hooks feature a sphere or other distinct shape at the end of the hook. The ball can be a seamless feature shaped from the prong or a decorative shape made of plastic, wood or another material added to the tip of the prong. |
Wall-Mounted Coat Hook Finishes and Materials
Typically, coat hooks are constructed from steel, cast iron, aluminum, ceramic, wood, plastic, or zinc die cast material. Polished or brushed finishes add character and sheen to the coat hook. The following table provides some information on common finishes used for wall-mounted coat hooks.
| Material | Description |
| --- | --- |
| Brass | Brass finishes are a popular choice for wall-mounted coat hooks. Brushed finishes produce a traditional look, while a polished finish evokes a more elegant feel. Antique brass finishes feature a more weathered and aged look. |
| Bronze | Bronze finishes create both traditional and contemporary looks. Coat hooks with oil-rubbed bronze finishes are often used to complement a wooden panel or backboard where the hook is affixed. Venetian bronze finishes offer an elegant finish, while a weathered finish creates an antique or rustic appearance. |
| Cast Iron | Cast iron coat hooks evoke a rustic and heritage feel. They are often shaped into stunning decorative pieces, including horseshoes, flowers, branches and animals. |
| Chrome | Chrome coat hooks are typically found in bathrooms and kitchens, in addition to entryways and closets. While polished finishes create elegant and sophisticated appearances, brushed finishes are subtler in appearance. |
| Nickel | Nickel coat hooks can feature a refined and dulled satin or matte finish. Antique finishes create an old world appearance with darker yet warm tones, while brushed nickel finishes evoke a more contemporary feel. |
| Stainless Steel | Like other metal and alloy wall-mounted coat hooks, stainless steel hooks often appear with a polished or brushed finish. While polished finishes appear elegant and refined, brushed finishes are more subtle. |
| Wood | Wood coat hooks can create traditional, contemporary, rustic or elegant looks. Commonly used wood and wood finishes include oak, cedar, pine, and mahogany. Wooden coat hooks can also be finished with coloured paint to add character and flare, or additional sheen for a more elegant finish. |
Choosing a Location for a Wall-Mounted Coat Hook
Where to locate a coat hook will depend on wall space. If a wall near an entryway is already occupied with decoration, an appropriate place for a wall-mounted coat hook could be inside a closet or behind a door. Generally, coat hooks are mounted at just under 2 metres in height, although the positioning will depend on individual users. For example, a household with small children may have coat hooks placed at a lower height to allow children to hang their coats or jackets. To ensure a wall or space looks balanced, a hook should be aligned with any other decorative items on a wall, such as paintings, mirrors or pictures.
Conclusion
A wall-mounted coat hook can be a visually appealing and functional addition to any space. Buyers should be aware of each style and how a coat hook can complement a space and meet individual storage needs. Finishes, materials, colours and shapes of individual coat hooks will achieve different design objectives, from a traditional and rustic feel to a modern and sophisticated look. Finding the right coat hook will often depend on personal storage needs and style preferences.