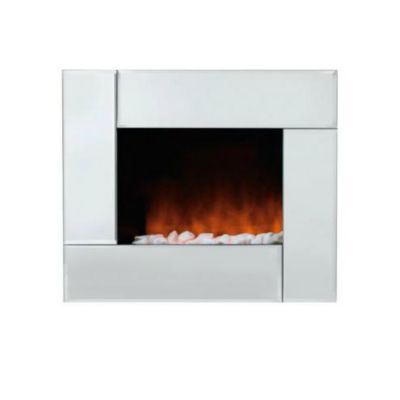 Sometimes, having a cosy warm fire can be an arduous task. Some are willing to pay the price of lugging logs and goal in from the bunker, and giving the fire constant attention to keep it burning away. For those who don't think that this is worth the hassle a gas fire can be a perfect complement to any home, providing the much loved warmth and atmosphere only provided by a fire, but without the associated labour.
About Gas Fires
A gas fire is one of the most efficient options available for heating the rooms of a house, especially if the house already has a working gas supply. For homes without this gas supply installing a gas fire may pose some complications, but for those with gas already supplying a boiler or cooker, a professional gas fitter can take as little as a few hours to connect the new fire to the supply.





Advantages of Gas Fires
| Advantages | Description |
| --- | --- |
| No Floor Space Required | Wall mounted gas fires by their nature will not take up any space on the floor, as other fireplaces do. This has a dual advantage: firstly, these fires are a perfect addition to an already cramped room where any floor space available is precious, and secondly these fires can be replaced at will without having to tear up the surrounding carpet or floorboards to do so. |
| No Carrying Fuel | Since these fires operate on gas, the only fuel they need will come right from the mains gas supply. Wall mounted gas fires are, therefore, perfect for the elderly who may have trouble carrying large bags or coal or logs, or those with young children who may want a fire with as little associated maintenance as possible. |
| Incredible Versatility | Not only are wall hung gas fires perfect for any room where floor space may be an issue, their versatility makes them perfect for any room no matter what the decor scheme. Whether a big or small fire is required, a modern or rustic option, or even a futuristic or traditional setup is desired, the incredible flexibility of wall hung gas fires make them well suited to becoming a main feature in any room. |
| High Heat Production | Gas fires produce a surprising amount of heat while operational, effortlessly dispelling any concerns about the approaching bitter winter. Their radiant glow is able to provide ample heat to maintain a comfortable environment in the room in which they are situated. |
| Availability Of Flueless Fires | Flueless gas fires offer a great advantage to those who reside in an apartment, or don't like the idea of installing a chimney to serve a fire in their front room. Flueless fires have made great advances in recent years, and now almost parallel fires incorporating a flue in terms of safety. There are, however, some hazards associated with flueless gas fires which should be kept in mind when conducting research into this option. The main hazards of flueless fires are outlined in a later section. |
Choosing A Gas Fire
It is important to keep the following points in mind when deciding on a gas fire.
Flue
When investigating gas fires, the big decision on everyone's mind is whether to have a glass front shielding the fire, or whether to have an open flame instead. Although some consider this simply a matter of aesthetics, there are some important safety concerns associated with this decision. These concerns are outlined in the Health Concerns section below.
Fire Surround
A wide variety of fire surrounds are available to suit any home, so whether a metallic finish or a stone surround is required, wall hung gas fires are capable of fitting in well with almost any theme possible. It is worth spending some time to investigate the broad array of fire surrounds available.
Sustainability
While some believe that since natural gas is a fossil fuel it should be avoided at all costs, many hail natural gas as the paving the way towards the green energy revolution. Natural gas is now available in large quantities for very low cost. The relative simplicity of extracting natural gas from the ground allows the processing to consume much less fuel than digging for coal or pumping oil from beneath the sea. Natural gas is, therefore, even greener than coal or oil right from the off. Natural gas combustion also operates more efficiently than coal or oil which, despite the extensive processing they undergo, are still relatively 'dirty'. So for those concerned about the effect natural gas fires are having on the environment, there is no reason to worry.
Health Concerns
There is a potential serious risk associated with flueless wall hung gas fires. There is a potential for toxic by-product production if the fire operated incorrectly, or if the safety protocols outlined in the manufacturer's instructions are not strictly adhered to. To combat this slightly elevated risk, many of the flueless fires available today incorporate a catalytic converter. In order to pass the products of the fire through the converter, the fire front must be covered in glass, and the gases passed through the converted before they can be released into the room. This system has the advantage of ensuring only completely harmless and inert gasses are circulated back into the room, but some consider covering the flame with a sheet of glass unattractive, and prefer the more open fires. Although open fires have a slightly greater associated risk if used incorrectly, the vast majority who operate these products, according to the manufacturer's instructions, are able to enjoy gas fires for years without any problems. The toxins produced by an incorrectly used gas fire (including carbon monoxide nitrogen dioxide) are due to incomplete combustion of fuel. Complete combustion yields the harmless products carbon dioxide and water, but incomplete combustion can be a dangerous process. The main hazardous products are gaseous, and so adequate ventilation is critical. Ensuring the fire is not operated overnight is also a wise idea. A good oxygen supply is crucial to maintaining complete combustion, and so installing some kind of ventilation system in rooms prone to poor air flow is a sensible precaution. For some, though, making sure the fire is well ventilated is a problem since during the winter months opening a window isn't a viable alternative. Keeping the fire clean is also a key facet of making sure that it is able to operate at maximum efficiency, and therefore safely. Exercising common sense, therefore, is the best way to keep a wall mounted gas fire blazing away, supplying heat to the room while leaving out the toxic by-products generated during careless use.
Conclusion
Wall hung gas fires make a great centrepiece for any room, and can fit any size and decor scheme. Some people let price put them off, but with a little clever shopping it is possible to get a wall hung gas fire for much less than expected. It won't take long to start saving money by utilising the cheap natural gas supply to heat a room, but it is difficult to put a price on the time and effort saved by getting rid of the need for fuelling a laborious coal or wood burning fire. So make sure to look on eBay for the best deals on wall mounted gas fires.