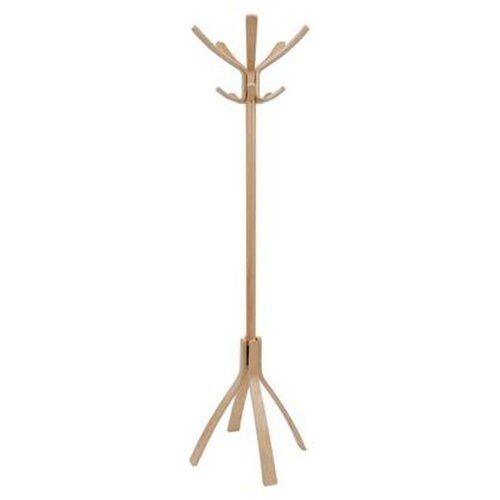 Wooden coat stands are a piece of furniture that will help to bring order to any home. An imposing piece found near the front door of the home, they can come in many shapes, sizes, and styles. They are generally used to hang coats or other outdoor garments on, although they can also be bought to display as a piece of decorative furniture in their own right. Wooden coat stands are available in a range of price to suit every pocket.
About Wooden Coat Stands
Wooden coat stands are designed to hold coats and other outerwear including hats and umbrellas, and they are usually positioned at the entrance of a home so that visitors can hang their clothes and hats up as they enter. Although they are normally found inside the entrance hall, they can also be placed in a porch. Hanging the clothes and hats on a wooden coat stand allows them to dry if they are wet, and the location beside the front door means they are easily passed out to guests as they leave the home. It is not entirely clear when coat stands were first invented, but what is known is that grew in popularity during the Victorian era. While some homes made do with a simple row of pegs on the wall for coats and hats, more affluent homes were quick to purchase a free-standing coat rack for their guests' garments. Coat stands can be made of a variety of materials, but this guide will look exclusively at wooden coat stands.
Popular Types of Wood for Wooden Coat Stands
A variety of different types of wood can be used to make coat stands.
Oak
One of the most popular hard woods for furniture making, oak is a pale wood that is very hard-wearing.
Mahogany
Another hard wood that is very popular in furniture making. Mahogany usually comes in a deep brown colour and historically was a very popular wood for furniture, although it is less popular at the moment for new products.
Pine
A soft wood, pine is usually at the cheaper end of the price range. It is easily carved and takes a stain or colour very well.
Walnut
A rich brown hardwood that is easy to work with, walnut is less popular these days, and it is harder to find in new furniture.
Birch
A very hard wood which is popular on account of its strength and durability. Birch does not take stain or colour well and is more suited to painting.
Different Styles of Wooden Coat Stands
There are different styles of wooden coat stands to consider.
Small, Wall Hung
Comprising of a small row of pegs on a wooden baton, this type of coat stand is designed to be fixed on the wall at eye level and can be used to hang a number of coats on each peg. This type of coat stand is particularly useful where space is limited.
Large, Wall Hung
Similar to the small wall hung stand, a larger style will have the standard row of pegs for coats, but may also have a shelf above the pegs for storing hats, gloves, small bags or other items for outdoor use. Again, this type of stand is ideal for a smaller home where space is at a premium.
Free standing
This style is probably what most people will think of when thinking of a wooden coat stand - a tall single pole with hooks at the top and possibly also a circular section at the bottom for storing umbrellas. These do not take up much space and are a popular choice for office and homes alike.
Coat Stand Including Shoe Rack
This is also a very traditional piece, normally with a square base that incorporates a shoe rack. This style is generally made of four posts that are joined at the base and the top, with a shoe rack integrated at the bottom, and pegs around the top section for coats. It may also include a second shelf at the middle point for hats, gloves or any other outerwear.
Free standing Dresser-Style Coat Stand
A larger piece of furniture, this has the appearance of a French dresser, but without the same number of drawers and cupboards. It will generally have a shelf at waist level which may or may not contain a drawer. Underneath the shelf may be a section for storing umbrellas or a single or double tier shoe rack. The top section of the piece will have hooks for coats and other outerwear and may also contain a mirror. This style is designed to stand against a wall and so will require the necessary area of wall free from radiators or pipes.
Hall Stand Including Seat
The largest type of wooden coat rack, this is a large piece of furniture which generally includes a seat with storage underneath, a mirror and a range of coat hooks. It may also contain a small cupboard or shelf at the top. This would be suitable for a large hall or porch. Again, this is a larger piece that is designed to stand against a wall so will required the necessary area of wall free from radiators or pipes.
Things to Consider When Buying a Wooden Coat Stand
The main thing to consider when buying a wooden coat stand is the size of area available for it. For example, if the space is a small entrance hall or the corner of a living room, then a small compact model will be the most appropriate, either freestanding or a wall mounted option. Conversely, a small compact model will be lost in the space of a grand entrance hall or porch - spaces like these are much more suited to the larger dresser-style or even a model containing a built-in seat. Consideration should also be given to the style of wooden coat stand. A modern design may look out of place in an older property and, likewise, a traditional Victorian stand may not be best suited to a modern property. Also think about how it will be used - if, for example, it is for an office and will be used by a large number of people each day then a practical and sturdy model will be the most suitable choice. If it is for a home, then the style and design can be a higher priority than practicality. If sustainability or environmental concerns are of interest, then the type of wood used to make the coat stand should be considered. Most vendors of new coat stands should be able to provide advice on the source of the wood used product and whether it is from an environmentally sustainable source.
Conclusion
As well as being a practical piece of furniture, a wooden coat stand is a personal statement that reflects the style and design choices of the purchaser. Available in a wide range of finishes and styles, they are a useful and practical addition to any home. Before buying, it is worth spending some time researching all the different varieties available and the different prices for the various options. Time spent looking at all the options before a purchase is made will ensure that the best and most appropriate piece will be bought at the best price. And, once the wooden coat stand is purchased, if looked after carefully, it should last for many, many years of use in the home or office.