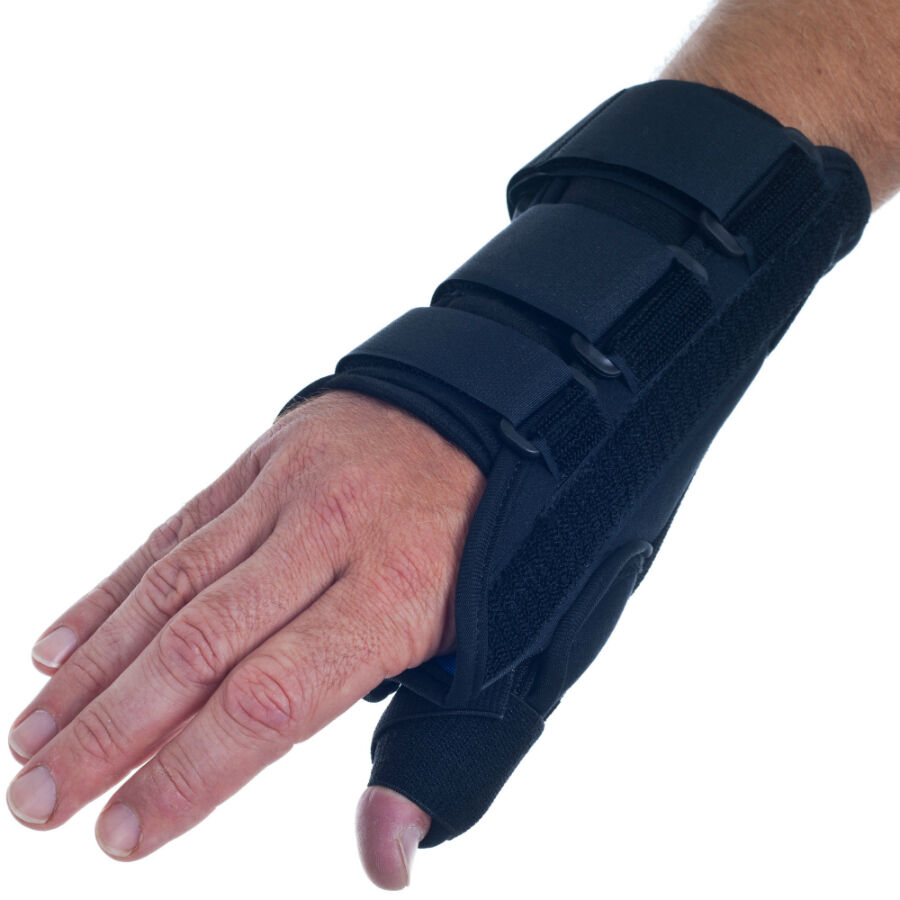 Wearing a wrist brace is a useful and practical way to manage a sports injury, repetitive strain, work demands or an accident injury. They are an excellent complementary medicine to assist in the healing process by offering pain relief and allowing you to continue with everyday life with minimal disruption.
However how do you know when it is appropriate to use a wrist brace or which type will best assist the issue? Whilst it is always advisable to consult a medical professional, research will help in this decision process. This guide will offer some advice to this process of discovery, by offering information about the different types of wrist braces available.
There are various places to purchase a wrist brace. One place that offers a wide selection of a full range of wrist braces is eBay. This guide will offer easy to follow steps on how to purchase a wrist brace on eBay.
What is a Wrist Brace?
A wrist brace is designed to hold a wrist in a certain position for medical reasons. There are a number of types of wrist braces available on the market. Each brace will offer a slightly different support for the wrist. The objective of a wrist brace is to:
Offer support to the wrist.
Reduce stress on existing injuries.
Add restrictions and immobilise a wrist to allow time for healing and reduce pain.
Promote and help the healing process after an injury or surgery.
Reasons To Wear a Wrist Brace and The Benefits
There are many different reasons why a wrist brace is needed. Common reasons they are worn are to look after a:
Broken, fractures or sprained bones
Repetitive strain injury (RSI)
Carpal Tunnel Syndrome
Each health complaint will require a slightly different brace specifically designed to support the injury. The various different braces include:
| | |
| --- | --- |
| Wrist Splints and Supports | Wrist splints and supports are useful in the rehabilitation of injuries. The brace will help to reduce swelling as well as offer support and protection to assist with the healing process. |
| Finger Splints | Although not a wrist brace, a finger splint acts on the same principle but offers bespoke support for fingers suffering similar injuries. |
| Thumb Splint and Support | Thumb splint and supports are used primarily for all types of thumb injuries. They may also be used after thumb surgeries. A thumb splint is lightweight and flexible to offer the patient the opportunity to use their hand for every day activities. They will also offer support to the wrist. |
| RSI Support | A repetitive strain brace provides supports for wrists suffering from RSI. The brace holds the wrist in a neutral position. This relieves the pressure and pain and as a result reduces the symptoms of the sufferer. |
| Sport Wrist Support | Some sports with a repetitive wrist movement such as tennis, squash and table tennis are intensive on the wrist area. By wearing a sport brace around the wrist can help support and protect it against injury as well as strengthen existing injuries. |
| Postoperative Brace | A postoperative brace will offer support to a wrist that has recently undergone surgery. Traditionally the brace will be larger and less flexible than the sports braces and not suitable to be used whilst playing sport or undertaking rigorous activity. |
A wrist brace will offer the support required of the injury whilst freeing up the fingers for every day usage and activity. It is also possible to purchase a wrist brace specifically designed to be worn at night.
How To Select a Wrist Brace
The selection of a wrist brace will be determined by the need of the injury or health concern. Each brace offers a different level of support and comfort. Next to selecting a brace that suits your own personal requirement, there are a few other points to take into consideration. These include:
Internal padding. What degree of padding for additional comfort is required? The individual's personal preference and the requirement of the brace support will determine this.
What material is the additional padding made out? Some materials will breath better than others. The most common materials used are soft suede, cotton or cotton blends, knits and polyester. Each material will have it's own individual benefit.
How does the brace strap onto the wrist? Velcro straps generally support the application of the brace, but the amount of straps may vary between one, two or three. Again, this will be down to individual preference as well as the medical requirements of the brace.
Is the splint removable?
What material is the splint made out of?
What is the airflow of the brace like? Most braces will offer air vents that will assist in allowing the brace to sweat without causing discomfort.
Is the aesthetic of the brace appealing? If it is worn every day it is important that the wearer is comfortable with the look as well as the fit of the brace.
The cost of the brace. On eBay there is a wide selection of choice meaning there is an affordable option for all budgets.
Is the wrist brace a 'one size fits all' or a specific size? Some sizes may be more appropriate for the user than others.
Does the wrist brace have additional accessories to help the healing process like a heat or cold pack?
How a Wrist Brace Fits
A wrist brace is designed to fit over the wrist. This is supported by a loop that is fitted over the thumb. This loop secures the brace and stops it from slipping. The brace is held in place by Velcro straps or hooks that can be adjusted as required around the wearers arm. This will allow for the wearer to tighten or loosen the brace as required.
Consult a Doctor
It is important to consult a doctor about the usage of a wrist brace. They will be able to advise on the correct brace for the injury or health complaint as well as offer assistance on how to wear the brace for the best affects. If pain persists, seek immediate medical assistance. Always follow the advice of a medical professional.
How to Purchase a Wrist Brace on eBay
Purchasing a wrist brace on eBay has never been easier. The process is straightforward and simple to follow. The first step is to search for the item required. This can be done one of 3 ways:
Keyword search. A keyword search is accessible via the search function bar located at the top of every page. It is possible to type any keyword into this function and eBay will locate all items that fit this search. A key-word can be a specific item or a broad search term.
Advance search. This is located next to the keyword search bar and offers easy to follow steps to conduct a thorough search. Again, once completed, eBay will collate all items identified under that particular search for perusal.
Categories search. It is possible to search via pre-prescribed eBay categories. Each category of products will lead to a series of sub-categories allowing the user to hone in exactly on the desired product via a process of elimination.
Once a product is chosen, it is important to ensure the product is exactly what is required. The easiest way to do this is by addressing the description and photo provided by the seller. This will offer information about the product. If outstanding information remains, the best way to source the answer is via Ask The Seller. This eBay email service will be delivered directly to the seller who will respond with the requested information.
When ready to purchase, it is time to look at how the product is being sold. This will be pre-decided by the seller and could be any of; Bid, Buy It Now or Best Offer. Upon a successful purchase, there are a number of ways to exchange the money. This can be done by debit card, credit card or using PayPal. PayPal is a third party company that will manage the exchange of money between the seller and user.
If anything remains unclear or additional information is required, eBay has a Buying Tips page that offers further advice on how to get the best out of the site.
For peace of mind, eBay offer a Buyers Protection Programme. Alongside excellent customer service, these are just some of the reasons why eBay is a leader in its field.
Conclusion
Whether it is a short-term injury or a recurring health complaint, wearing a wrist brace can offer much needed relief and support. The use of such a brace will mean the ability to return to a normal lifestyle doing all the things that were not possible due to the pain or discomfort.
It is important that adequate research and consultation is taken before a wrist brace is purchased. However once this is done, eBay offers all solutions to finding the best possible brace that fits within your individual budget.
With the excellent features of eBay and the ability to shop in your own home, it is difficult to go past the site.