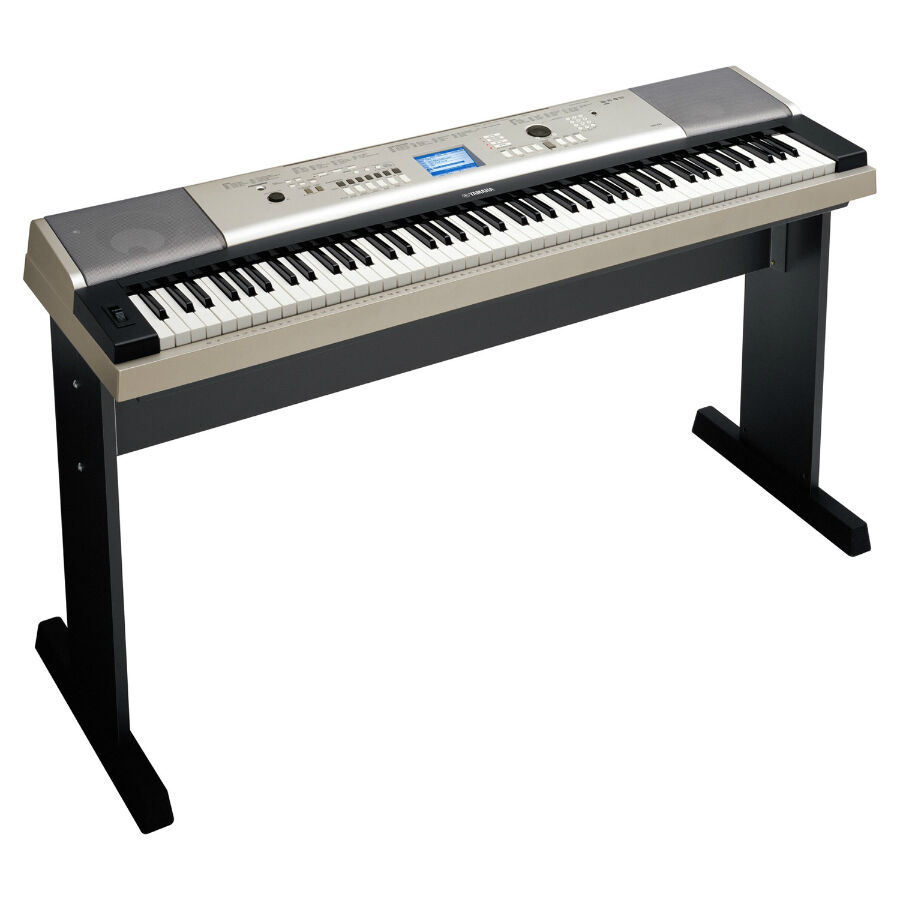 Given the wide choice available, finding Yamaha electronic keyboards on eBay is as simple as typing "Yamaha electronic keyboard" into the search box on any page of eBay's site. To find that perfect keyboard at a great price, however, a more targeted approach is required. Having a basic understanding of the various models and features of Yamaha electronic keyboards, coupled with a basic understanding of how they are listed on eBay, makes the task far simpler. It will make searching for the right keyboard on eBay a far more enjoyable experience, and one that is more likely to meet with the greatest amount of success in the least amount of time.
Using eBay UK
Choose eBay UK in order to find Yamaha electronic keyboards that will actually be located within the UK. Buying electrical products from within the UK is always considered sensible advice as it ensures compliance with British electrical standards, including mains voltage (230v) and mains frequency (50Hz). With potentially bulky and fragile items such as electronic keyboards, it makes even more sense to buy within the UK. Not only does it ensure the safest possible means of delivery to any UK address, it also means cheaper and faster delivery.
Getting the Most from eBay
Although searching for, and buying, an item such as an electronic keyboard is relatively straightforward, eBay also provide other useful features to ensure smooth and trouble-free transactions. These include the following:
Feedback
eBay provides a user-feedback system, where both parties in any sale can comment on their experience of the transaction after it's
completed. Comments usually relate to aspects of the sale such as communication, speed of delivery and, from the other side, speed of payment. The feedback system means that anyone regularly selling items on eBay will build up a reputation based on the feedback provided by their past customers. Every good, bad, or indifferent feedback comment is displayed on their profile for anyone to see. That makes it very easy to make an informed choice regarding which seller to buy from. Look out, too, for those whose professional attitude and efficient and courteous service have impressed eBay to the extent that they have been awarded 'Top-rated seller' status.
Ask the Seller a Question
Another very useful feature is eBay's Ask a question option. Rather than risk any misunderstandings about the exact specifications, dimensions, or condition of any item, especially a technologically advanced item such as an electronic keyboard, simply ask the seller for more information. Be as specific as possible. The form is provided on the listings page. All that's required is to write the question and click 'submit'. The question will appear on the listing and so too will the answer when it is posted. This is also useful for others who may have the same question.
Payment
Paypal, an eBay-owned financial transactions business, is the recommended way to pay as this form of payment is secure, easy to use and provides buyer protection. Many sellers accept Paypal only, while others also accept payment by other methods, such as personal cheque or postal order. The accepted forms of payment are always clearly displayed on any listing. In most cases, the keyboard will be dispatched after payment has been received. If paying by personal cheque, the keyboard will be dispatched after the cheque has cleared, which normally takes three working days.
Delivery Options
Every listing details how the keyboard will be delivered. Delivery is always carried out by professional companies, such as Royal Mail. Look out for attractively-priced delivery options, such as free packing and free express delivery, but look also for exclusions, such as free delivery but only within mainland Britain. In addition, look at the returns policy included in each listing. This details how to return the keyboard in the unlikely event of there being a problem with it, such as a fault or damage. Returning any item is an inconvenience, but this is where the highly-rated sellers distinguish themselves. They will go out of their way to ensure the least possible inconvenience for their customer. This is another compelling reason to favour sellers who have earned a reputation for professional service.
Know What Keyboard Features Are Required
With so many Yamaha electronic keyboards available on eBay, it's very important to have an idea of which features are required before starting to look for one. Common features that may or may not be important, depending on personal requirements, include the following.
Keyboard Size
All current Yamaha electronic keyboards come with full-width keys. The number of keys varies by model, however. The most common complement of keys is 61, which is the number of full-width keys provided on their portable range. Larger keyboards, such as their Piaggero Series have 76 keys.
Touch-Sensitive Keys
As dynamics control (the ability to play individual notes and chords with variable volume levels) is a fundamental part of keyboard technique, the common advice to serious music students from teachers, especially piano teachers, is to purchase a touch-sensitive keyboard if at all possible. In common with other manufacturers, Yamaha produce some keyboards that are touch sensitive and others that aren't. Unsurprisingly, their touch-sensitive keyboards are among the more expensive models. As touch sensitivity is a major selling point, it will be prominently displayed on any eBay listing of any keyboard that has it.
Voice Range
Another prominently-listed feature on any eBay listing will be the number of included voices or tones available on any Yamaha electronic keyboard. This will depend on the model, but they can number well into the hundreds. They include sounds that are copies of the tones of other instruments, such as flutes, harpsichords, drums, trumpets, guitars, pianos, and much more. In addition, expect to see a good amount of extras advertised on the listing, such as accompaniment styles, loops, pre-recorded songs, and interactive music tutorials.
Connectivity
Make sure to check any eBay listing for details concerning any input or output connections as these aren't obvious from the displayed photo of the keyboard. Although many of Yamaha's electronic keyboards are self-contained or require nothing more than mains power to operate, the ability to connect to other equipment is, if not essential, highly desirable. Also check if any cables are supplied with the keyboard. If it's a new model, it will have whichever cables that Yamaha supplies with it. If it's a used model, it should also have those same cables, but it may also include extra cables that the owner has acquired and now no longer needs. Look in the listing for information on the following typical output connections on Yamaha electronic keyboards.
| Output | Description |
| --- | --- |
| Audio output | Amplification is required for any live stage work as the keyboard's built-in amplifier and speaker would be inadequate in all but the smallest venues. The audio output can also connect to a mixer or recording device such as a computer via the mixer's or computer's audio input. |
| Headphone output | Headphones can be connected to this output and used for 'silent' practice. The speakers can be by-passed and all sound will be sent to the headphones. |
| Speaker output | Use this output to connect to external speakers that are larger, and of better quality than, the typically small on-board speakers of Yamaha's smaller models. |
| Midi output | With either a USB cable or a dedicated MIDI to USB cable, the keyboard can be connected to any USB port on a computer and control the computer's sound card and any music software. |
How to Find a Yamaha Electronic Keyboard on eBay
While, as mentioned earlier, a search for "Yamaha electronic keyboards" from any page on eBay UK will return an impressive list of keyboards for sale, the list will also contain many irrelevant items including Yamaha keyboard accessories, such as plugs and cables and even books about Yamaha keyboards. These may be excellent products in their own right, but they're not what's required. Avoid having to wade through them by selecting the Musical Instruments category from the drop-down list of categories. Searching within that category returns a partially-sorted list, but on the left-hand side of that page, more relevant subcategories are displayed. Choose Keyboard/ Piano and search again. The returned list will be even more relevant. Finally, customise the search by selecting any of the provided filtering options. These check-boxes include: Condition (New, Used or Manufacturer refurbished ), Buying Format (Auction or Buy it now), Price range and Show Only (Express Delivery and Free P&P).
Conclusion
eBay is well-known as a safe online-shopping environment, and Yamaha is well-known as a company that produces electronic keyboards that are reliable and of good quality. The combination of the two plus a logical approach to searching can make buying a Yamaha electronic keyboard on eBay a simple, stress-free and rewarding experience.