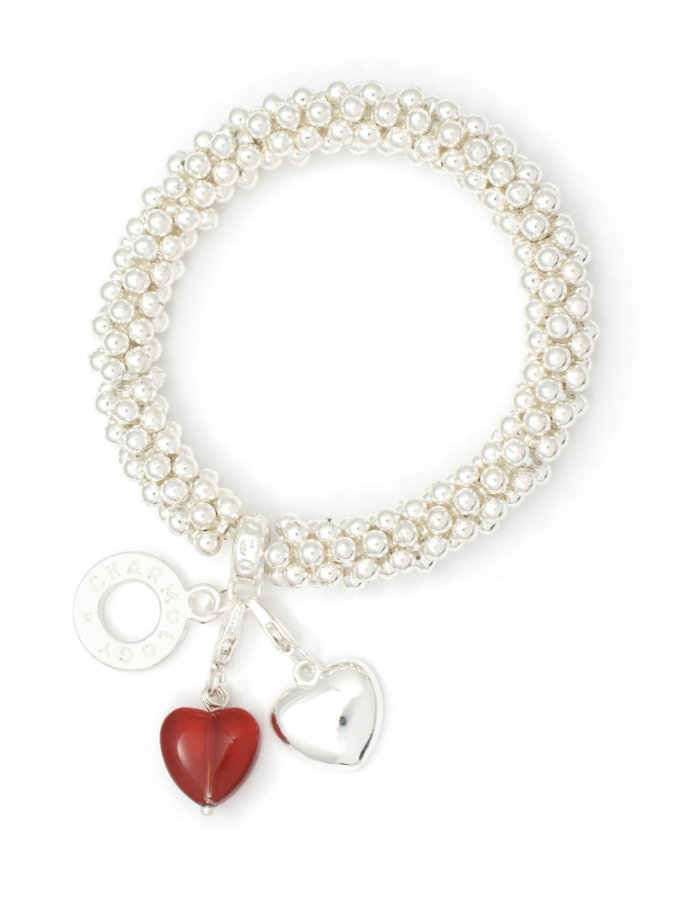 Bracelets are a stylish, versatile accessory that can dress up any outfit. Because of the wide variety of bracelet styles, bracelets go well with any look, from a casual everyday outfit to more formal attire. While some bracelets can get pricey, there are many lower cost options that fit easily into anyone's budget. Choosing affordable options allows you to purchase multiple bracelets while staying within your budget, letting you then stack multiple bracelets for a unique, contemporary look. Whether you are purchasing bracelets for yourself or someone else, they are the perfect way to add some style and flair to any wardrobe.
Bracelets are known to be expensive if they are made with precious stones or metals. When choosing an affordable bracelet, you want to look for less expensive materials. Affordable bracelets are found in brick and mortar stores, or online using eBay. Before making a purchase, it is important to understand which materials to look for in an affordable bracelet as well as which materials are able to replace the look of precious stones for a lower cost alternative.
Types of Affordable Bracelet Materials
Expensive bracelets are generally made with precious metals and stones. Precious metals include gold, silver, and platinum, and precious stones include options such as diamonds, rubies, and emeralds. Even when you are purchasing a bracelet on a budget, you can easily find affordable options with similar characteristics to fine jewellery, and at a much lower price. Bracelets, however, come in many shapes and styles, making it easy to get a unique look no matter the price. Purchasing bracelets with materials other than metal not only saves money, but gives you an individual, customised look. By understanding which bracelet materials you prefer, you can begin your search for the perfect bracelet.
String Bracelets
String bracelets are one of the most affordable options for bracelet materials. String bracelets come in many different colours, designs, and sizes, making string bracelets easy to customise for any look. These bracelets generally consist of string braided together, which is then tied around the wearer's wrist. When tied, many people wear the string bracelet until it falls off, since string bracelets can get wet and face everyday wear.
String bracelets are often used for friendship bracelets, and are one of the most popular do-it-yourself bracelet options. While string bracelets were once worn primarily by adolescents, more complex string bracelets are often worn for a 'bohemian' look, and add a splash of colour to any outfit.
Beaded Bracelets
Another affordable bracelet option is beaded bracelets. Like string bracelets, beaded bracelets are also popular do-it-yourself bracelets, but can be purchased at an affordable price as well. Beaded bracelets are usually either metal or string chains with beads attached. Some beaded bracelets are fully beaded to hide the chain, while others have strategically placed beads that show the metal or string chain. There are many different styles of beaded bracelets, and prices vary. Metal bracelets with glass beads tend to be more expensive than bracelets with string or plastic beads. Plastic beads are more durable than glass beads, however, since they are less likely to break.
The most affordable options for a metal bracelet are stainless steel or mixed metals. Many people choose to go with silver or gold plated metals, which are also much cheaper than their precious metal alternatives. Beaded bracelets are worn in many different cultures, and can be easily matched with any outfit.
Leather Bracelets
One form of bracelet material that has recently gained popularity is leather. Leather bracelets are typically single strands or braided pieces of leather that wrap around the wrist and clasp or tie together. Leather bracelets can be made of authentic leather, or artificial leather, which is a much more affordable option. While the most popular colours tend to be blacks and browns, leather bracelets can be dyed many different colours, such as purple or turquoise, to fit many different styles.
Leather bracelets could also be branded or engraved, in the case that an individual wants to personalise a bracelet for a gift or a special memory. Leather bracelets are more popular with adults than adolescents, since they require more care than other bracelet options. They are most popular in casual, everyday outfits and fit in many different styles.
Metal Bracelets
Metal bracelets are one of the most popular bracelet styles, and are highly varied in qualities and price. Purchasing a metal bracelet on a budget is easy if you understand the different types and qualities of each metal. While there are many different types of affordable options for jewellery metals, the chart below shows some of the most common types, description, and price.
| Type of Jewellery Metal | Description | Price Range |
| --- | --- | --- |
| | Lustrous, rare precious metal. Found in rose, white, yellow, and mixed colours | Medium to high |
| Gold-Plated | Gold plating infused on a base metal. | Low to medium |
| | Silver precious metal known for its lustre and shine | Medium to high |
| | Sterling silver plating infused over a base metal | Low to medium |
| | Lustrous, rare white precious metal | High |
| | Platinum plating infused over a base metal. Often plated over white gold | Low to medium |
| | Shiny non-precious metal | Low |
| | Gold colour, mixture of alloy metals copper and zinc | Low |
Choosing an affordable bracelet depends on your individual budget, but most fit into the low to medium price range. Precious metals, gold, silver, and platinum last the longest out of all jewellery metal options, but are also the most expensive. Plating is one way to get the look of the precious metal without as expensive of a price tag. However, with excessive wear, the plating may rub off and expose the base metal underneath. Non-precious metals are also less expensive options, which give a very similar look as precious metals.
Types of Affordable Stone Options
When choosing stones for a bracelet, diamonds are the most popular option. However, they are also the most expensive. Cubic zirconia and moissanite are two types of imitation diamonds that have similar properties to diamonds, but are much more cost effective.
Cubic Zirconia
Cubic zirconia is today's most popular imitation diamond. Like diamonds, cubic zirconia is lustrous and shiny, but tends to lose its sparkle over time. Cubic zirconia is a low-cost, durable alternative to a diamond, and can also be found in a wide array of colours. Bracelets embellished with cubic zirconia have the look of fine jewellery without the expensive price tag.
Moissanite
Like cubic zirconia, moissanite is an affordable imitation diamond that is both lustrous and durable. Moissanite can cut glass and is one of the hardest stones next to diamonds, so it is often one of the more expensive diamond alternatives. Unlike diamonds, moissanite is man-made. Bracelets adorned with moissanite also have the expensive look of fine jewellery for a fraction of the price.
How to Purchase an Affordable Bracelet on eBay
With the large selection of bracelets available on eBay, a consumer is able to find any design he or she is looking for. eBay allows the buyer to browse through a large number of options from the comfort of their own home, making the buying process both easy and efficient. By taking the time to look through the different options and styles available, you are sure to find the perfect bracelet for any style.
To begin your search on eBay, you can start with a keyword search on the eBay home page. If you already know which type of bracelet you are looking for, you can start with a specific phrase, such as 'leather bracelets'. To browse additional styles, you can start with a broad search, such as 'bracelet'. eBay also makes it easy to stay within your budget and only search affordable bracelets by setting your price maximum. Since budget depends solely on the individual, eBay makes it easy to keep within your personal budget. In order to stay within your budget, you can set your price maximum to ensure you do not waste time browsing options outside of your price range.
Conclusion
With the wide variety of affordable bracelet styles, it is easy to find a look that fits with any style. Many people choose to layer different bracelets for a unique and customised look. By purchasing affordable bracelets, more bracelets can fit within your budget, giving you freedom to create the perfect look. Affordable bracelets also make a great gift for birthdays, anniversaries, mother's day, or holidays, since they can be paired specifically with the recipient's personal style. If giving the bracelet as a gift, it is important to take the recipient's individual style into consideration.
There are many options of affordable bracelets that either have the look of fine jewellery, or a completely unique style all their own. Regardless of what you are looking for, bracelets are the perfect way to accessorise any outfit. By choosing an affordable base metal or stone option, you can get the look of fine jewellery at a much more affordable price. Other people prefer a more casual look, and choose string, bead, or leather bracelets. With so many styles of bracelets available, people have the option to choose their favourite colours, styles, and designs. No matter what style you are looking for, you can find the perfect bracelet at the perfect price with the help of eBay.