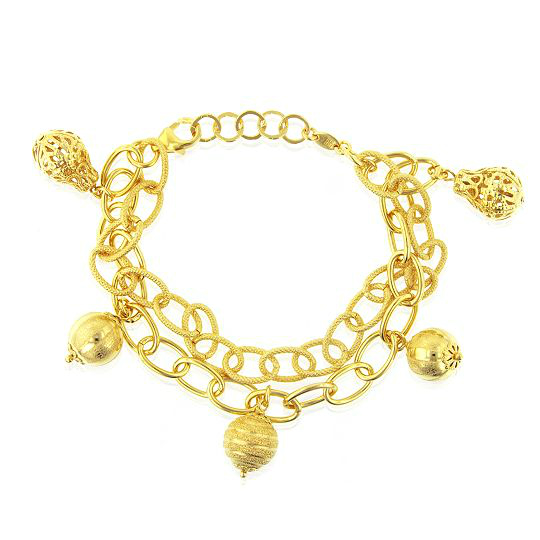 Charm bracelets are unique pieces of jewellery that are created for any wearer. While buyers typically select jewellery pieces that fit their style, charm bracelets stand out due to the simple fact that the wearer actually selects every component of the bracelet. Some wearers create charm bracelets that tell their life story such as how many children they have, their personal hobbies, and their birthstone. Others create charm bracelets around a single theme, such a springtime bracelet full of flower charms. The opportunities for making a charm bracelet are endless, and customers should not be put off by the high prices of some bracelets. While many pieces in the jewellery store sell for a small fortune, more affordable options are easily found on eBay.. The key to buying an affordable charm bracelet is to pick pieces that might be appealing to the buyer, instead of worrying about the overall value.
Charm Bracelet Basics
A charm bracelet is a classic bracelet that is adorned with a multitude of charms.. The bracelet itself, be it a chain or a slider, is usually quite plain. While it should be made out of a sturdy metal that lasts a long time, it does not need unnecessary adornments. It gets plenty of attention from the charms themselves, which can be added and removed from the bracelet quite easily. Some owners have separate charm bracelets where they never touch the charms. Others have a single bracelet and a box of charms or beads, allowing them to change the bracelet design on a whim. The versatility of charm bracelets allows their owners to use them as they choose.
Pre-Made Bracelets and Affordability
When looking through the listings on eBay, customers often come across charm bracelets already put together. While in some cases, these pre-made bracelets can be quite affordable, and are a great way to purchase an entire charm bracelet, this is not always true. Some sellers only use high-end expensive charms, and this can potentially raise the price considerably. It may be more affordable to create a charm bracelet from scratch rather than buying one that is pre-made. Savvy buyers should do a price comparison between purchasing a pre-made bracelet, as well as check the estimated cost of making their own.
Selecting a Charm Bracelet
The bracelet is the basic component of the entire piece, and buyers must consider both the style as well as the metal when making a selection. The style of the bracelet comes in either a traditional chain or a slider style, sometimes called the European style, and made popular by the PANDORA company. Traditional charm bracelets allow for charms to be attached to the chain links, but they cannot work with beads. Slider charm bracelets attach the charms and beads by sliding them over the metal band. However, the number of charms and beads is very limited in this style, especially since more beads and charms cannot be added once room runs out on the slider bracelet. Those who like large, dangling charm bracelets usually prefer the traditional style, while buyers who opt for smaller bracelets coloured by beads choose to get the slider.
Charm Bracelet Metals
When it comes to affordability, buyers need to choose their metals wisely. Keep in mind that affordability does not always mean cheap. For example, it would be cheap to purchase a leather charm bracelet, but this piece of jewellery does not last very long. Buyers need to select a good, strong metal that is durable enough to hold their charms, but affordable enough that it allows them to stay within budget.
Sterling Silver
There are a couple pros and cons in regards to choosing a sterling silver bracelet. The main benefit the wearer gets from sterling silver, is that it is a strong precious metal at an affordable price. Sterling silver is made from mixing 92.5 percent silver with 7.5 percent copper. Buyers can see where sterling silver ranks with other silver ratings on the chart below.
| Name | Pure Silver Percentage | Mark |
| --- | --- | --- |
| Britannia Silver | 95.8 | 958 |
| Mexican Silver | 95 | 950 |
| Sterling Silver | 92.5 | 925 |
| Coin Silver | 90 | 900 |
| German Silver | 80 | 800 |
The downside of sterling silver is that it does tarnish, so it needs to be periodically cleaned. It also tarnishes quickly when exposed to wet conditions, so it is not a good choice for an everyday use bracelet, since wearing it while washing the dishes or even walking in the rain, exposes it to moisture.
Gold
Buyers that are shopping for affordability automatically, might assume that gold is out of their price range, but this is simply not true. The price of gold depends largely on the amount of carats in the metal. Pure gold bracelets are very expensive, and they are also very soft. Therefore, most bracelets mix gold with other alloys to harden the metal. A rating list of gold based on carats is found on the chart below.
| Gold Carat | Percentage of Pure Gold | British Mark |
| --- | --- | --- |
| 22 | 91.67 | 916 |
| 18 | 75 | 750 |
| 14 | 58.33 | 585 |
| 9 | 37.5 | 375 |
Gold bracelets that are made out 14 ct or 9 ct, are more durable than their higher weight counterparts. They are also more affordable, and unlike silver, gold metal never tarnishes.
Selecting Charms
When it comes to choosing charms, buyers on a budget need to stick for shopping for a theme based on price points. This does not mean that certain charms are forever be out of the customer's price range. For example, if a customer loves some charms they find in a vintage Victorian style, but simply cannot afford to purchase them, check out the charm reproduction section. These charms are made to look exactly like their antique counterparts, but they are much more affordable.
Metal Charms
There are a lot of arbitrary rules that some charm bracelet owners follow when purchasing metal charms, such as only buying charms made out of the same material. Other owners simply buy the charms that they like and ignore the fact that the charm bracelet uses different metals. The best suggestion to buying metal charms on a budget is to buy what suits the customer's needs.
Choosing Metal Charms
If a customer wants to purchase a star charm that comes in three different styles: one made of 18 ct gold, one made of sterling silver, and another made of resin, then he or she needs to make a wise choice. The resin option may be cheaper, but it is not as durable as gold or silver. The gold may be more durable, but it is also the most expensive. In this case, selecting the sterling silver, the middle option that is moderately priced, and of medium durability is probably the best bet. Of course, the customer might want the gold charm because she has a gold bracelet, so this is another factor to consider.
Buying Beaded Charms
Beaded charms became popular with the Pandora brand, and many of these beads remain extremely expensive when compared to their counterparts. The truth is that no one else knows if the customer buys a Pandora brand bead, or a more affordable option made by another company. As long as the bead looks exceptional and has a strong metal backing, the brand does not really matter. Do not get roped into paying a premium price for beaded charms.
Buying Charm Bracelets on eBay
Buyers who are shopping for exceptional deals can find plenty of charm bracelets and charms on eBay.. There are styles offered by sellers from all across the globe, encompassing many different time periods from the brand new to the antique curiosities. In fact, for first-time buyers on eBay, trying to find the charms and bracelets they need can get a little overwhelming. This is why learning how to use the search engine is so important.
Searching for Charm Bracelets on eBay
Mastering the search engine plays a big role in finding the best charm bracelet listings. Start off by doing a broad search for 'charm bracelets&'. The results are easily in the thousands, so you have to narrow down your search by adjusting the terms. By typing in 'sterling silver charm bracelets&', you limit the results to only sterling silver charm bracelets. If you only want traditional bracelets, then narrow the results further by typing 'traditional sterling silver charm bracelets&'. This gives you the smallest number of results, making it easier to find auctions that fit your needs.
Shopping for Vintage Charms on eBay
eBay has a very large vintage selection, which can easily be explored by typing in 'vintage charm bracelets'. There are some good deals to be found in the vintage section, especially by sellers who don't understand the value of the item they are selling. However, if true vintage charms are simply too expensive, try typing in 'vintage reproduction charms&' and view the results. It is surprising how similar the results appear, with the price points and original age of the charms being the only significant difference.
Conclusion
Buying charm bracelets do not need to be prohibitively expensive. In fact, there are many affordable ways to do so on eBay if the buyer knows where to look and how to shop. While many pre-made charm bracelets are sold every day, these tend to be more expensive that creating a charm bracelet by buying the pieces separately. The first step is to select an affordable bracelet made out a strong metal that is the basis of the entire bracelet. The second step is to pick a theme and then find charms that match the theme. Keep things affordable by purchasing charms that are reasonably priced, since there is no reason to pay top dollar for a pure gold charm if there is another one just like it made from sterling silver. Overall, with the vast selection on eBay, buyers can get the charms they want at a price that fits their budget.